Bequest from June D. Kitarich Living Trust to provide scholarships
01/11/2018

Akron residents John D. and Kathleen Crabtree recently presented The University of Akron with a $160,000 gift from The June D. Kitarich Living Trust. The gift, which will support scholarships for engineering students, will be designated to The Peter A. and Carol J. Kitarich Endowed Scholarship Fund.

John Crabtree, a 1972 graduate of UA, was the nephew of June Kitarich, who was a lifelong resident of Barberton and Wadsworth. A native of Akron's Kenmore neighborhood, Kitarich worked at the Kenmore and Barberton libraries, and at Firestone Bank as a bookkeeper. She was a member of Goss Memorial Church.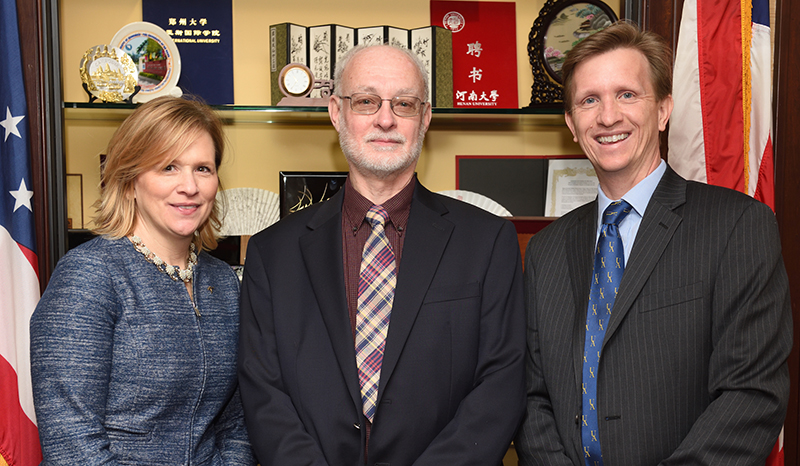 Pictured, from left, are Kimberly Cole, UA's vice president of development, John Crabtree and Matthew J. Wilson, UA president.
"My Aunt June was very involved in her community by work and deed," Crabtree said. "She was a dedicated community volunteer and knew the importance of The University of Akron. Her gift will encourage others to achieve and contribute to their community as did her son Peter Allen and her daughter Carol, who predeceased her."
Kitarich passed away on March 1, 2017. Her brother, Alfred Ray Seese Jr. and son, Peter Allen, were both graduates of UA.
"Generous gifts such as this help make The University of Akron even more affordable," said President Matthew J. Wilson. "June Kitarich's legacy will now include generations of students able to earn a college degree in part because of her thoughtfulness."
---
Media contact: Alex Knisely, 330-972-7429 or aknisely@uakron.edu.