Bike share program offers new way around campus
09/08/2017

Members of the campus community can now spin their wheels, in a good way, thanks to The University of Akron's new bike share program. It kicks off in front of the Student Recreation and Wellness Center on Wednesday, Sept. 13, at 11:30 a.m. All are invited

The free event will include music, information about the program and promotional giveaways. Be on the lookout for President Matthew Wilson, who will join the celebration by hopping on a set of wheels for a test drive himself.

The bike share program — a collaboration between the John S. and James L. Knight Foundation, Summit Cycling Center and the University — features bright red bicycles that have been placed on campus. Any individual with a valid Zip Card can sign out and use a bike.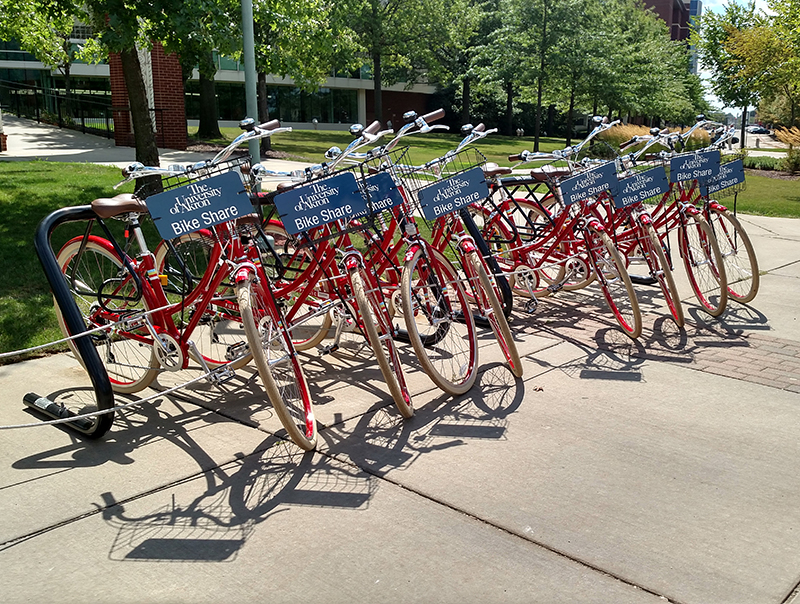 This row of shiny red bikes is set up at the Student Recreation and Wellness Center.
"We are hoping this creates a way for students to experience more of what the city of Akron has to offer," says Kyle Kutuchief, the Knight Foundation's Akron program director. "There are so many wonderful places for them to see and now they have the transportation to see them."
The check-out process is designed to be fast and efficient — show your Zip Card and complete the sign-out and sign-in forms.
MORE ABOUT BIKE SHARE AT UA
Checkout locations will be at the Student Recreation and Wellness Center's front desk as well as the Parking Services office next to Simmons Hall. The bike racks are located outside the sites. Both helmets and locks are provided upon checkout.
Due to a generous grant from the Knight Foundation — all equipment and program services have been made available to the campus community at no charge.
---
► Story by Hayden Grover
► Media contact: Dan Minnich, 330-972-6476 or dminnich@uakron.edu.
---