Brace yourself, UA's Steel Bridge Team finishes strong at Nationals
06/11/2019

The University of Akron's Steel Bridge Team recently returned home from the AISC Student Steel Bridge Competition Nationals held at Southern Illinois University in Carbondale, Illinois. Held May 31 – June 1, 41 teams competed from around the country.

UA's team placed 11th overall and performed well in all competition categories.

Other state schools in attendance included Youngstown State University and Case Western Reserve University.
Students are put to the test
The Student Steel Bridge Competition challenges civil engineering students to conceptualize, design, fabricate, build, and test a steel bridge, culminating in a structure that meets AISC specifications and optimizes both performance and economy.
Categories of the competition are construction speed, lightness, aesthetics, stiffness, and efficiency.
"We problem solved earlier this year because our steel delivery fell through," says William Shea, the team's outgoing captain. "Luckily, last year's bridge met most of the requirements for this year's bridge which is typically very unlikely. Although the bridge was five feet longer so weighed more, we had experience building it. We made up for weight with construction speed."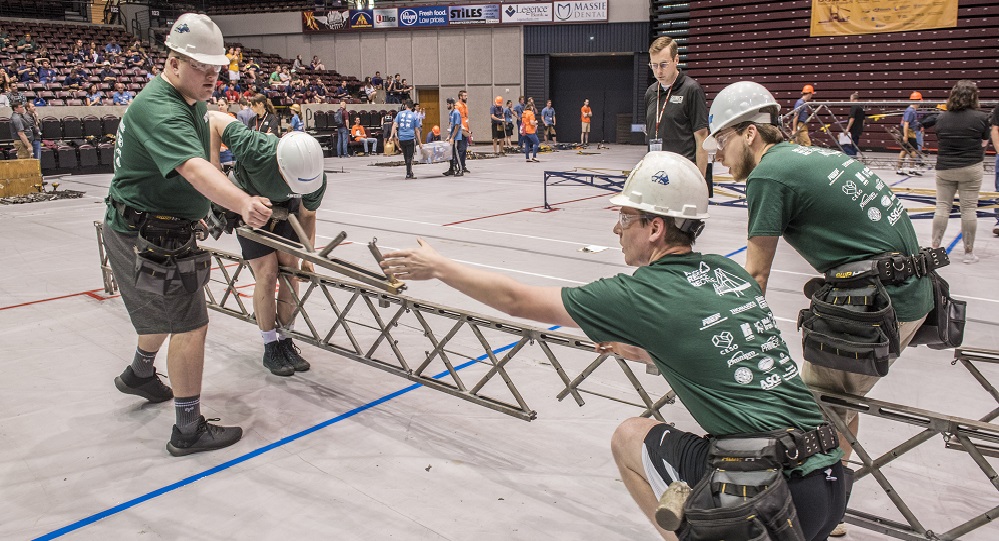 From left to right: Tavis Rutledge, Adam Michel, David Johnson, and Charles Cassaro. Adam and Charles are supporting the bridge while Tavis passes David a bridge piece across the "river."
Rankings Defined
12th place in construction speed: The team built the bridge in 9.63 minutes. For comparison, the winning team, Lafayette College, had a time of 3.80.
16th place in lightness: The bridge is constructed out of high strength steel tubing. UA's bridge weighed 201 lbs.
14th place in aesthetics: Although the bridge wasn't painted, it had unique slots milled into the tubing that decreased the weight and added to the aesthetic. "The University of Akron" was CNC milled on both sides of the bridge.
13th place in stiffness: This is determined by measuring the aggregate deflection (when a bridge sways) when the bridge is loaded under 2,500 lbs. UA's bridge deflected 0.93 in.
13th place in economy: This category refers to a dollar amount that is calculated based on the number of ​builders, ​total time, and ​load test penalties. UA's economy cost was $2,312,000. For comparison, Lafayette College's economy cost was $912,000.
11th place in efficiency: This refers to the bridge with the lowest structural cost. UA's total cost (a hypothetical number) came in at $3,450,000.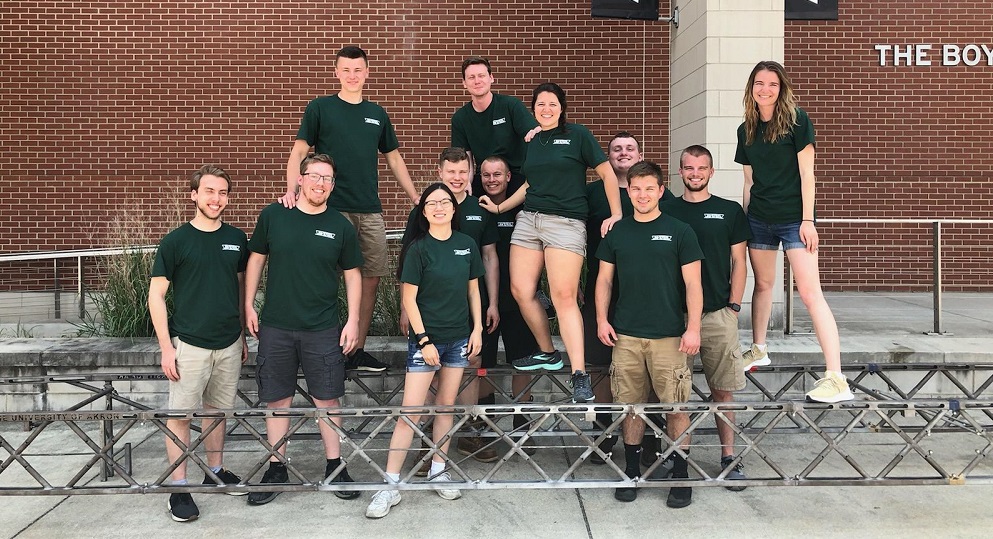 Top row standing tall: William Shea, David Johnson, Monica Moody, and Erika Howard. Bottom Row: Charles Cassaro, Nate Ackerman, Jamie Schlitt, Adam Michel, Gunther Soehnlen, Tavis Rutledge, Ryan Talbott, and Jacob Odson
Team members learn new skills
The team, consisting of 20 members, put in over 1,000 hours during the 2018-2019 academic year leading up to Nationals. As some students on the team are freshman and sophomores, many had to learn steel design concepts and metal fabrication skills they have not yet learned in class. All team members enhanced existing skills such as statics, steel design, finite element analysis, AutoCAD, project management, steel fabrication, and welding.
"The goal for next year is to be faster, lighter and more efficient. If we were able to get 11th place with a reused bridge, we are shooting for 1st place with a new one!" says Shea.
Congratulations to UA's Steel Bridge Team!
UA's design teams rely heavily on the support of our donors to afford the cost of travel and materials. Support our design teams with a donation today.