Bridging the communication gap: Spanish language certificate provides vital skills for UA health profession students
10/26/2020

As part of The University of Akron's sesquicentennial celebration — honoring 150 years of our people, place and promises — we are hosting a "Celebration of Academic Excellence" to highlight the history and future of our colleges and academic disciplines.

Today we're looking at the history and achievements of UA's oldest college, the Buchtel College of Arts and Sciences.

In a time when the Hispanic population in the United States continues to grow rapidly, the number of health providers who have the skillsets to interact linguistically and culturally with this limited English-speaking community has not increased proportionally.

To help fill this gap, The University of Akron (UA) offers the Certificate of Advanced Spanish for the Health Professions and First Responders, a unique program that provides health professions students with the language skills and experiential learning opportunities needed to communicate effectively with Spanish-speaking patients.

According to the Joint Commission, an accrediting body for health care organizations and programs, patients with limited English proficiency are at a higher risk for adverse health events than English-speaking patients. Language barriers that exist among patients and health providers can significantly impact safe and effective health care. Especially during a pandemic, effective communication between patients and health providers is paramount.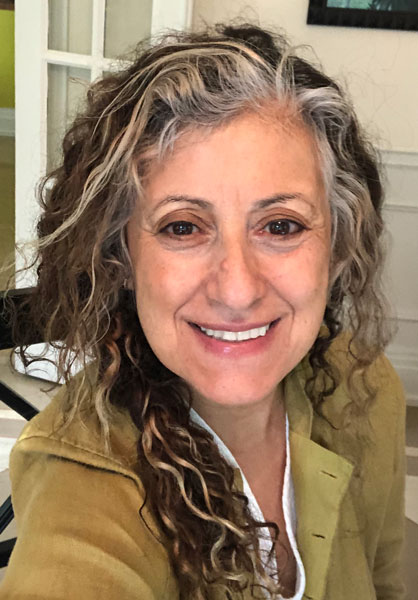 "COVID-19 has amplified these disparities, the overall degradation in the quality of care that Spanish-speaking patients receive and the barriers that the lack of language and cultural access presents," says Dr. Parizad Dejbord-Sawan, associate professor of modern languages and lead faculty member for the certificate.
Language, medical, cultural components
The 15-credit interdisciplinary certificate, offered through the Department of Modern Languages, gives students a solid grounding in oral and written medical Spanish proficiencies and strong cultural competence, including linguistic proficiency, acquisition of medical terminology, and the principles and practices of cultural humility in a clinical context.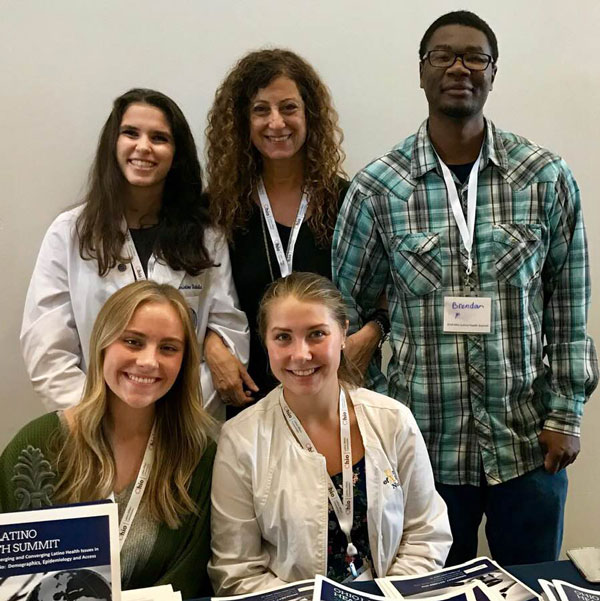 "The academic content and the hands-on experiences this certificate offers through community engagement with members of vulnerable Hispanic populations gives our health profession majors a significant edge in their future applications to medical schools, graduate programs and residencies or job placement across the country," says Dejbord-Sawan.
The certificate is intended for any undergraduate student specializing in a health professions majors, such as nursing, biology, audiology, pre-medical, pre-pharmacy and biomedical engineering, among others. More than 50 undergraduate students in health professions majors are currently enrolled in the program.
Created by demand
The creation of the certificate was influenced by students in 2012 as the U.S. experienced an increase in its Spanish-speaking population. Between 2010 and 2019, Hispanics accounted for 52% of all U.S. population growth.
UA students who enrolled in a medical degree program and taking an advanced Spanish course with Dejbord-Sawan recognized this trend. These students knew that the importance of improving their Spanish skills was essential to working with a population that has limited access to quality health care. Through this demand, the certificate program was created in 2013.
The Hispanic population in the U.S. reached a record 60.6 million in 2019, which represents 18% of the total U.S. population. Today, Hispanics are the largest ethnic and racial minority population in the U.S., making the need for Spanish-speaking health providers all the more vital.
Work directly with patients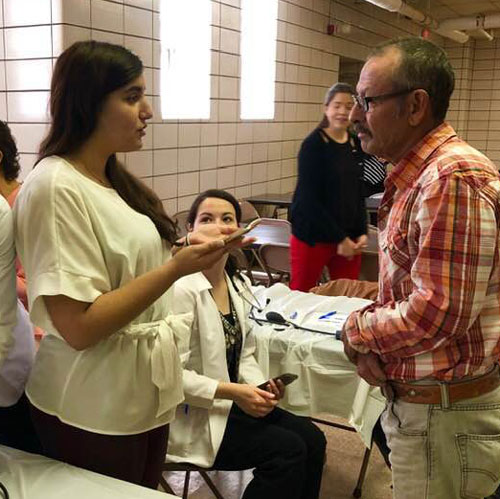 The program has a unique experiential component where students participate in Hispanic health fairs to work with physicians that are not proficient in Spanish and provide free health screenings, consultations and advice for living a healthy lifestyle to members of the Hispanic community. Since 2014, students have volunteered at St. Bernard's Catholic Church health fair to serve as translators for Spanish-speaking patients. They routinely work with area health providers, such as the MetroHealth System, AxessePointe Community Health Center, Faithful Servants Care Center and others.
And such experiences are critical, says Dejbord-Sawan.
"Through hands-on learning via community engagement and volunteer work with local clinics and hospitals, our students serve vulnerable community members from the Hispanic population who have limited English oral proficiency," Dejbord-Sawan adds. "During these engagements, they work as cultural and linguistic bridges between patients and their health care providers. These are the experiences that set students in the certificate program apart from other health professions students across the nation."
Q&A: Ariana Williamson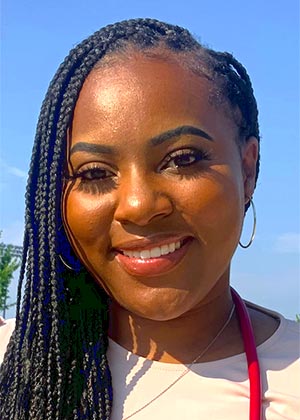 Ariana Williamson, a senior majoring in the nursing and Spanish duel bachelor's degree, was awarded the Certificate for Advanced Spanish for Health Professions in the summer of 2019 during her curriculum for her Spanish and Nursing Dual degree; she graduates this December. The Youngstown, Ohio, native explains her experience in the certificate program.
Why did you want to earn this certificate?
"I wanted to earn this certificate in order to help bridge the gap between our Spanish-speaking patients, and usually non-Spanish speaking health professionals. I have always loved the Spanish language, and I thought it would be a great idea to start to learn more about it. After noticing how neglected our Hispanic patients are in the hospital setting, I made it my goal to earn this certification."
Do you have any prior experience with the Spanish language or working with Hispanics or other Spanish-speaking people?
"As a nursing student I encounter Spanish-speaking patients on a weekly basis. I also had been learning Spanish little by little since third grade in an after-school enrichment program. I continued on to do Honors Spanish classes in high school, which is the highest level of Spanish you can take at a high school level."
What career do you want to go into upon graduation? How will you utilize the certificate for that career? How has it prepared you?
"I want to go into pediatric nursing after college. My hopes are to become a pediatric nurse practitioner. This is especially important for a Spanish-speaking health professional, because as I've noticed in practice a lot of children become the translator for their parents when they are ill. But, as a child, English might not be their first language they learn. So, being able to speak to them, and to properly educate the family directly, will be very helpful."
Was there an experience you really enjoyed while working toward the certificate? Were there any challenges?
"I really enjoyed learning all the medical terms in Spanish and being able to apply them in the clinical setting. It is great to get a hands-on experience. I always feel honored when my patients thank me for learning it, especially since I am not Hispanic myself; they always ask if I am, though. I have had a good handful of patients and acquaintances get emotional when they find out the reason why I started learning. It makes me feel like I am changing the expectation of health professionals. The challenges would be trying to speak to a patient in pain or distress. Whenever any person is in distress, they might leave out the information, or mumble. This was hard adjusting to, but I am still getting the hang of it!"
What were some of the events you worked at to assist Spanish-speaking people? What were your roles?
"Other than at Cleveland Clinic Akron General, and volunteering at Faithful Servants Health Center where I helped translate for medical personnel, I am actually employed at a local health department, working alongside another Spanish-speaking health professional, helping those Hispanic families who have been affected by COVID-19."
---
Media contact: Alex Knisely, 330-972-6477 or aknisely@uakron.edu.