Bryan C. Williams is newest member of Board of Trustees at The University of Akron
03/05/2021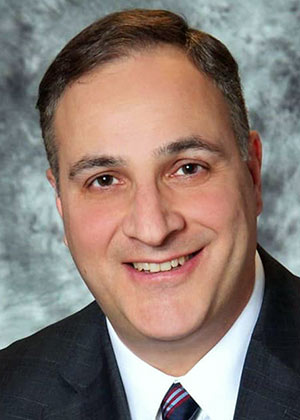 Bryan C. Williams
Ohio Gov. Mike DeWine has appointed Summit County resident Bryan C. Williams to The University of Akron Board of Trustees. His term will begin March 3, 2021, and will run through July 1, 2029. He replaces Trustee Roland H. Bauer, whose term ended July 1, 2020.
A Fairlawn resident, Williams is director of government affairs for the Associate Builders and Contractors of Ohio. He was an elected member of the Ohio House of Representatives from 1997-2004 and was a court administrator in the Summit County Juvenile Court from 1991-1997.
Williams currently serves as chair of the Summit County Republican Party, a post he has held since 2014, and as vice chair of the Ohio Republican Party since 2018. He is also co-founder of the Ohio School Health Services Association.
"We are extremely pleased to welcome Bryan Williams to the Board," said Board of Trustees Chair Joseph M. Gingo. "His background in government affairs and his deep understanding of our region will be welcome assets as the University continues to make great strides in serving our students and our region."
Williams previously served as a member of the State of Ohio Board of Education and director of the Summit County Board of Elections. His volunteer experience also includes board appointments with the Akron Civic Theatre, Porthouse Theatre, Downtown Akron Kiwanis, and the Annunciation Greek Orthodox Church, among other organizations.
"I am honored to have this opportunity to serve the treasured University of Akron at this critical time," said Williams. "I thank Governor Mike DeWine for his trust and confidence in my ability to effectively contribute to the University's governance."
A graduate of Walsh Jesuit High School, Williams earned a Bachelor of Arts in Political Science and History from Denison University.
---
RELATED
---
Media contact: Cristine Boyd, 330-972-6476 or cboyd@uakron.edu
Share