CAST students get real-world view at LuK facility in Wooster
04/28/2016

---
In April, 20 students and faculty members from the Mechanical Engineering Technology (MET) Program in the College of Applied Science and Technology (CAST) at The University of Akron attended a tour of Schaeffler's LuK brand facility in Wooster, Ohio. The students who attended the tour were enrolled in either Production Machinery & Processes or Mechanical Design III, which are junior-level courses in the MET Program.
Schaeffler is a leading global automotive and industrial supplier. Its Wooster facility develops and manufactures LuK brand transmission system components for the automotive industry. With nearly 1,800 employees, the facility is fully integrated in design and manufacturing. The company recently announced a $60 million, 91,000 square foot manufacturing and office expansion that will create 250 new jobs by the end of 2019.
Experiential learning
Workforce development is a priority for the Wooster team, with multiple programs dedicated to professional development, including a cooperative student program with approximately 150 employees from area universities. Within this program, the company employs several MET graduates and four MET student co-ops. The University of Akron is represented by more than 70 students in the program.
ON THE WEB
During the tour, MET students received an up close look at manufacturing processes, such as stamping, machining, heat treatment, brazing, bonding and riveting. This provided real-world application examples of the knowledge they gain during their education. Not only did they learn about production, they also saw details of many of the components that they learn to design in the Mechanical Design III class.
Jake Sheets, one of the tour guides, is currently employed as a Lean Engineer while finishing a Manufacturing Engineering Technology Degree. "The MET program has given me a versatile skill set which greatly helps while working in industry," he said. "From manufacturing process knowledge, to design, to project management, I was prepared for all facets of the job."
Last fall, Schaeffler held a similar tour for the Manufacturing Engineering Technology Program, which is another program within the Department of Engineering and Science Technology in the College of Applied Science and Technology. Both programs are appreciative of benefits that the company brings to the University of Akron — setting an example of how industry and education can work together.
For more information on the Mechanical Engineering Technology Program, visit the program's webpage or contact Scott Dilling at sd53@uakron.edu.
More information is available by visiting Schaeffler online, or sending an email to Natalie Gray at natalie.gray@schaeffler.com.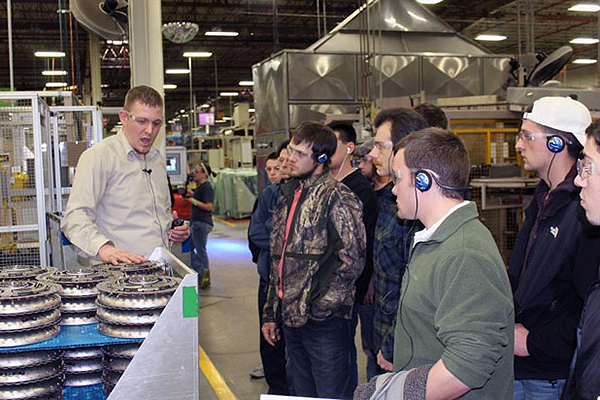 UA mechanical engineering technology students on a guided tour of the LuK brand facility in Wooster.
---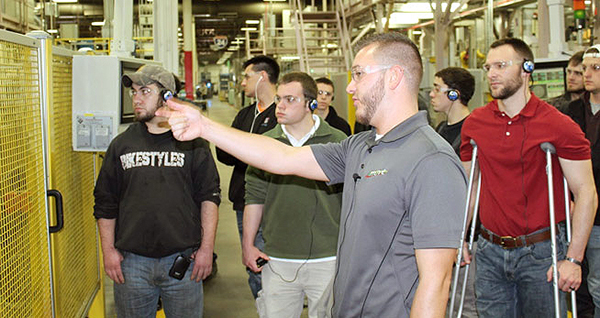 Jake Sheets, a student at UA and a full-time engineer with Schaeffler, gave a tour to UA students at the LuK brand facility in Wooster.
---