Chemical change: Student synthesizes success in the laboratories of opportunity
11/07/2017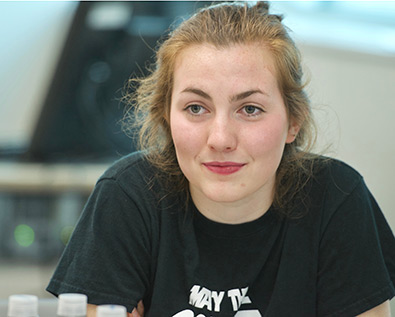 With the right ingredients, in the right environment, a chemical reaction occurs — and a new substance, bright and effervescent, is born.
Alena Veigl, a biomedical engineering student at The University of Akron, had the right ingredients: the determination and curiosity that compose that peculiar kind of organic compound called the scientist.
What she needed was the right environment — and a catalyst to spark the reaction.
She found the former at UA, the laboratory in which those elements were to be combined, her professors providing the catalytic force.
While at Firestone Community Learning Center (formerly Harvey S. Firestone High School), Veigl competed in multiple local and statewide science fairs, including the BEST Medicine engineering fair hosted by UA, where she won the Akron Schools Award and a $1,000 scholarship.
It was here she met UA engineering professors Brian Davis, Carin Helfer and Ge Zhang, who immediately recognized the potential in her, stored up like the chemicals in a firecracker.
"Dr. Davis was so encouraging and humble," Veigl says. "He explained how impressed he was with my project."
Her interest enkindled, she enrolled at UA, where her professors continued to conduct their grand experiment: open up to all students the opportunities and experiences — the right conditions — in which the alchemy of education could take place.
"Right off the bat, freshman year, we were taught how to work with cells," Veigl says. "From my first semester, I knew how to use pipettes and things like that, which we don't normally get until later on."
"In my sophomore year," she continues, "we had a class where all of the different professors in our department came and spoke to us about their research, and I've never heard of anything like that. Not only did we not have to go and look for it, they came and talked to us about it. It was incredible to learn all of that firsthand, instead of reading it."
Such hands-on experiences — the crucible in which her confidence was forged — have been crucial to Veigl, who has spent much of her time applying what she learned in the classroom to her volunteer work at the Autism Society of Greater Akron and Akron Children's Hospital.
In fact, after graduating from UA, Veigl hopes to attend medical school to become a pediatrician specializing in the treatment of children with special needs, like her niece who has Down syndrome.
Veigl, who is a member of the UA student group Women in Engineering, has also joined her professors in helping high school students release the "potential energy" within themselves. Last year she volunteered to mentor a contestant in the BEST medicine engineering fair — the same contest which years ago had set off the chain reaction that put Veigl's dreams in motion.
This year she also met with an Akron Public Schools student when a group of students in the LeBron James Family Foundation I Promise network visited campus to get a glimpse of what it's like to be a student at UA.
Her advice to these students is simple: experiment boldly in the labs of opportunity.
"Try as much as you can, because now is the time to learn what you love," she says. "Akron has so many clubs, and so many different classes you can take. You can take things you would never even dream of, and then end up loving it."
For Veigl, the experiment is well underway, the chemical change in process, and the forming product — the prospect of a dream fulfilled, beckoning like a bubbling elixir — within her reach.
Students' voices: That's what makes us Zips!
Share