Cracking the code of college: Cybersecurity student rewrites and unlocks himself at UA
11/07/2017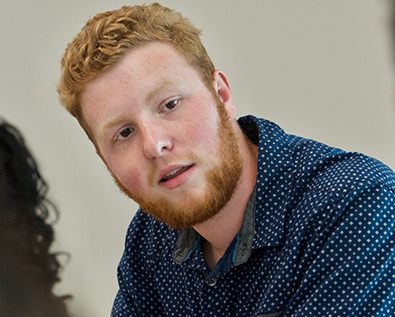 "Hackers" — those who delight in solving technological problems — spend a lot of time looking at computer code, often long repeating strings of 1s and 0s.
"Another number" is what Spencer Csaky, a self-described "hacker" (not to be confused with a cyber criminal), feared he would be if he enrolled at The University of Akron: one anonymous face among more than 22,000 students, streaming through campus like lines of impersonal code.
But there was a bug in the system — a surprise.
"I never felt like just another number," Csaky says. "This campus makes me feel valued as a student."
Majoring in UA's new cybersecurity program, Csaky, a sophomore, has found his place in the matrix of college life, populated not with faceless figures, but with friends.
Almost immediately he joined student groups such as the Emerging Leaders, a fraternity and three clubs — including HAkron, an organization that holds workshops in programming and other computer-based projects. Csaky also began working at the Office of Admissions between classes.
"I wasn't too social in high school, but college has really helped me grow out of my shell and become the person I want to be," says the Wadsworth High School graduate.
Paid to hack?
That person Csaky wants to be is a penetration tester for a company, whose job it is to test a company's network by attempting to break into it—what Csaky calls the "coolest idea ever." He says he always wanted to learn about network security, and is very grateful that UA has given him this opportunity.
In the short-term, he dreams of landing an internship with the FBI or CIA.
Dreaming, daring, risking, rising to meet every challenge, the hacker thrives where opportunities abound. Exploiting these opportunities at UA, Csaky says, has allowed him to "reinvent himself," to rewrite the code of his life.
He hopes others are able to do the same.
"The best advice I could give to a student coming to The University of Akron is to get involved," he says. "College is what you make of it. The more you get involved, the more you will love it."
That "bug" of surprise — the warmth and humanity Csaky experienced on campus — was in fact the most important digit in the code, the DNA, of the Akron Experience.
It was also the crucial datum that allowed Csaky to unlock—or hack into—the potential in himself.
More:
Students' voices: That's what makes us Zips!
Share