Crowdfunding contest will help biology students pay for research
04/19/2016
Ask anyone at a university, and they will tell you that research is essential to science. But, as funding for research projects at the academic level has become harder to attain, students such as Angela M. Alicea-Serrano and Bor-Kai "Bill" Hsiung of The University of Akron decided to think outside of the box when it comes to raising funds. Alicea-Serrano – a master's student studying biology – and Hsiung – a biomimicry fellow pursuing a Ph.D. in Integrated Bioscience – are using "crowdfunding" campaigns to pay for their current research projects.
The usual method of funding – applying for grants – can be an extremely lengthy and complicated process, so the students opted for this innovative strategy.
Alicea-Serrano and Hsiung entered a competition on Experiment.com that was looking for research projects demonstrating "animal superpowers." The website, run by a group of scientists, designers and technologists in San Francisco, handpicked 20 projects that investigate unusual and fascinating traits that certain animals naturally have, such as a gecko's sticky feet and the biomechanics of a flying lizard. The contest, which began on April 1 and will conclude on April 22, guides participants through the building of an online research proposal, which in turn the public can read and support financially – all by just pressing a few buttons.
"Support for research has become harder and harder, especially for small research projects like this one," Alicea-Serrano stressed. "It seems like this type of funding method is getting more popular, helping not just scientists with resources but providing a way for the general public to take part in science and our specific projects." Her research involves the evolution of spider silk properties in Hawaiian spiders; the funds she raises will support her travel expenses to field sites in Hawaii to collect and study silks from orb spiders.
Hsiung's research project is an attempt to mimic the nanostructures of tarantula hairs, and he will use his funds to fabricate designs of five tarantula hair models using 3D nano-printing. He finds this research not only important to his individual goals, but also to UA. "If I win, I will be able to put the name of our Biomimicry Research and Innovation Center at The University of Akron out there. This is important for us to build a globally recognized Biomimicry Center here at UA," says Hsiung.
Dr. Todd Blackledge, professor of biology and Leuchtag Endowed Chair, explained the prevalence of crowdfunding in academics today, which provides funds to students who would not otherwise be able to afford costly research projects.
"Crowdfunding is an emerging trend as universities cut budgets and funding from government agencies becomes more competitive,"noted Blackledge. "In these cases, we are working to fund the research necessary for them to finish their degrees. Here, the return to the backer is the satisfaction of supporting science and the opportunity to participate at some level as a project is conducted and discoveries are made."
Backers can pledge as little as $1 to show support, and one student even has the potential to win $1,500 by having the most backers. To learn more and contribute to the research projects of Alicea-Serrano and Hsiung, visit their contest links:

Story by Julie Mullet
---
Media contact: Lisa Craig, 330-972-7429 or lmc91@uakron.edu.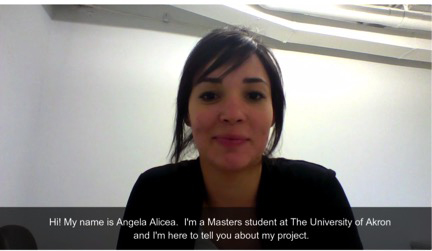 Angela M. Alicea-Serrano is seen here in a video presentation on her research.
---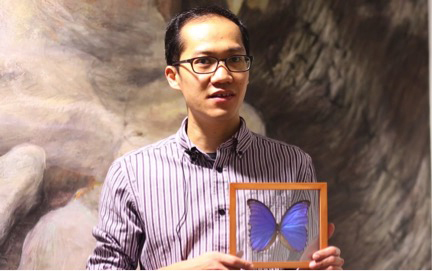 Bor-Kai "Bill" Hsiung is seen here in a video presenting his research project.
---
Share