Dreaming big: UA student headed to Johnson & Johnson after graduation
11/08/2017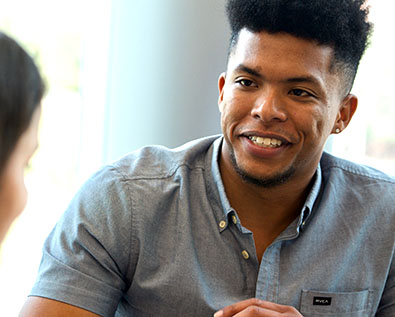 There's nothing small about Drake Smalley's talent.
The University of Akron mechanical engineering student recently accepted a job offer from Johnson & Johnson, where he will be part of the Global Operations Leadership Development (GOLD) program as a GOLD Associate Engineer.
"GOLD is a two and a half year rotational program where associates rotate through several roles in consumer, medical device and pharmaceutical industries," explains Smalley.
Smalley's childhood dreams, like his fantastic LEGO constructions, were never mere castles in the air. His parents established in him a firm sense of reality, and of the importance of "doing what you need to do before doing what you want to do," to use his father's words.
For Smalley, that meant education came first. The Sacramento native earned his way into the University of Southern California, where his dream of becoming a mechanical engineer — a translator of visions into reality — began to take shape.
So too did his dream of making the world a better place.
While at USC, Smalley and a friend started a mentoring program for disadvantaged children in South Central, Los Angeles. Smalley, whose father had taken him to volunteer at food pantries in his youth, provided tutoring and after-school lessons in hip-hop choreography, a safe alternative to a dangerous life on the streets.
A good fit in Akron
Smalley has continued to work with youth, recently spending time with Akron Public Schools students who are part of the LeBron James Family Foundation's I Promise network, where he handed on the same wisdom he received from his father: work hard and help others.
UA's College of Engineering provided him the perfect opportunity to do both. Lured by the college's co-op and internship opportunities, he transferred from USC after his sophomore year.
"When I heard about Akron's co-op program, and how people were getting real-world experience before graduating … that's pretty important to me," he says. "The co-op program here actually develops relationships with companies to ensure students are placed in a company where they can utilize their learning to provide solutions to real-world problems."
After enrolling at UA, Smalley began co-op employment with Zimmer Biomet in Warsaw, Ind., a worldwide leader in orthopedic device solutions, where he designed over 30 orthopedic implants that, for many patients, meant the difference between life and death.
Smalley also designed several products while working with one of his mentors, Chris Johnson of Rapid Brands, on the shelves of more than 50,000 stores worldwide, including Walmart and Target.
Engineering + business
In addition to such co-op and internship opportunities, Smalley — who is a member of the College of Engineering's prestigious Dean's Team and the National Society of Black Engineers — cites a course on engineering and business as among the distinct advantages of UA's program.
"I'm taking an engineering and management course currently, and I'm learning a lot about the business aspect of engineering," he says. "I haven't heard of many of my peers at other schools in engineering programs taking classes like this."
Getting involved in serious research, Smalley adds, "is as easy as approaching a professor and expressing interest." He is currently working in the musculoskeletal biomechanics laboratory under the supervision of Marnie Saunders, associate professor of biomedical engineering. Smalley and a group of student researchers developed a pure torsion mechanical testing device to better analyze small animal bone biomechanics. They are working on getting it published in an engineering journal.
"The facilities are great," Smalley adds. "The fact that we have access to 3D printers, and industry-standard cutting-edge software — that's a huge advantage."
Smalley also encouraged some of his peers at UA to start a chapter of the student organization 3D for Everyone, or 3D4E, which he founded at USC in collaboration with friends at other universities. The organization, which he says has seven or eight chapters across the country, teaches students computer design and 3D scanning and printing. The original chapter at USC, he adds, partners with a local children's hospital to print prosthetic limbs.
"We teach people how 3D printing can be used to turn an idea into something more tangible," he says, in effect describing his career: from building LEGO models to designing hip implants for patients, Smalley has been turning his ideas and dreams into something tangible for most of his life.
Worldwide aspirations
He credits Dr. Julie Zhao, director of the Increasing Diversity in Engineering Academics, for ensuring he and his peers have the tools they need to succeed in engineering.
"The world needs more people like Dr. Julie," says Smalley. "One of my biggest goals is to positively impact the lives of 1 billion people by the time I retire."
His loftiest dream is to fulfill the dreams of others, like the patients who, thanks to the hip implants he designed, are now able to walk.
"I plan to, within the next 10 to 15 years, start my own company," he says. "I want to develop innovative medical devices that will better the lives of people worldwide."
Students' voices: That's what makes us Zips!
Share