Engineering alumni return for annual pilgrimage
08/04/2021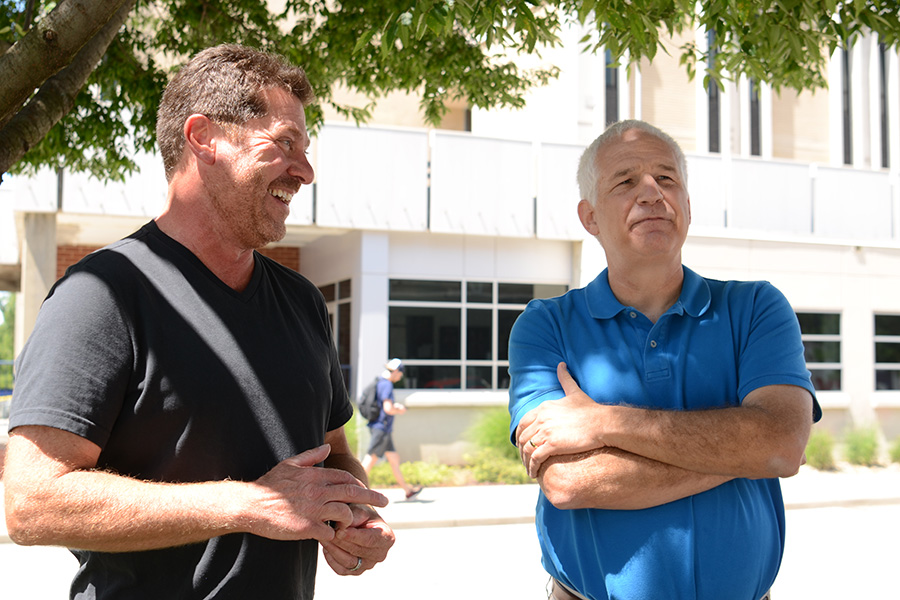 Since 1985 Don Cea (left) and Mike Dubetz from the class of 1982 have kept up a tradition to meet up at UA every year.
As country star John Denver used to sing, "it's good to be back home again." And in the case of UA alumni Mike Dubetz and Don Cea from the class of 1982, the two are showing you can come back home again every year, even 39 years after graduation.
Since 1985 the two have kept up a tradition to meet up at UA every year to walk the campus, visit old classrooms and hangouts, reminisce about old times, and catch up on each other's lives.
Cea, originally from Akron's North Hill neighborhood, and Dubetz, hailing from nearby Rootstown, met in room 120 of the Auburn Science and Engineering Center where they were both civil engineering majors.
"I didn't know anyone in class, but Don and some guys were talking about [NFL head coach] Tom Landry not wearing a hat and I had to jump into the conversation," said Dubetz. "From there we became friends."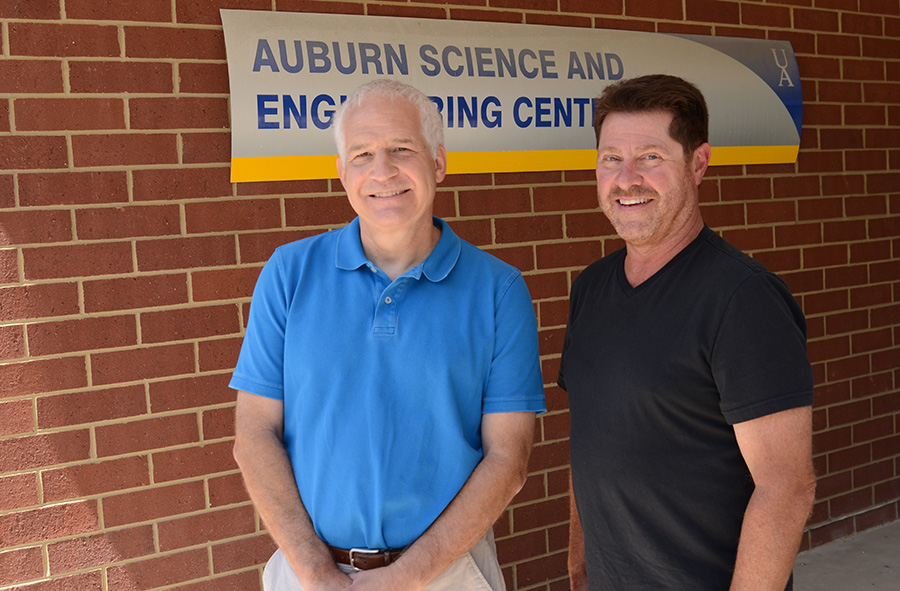 The Auburn Science and Engineering Center was were Mike Dubetz (left) and Don Cea met, establishing a friendship that has lasted decades.
The two began their walks in 1985, always starting at Luigi's Restaurant, and have continued them every year, even during the COVID-19 pandemic. They have enjoyed seeing how the campus changes each year, yet they notice some things remain the same.
"The Auburn building is the same, but the Union is completely different," said Cea, who remembers spending lots of his free time in the Chuckery. "We also only had three women in engineering when we were here, and that has changed."
One of those women was Diane Burrowbridge who now serves as the coordinator of academic advising for engineering students.
"We just happened to walk by her office and see her name, so we had to stop in and see her," said Dubetz. "She is one of the only people who knows that we do this every year."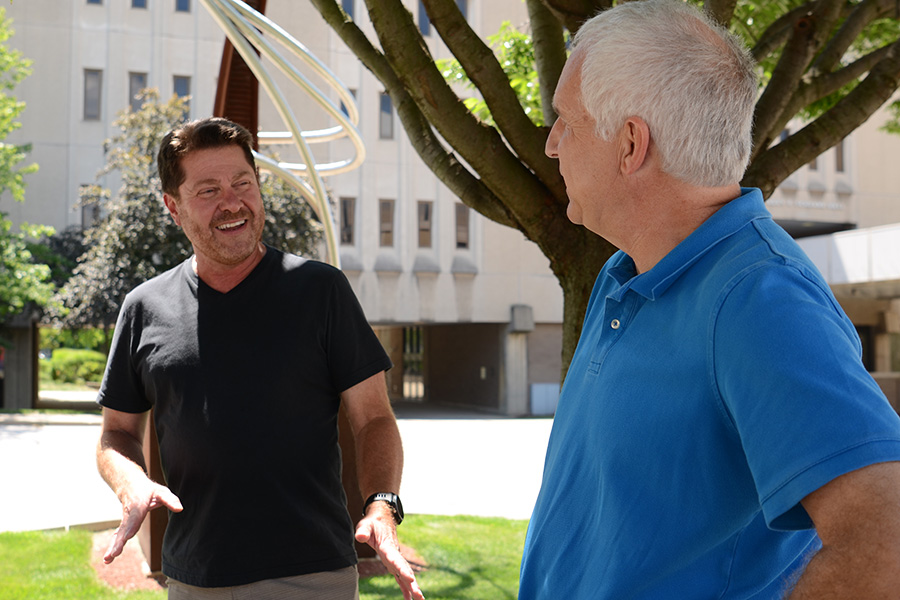 Don Cea (left) and Mike Dubetz recently walked the UA campus and caught up with each other's lives, just as they have done each year since 1985.
And although the two alumni pals walk the campus and retrace the paths they took to their classes, they also sometimes get into mischief. One year the off-campus rental house that Dubetz lived in while a student was having a party. The two joined in, and the person living in the house even gave them a tour!
"Coming back to campus never gets old," said Dubetz. "We are proud UA alumni and friends, and plan to keep up the tradition for years to come."
Dubetz currently lives in Denver where he works as a tax lawyer and is married to Lori Stanton '82. Cea remained in Akron where he owns a construction company and is married to Kara Stewart, manager of the UA Dance Institute.
We hope to run into them on their next visit!
---
Media contact: Cristine Boyd, 330-972-6476 or cboyd@uakron.edu
Share