Engineering and art join forces to benefit Akron neighborhoods
12/05/2018

A collaboration between engineering students at The University of Akron and local artist Mac Love, owner of Art x Love, is expanding the tide of options available where local children can have fun outdoors.

Students on an engineering service design team are creating mobile splash park attractions to bring playful water features to underserved Akron neighborhoods. This initiative is a part of Love's effort to address area residents' desire for convenient recreational water amenities other than public pools. Service design teams like this one consist of student volunteers who provide services for nonprofit organizations.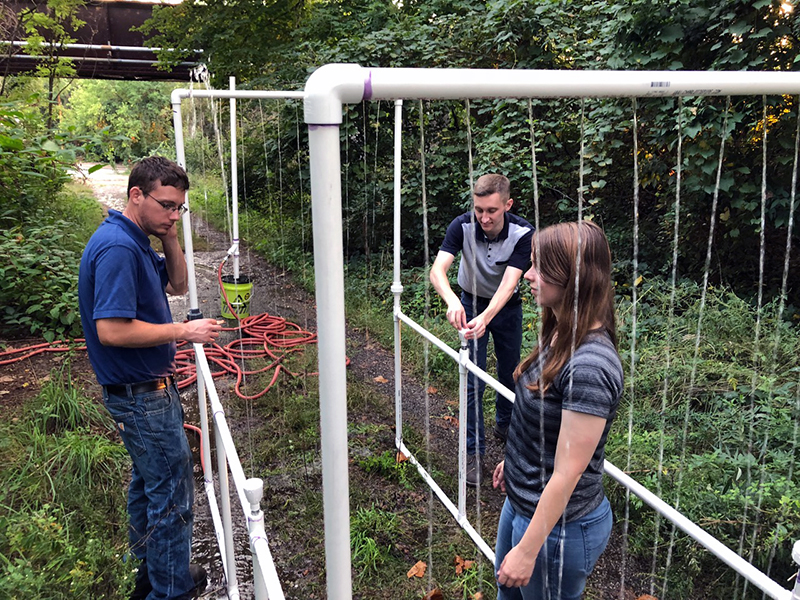 UA engineering students Sean Blake (left), Scott Salerno and Monica Lacek test their "car wash" feature for a mobile splash park. The "car wash" is a long corridor of PVC pipes that spray water and can be used with a tarp for a slip-and-slide.
Specifically, student engineers are building two (of what hopefully will be four) features for the mobile splash park — a "car wash" (a long corridor of PVC pipes that spray water and can be used with a tarp for a slip-and-slide) and a "mushroom waterfall" (a feature that shoots water straight up in the air before it cascades down in the shape of a mushroom). Both were specifically designed for outdoor use and will have a connection for a ¾-inch hose to supply water to it from any water source.
Easy to share the fun
"These features are strategically designed to be easily assembled, disassembled and transported to various locations to provide water play features for kids at outdoor community events," said project leader Sean Blake, a senior civil engineering major and Akron resident. "They needed to be lightweight to transport, yet sturdy enough to withstand wear and tear from children's heavy use. It took a lot of time at the drawing board to design these features. These amenities will make a great, playful addition to Akron neighborhoods."
Materials were supplied by Love, using money he received in a grant from the John S. and James L. Knight Foundation for an ambitious 24-neighborhood interactive art project called @PLAY, which is designed to bring people together and encourage deeper community connections.
The five-student team joined Love in walking and biking the streets in Akron's neighborhoods to survey what residents thought would make the biggest difference to the quality of life. "Splash Park" was a popular response, but residents want it to be accessible and not as a replacement for existing public pools.
"So, we asked ourselves, 'Is there a way we can bring the splash park to them?'" said Love. "UA engineering students were an ideal partner to help build these amenities because they approach each project with respect for the complexities of making things work in a reliable and safe way. I have greatly enjoyed this collaboration and look forward to bringing these Splash Toys to Akron's neighborhoods next year."
---
Media contact: Alex Knisely, 330-972-6477 or aknisely@uakron.edu.