UA engineers develop tech that prevents power outages
10/09/2019

A power outage can cripple a community and can wreak havoc on small businesses, transportation systems, and the contents of our refrigerators. They are also costly. Eaton Corporation's Power Outage Annual Report estimates that electrical power outages, surges and spikes are estimated to cost more than $150 billion in annual damages to the U.S. economy.

Weather conditions, equipment failure due to faulty wiring, and fire can lead to damaged power lines, and there are currently no practical methods that determine the condition of these lines. When they are damaged, often the whole line is removed when only a small portion is faulty. This can lead to an inefficient use of time and money to replace the lines.

A research team of faculty, undergraduate, and graduate students at The University of Akron's College of Engineering is developing a solution to identify faulty power lines in advance of an outage and isolate the place on the line that is damaged.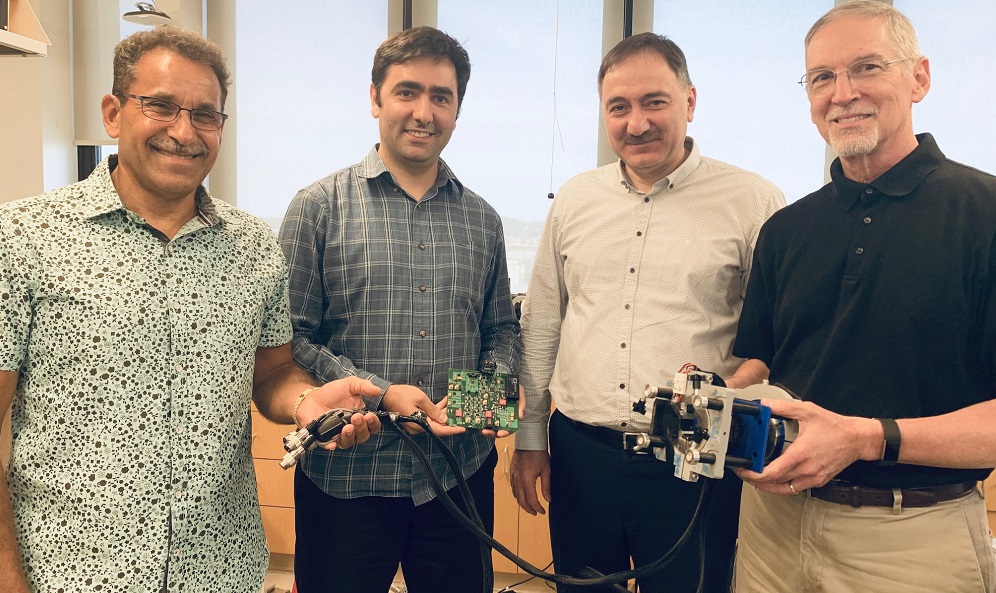 Active clamp research team in the Alternative Energy Laboratory at The University of Akron
Under the leadership of Dr. Yilmaz Sozer and Dr. Jose Alexis (Alex) De Abreu-Garcia, professors in the Electrical and Computer Engineering Department, the team has developed a smart sensor tool they refer to as "the active clamp" that attaches to an underground power line. The clamp injects a signal into a power line and measures the response. This determines if the line is healthy or damaged.
"Imagine shouting into a canyon and listening to the echo to learn about the canyon, or a bat "chirping" to detect the presence of an object in the dark," says Dr. Robert Veillette, Chair of the Electrical and Computer Engineering Department. "That is how this technology works."
A key feature of this new technology is that the active clamp may be clamped on power lines without taking them out of service. This is an advantage over the conventional method, which requires the use measurement equipment that can be connected only when the cable is out of service. This can cause damage to cables that have not moved in decade, leading to a time intensive process to make sure the cables are repaired safely.
UA's technology will evaluate the condition of operating cables safely and frequently in just minutes. They key here is prevention – making sure faults within power lines are detected before there is an outage.
Since the clamp can detect a fault as far as 100 yards away, it is useful in detecting problems with underground cables that are inaccessible along their whole length, another key feature. A second clamp can be added to isolate the segment of power line where the fault exists, allowing the technician operating the clamps to precisely pinpoint the problem.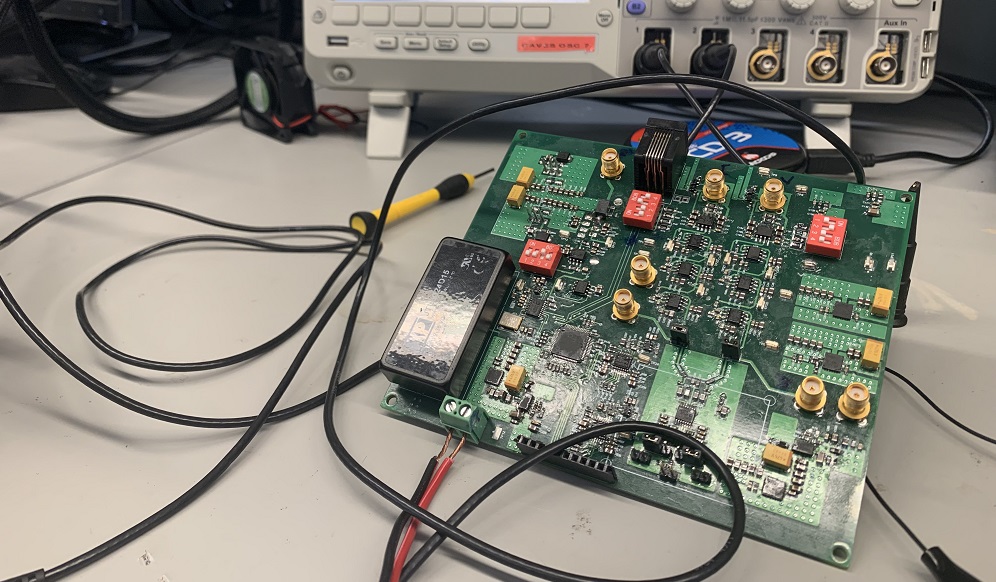 The active clamp, which consists of a signal processing unit for field testing.
The UA team is working with Exacter Inc., a Columbus-based technology provider to the utilities industry and leading provider of cutting-edge predictive grid analytics to the electrical utility industry.
"Every time a customer doesn't have power they aren't paying for it, which hurts power companies," says John Lauletta, CEO of Exacter. "Based on their interest in the clamp before it is even ready for market, utilities companies are eager to find new ways to prevent that from happening."
Lauletta adds, "There are millions of miles of underground insulated cables that have operated past their expected lifetime causing thousands of explosions and fires in the U.S. each year. Now is the perfect time for this new technology to address an industry and public safety problem."