Engineering professor honored as national outstanding teacher
07/06/2016
The University of Akron's Dr. Mary Verstraete was one of 15 outstanding engineering and engineering technology educators honored by the American Society for Engineering Education (ASEE) at its 123rd Annual Conference and Exposition in New Orleans June 27-28.
The individuals were honored for "their commitment to their profession, desire to further ASEE's mission, and participation in civic and community affairs, exemplifying the best in engineering education."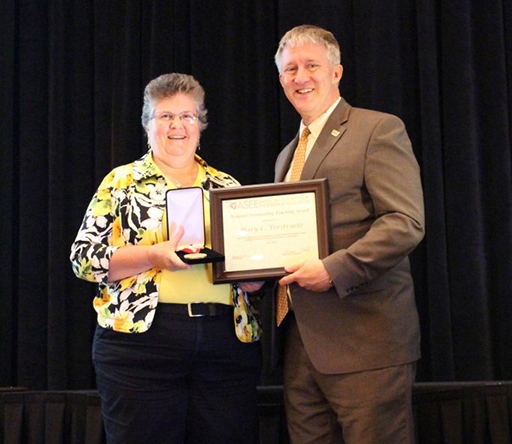 Dr. Mary Verstraete receives her teaching award from Dr. Joseph J. Rencis, president of the American Society for Engineering Education, at the organization's national conference.
Verstraete, an associate professor of biomedical engineering, was the recipient of the 2016 ASEE National Outstanding Teaching Award. The award "provides national recognition to an engineering or engineering technology educator for excellence in c, and participation in ASEE Section meetings and local activities."
"My teaching philosophy is based on how I was taught engineering over 30 years ago, not only what was done well and helped me, but also what was done poorly and how much it caused me to struggle," says Verstraete, who joined UA in 1988. "I considered myself a 'typical' engineering student — I was good in math and science and I learned best when I was shown how things worked and taught how to solve problems. Even in today's information age, I believe most college students require someone to lead and advise them. These two concepts form the basis of my teaching philosophy – visual, hands-on learning and competent academic advising."
Her students also know the value Verstraete puts on communication.
"I believe strongly in the need for today's engineers to possess excellent communication skills," notes Verstraete. "Presentations and writing assignments abound in my classes, with sufficient feedback to allow each student to improve over time.
"The best thing about being a teacher is the ability to help others to achieve their goals and aspirations," adds Verstraete. "The potential to make even a small difference in someone's life is the reason I get out of bed each morning."
Share