Engineering students benefit from Parker Hannifin
12/19/2019

One of the longest running Parker Motion and Control Laboratories is supported by the Mechanical Engineering Department at The University of Akron. For more than 25 years Parker has partnered with UA to provide lab programs that enhance engineering programs offered at the University.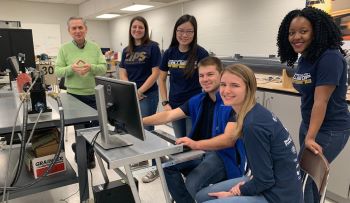 Dr. Celal Batur, professor of mechanical engineering (left), with engineering students in The Parker Hannifin Motion and Control Lab.
Parker Hannifin's recent support ensures that students continue to have access to the latest engineering technology. Located in UA's College of Engineering, The Parker Hannifin Motion and Control Lab offers a hands-on experiential setting for mechanical engineering principles. Parker Hannifin also recruits UA engineering students for internships, co-ops and career opportunities.