Everything's coming up roses in Art Bomb Brigade mural
04/24/2019

Spring is in the air, and The University of Akron's Art Bomb Brigade is back on the streets planting seeds of color in the community.

This spring, UA students worked with Jeremy and Christy Lile, owners of The Grand Exchange, to design a mural with the local community in mind. The Grand Exchange was born out of a desire to redevelop a space that could foster a sense of belonging and provide a place for individuals to create, collaborate and exchange. The Liles said, "This building has always been about the community — it's an expression of our shared life together."

A public celebration to unveil the mural will be held on Thursday, May 9, from 6 to 8 p.m. at The Grand Exchange, located at 933 West Exchange St., in Akron. Free food and entertainment will be provided.

In consultation with the Liles, students created imagery for the mural to symbolize love, beauty, hope and innocence. "We wanted to invoke feelings of joy in the community," said ceramic student and Art Bomber, Morgan Jones.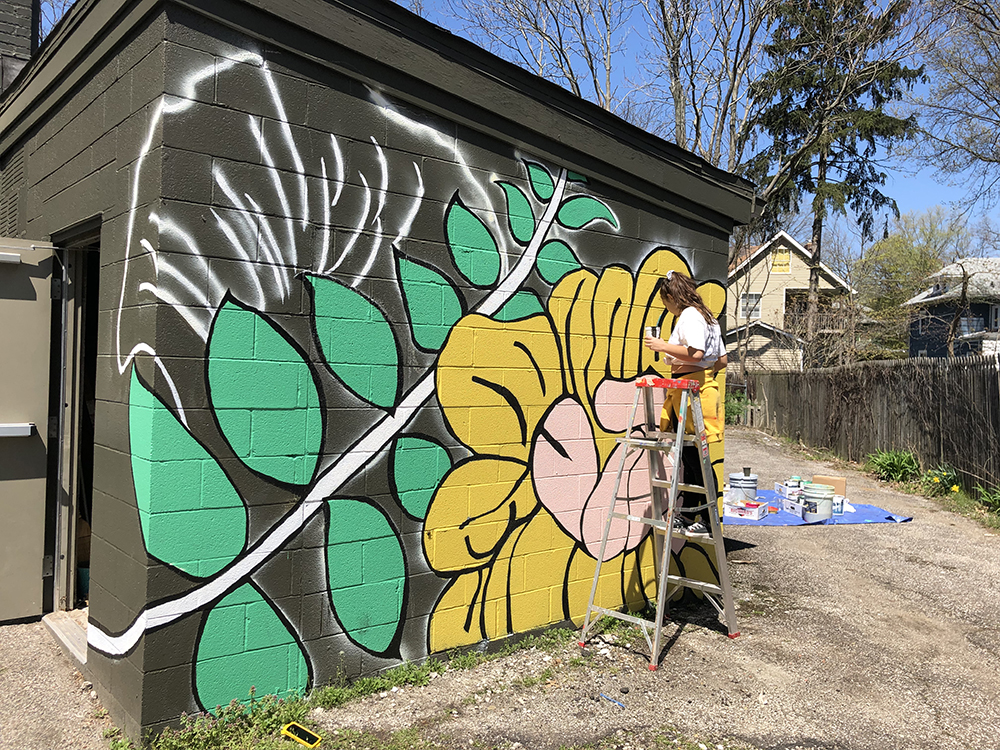 Students also took inspiration from Theaster Gates, a leader in Ethical Redevelopment, who said that design can interrupt how people perceive themselves by changing the conditions of their daily activity.
"Elisa, Marissa and the students in their class exemplified incredible listening and developed a vision for how the mural on our building could make an impact on the way people in our community feel about themselves and the place they live," added Christy Lile. "We love what emerged from this group work and we admire the way the students took direction and expanded their creativity to include elements that mattered to us and felt authentic. This process was exciting and inspiring from beginning to end."
About Art Bomb Brigade
Art Bomb Brigade is a mural project started by Elisa Gargarella, an associate professor in the Myers School of Art, and Marissa McClellan, executive director of Crafty Mart. Gargarella and McClellan operate Art Bomb Brigade as an art education program, and a public arts outfit interested in fostering the next generation of creative leaders and making Akron's cultural landscape "a lot more groovy."
Aimed at giving students real world learning opportunities, Art Bomb Brigade specifically designs experiences for students to be at the center of public art planning, funding, implementation, community building and outreach.
Winner of the 2016 Knight Arts Challenge, the Art Bomb Brigade has already completed 13 murals, soliciting local artists to work with UA students to develop and paint high impact murals. Art Bomb Brigade murals have become part of the local fabric in the region, with recent works at the Downtown Laundromat, Chill Ice Cream Company, the Akron Sustainer, Echogen Power Systems, Mill Street Bridge, Community Support Services of Summit County, Akron's Historic Arts and Cultural District, Summit County Public Health, Glendale Steps, St. Vincent St. Mary High School, Kenmore Neighborhood Alliance and the Barberton Library.
For more information, visit the Art Bomb Brigade online, or on Facebook or Instagram.
Generous Support for Art Bomb Brigade
The Art Bomb Brigade is a community arts program supported by the John S. and James L. Knight Foundation's Knights Arts Challenge, GAR Foundation, The Grand Exchange, and many more. The mission of the Art Bomb Brigade is to breathe new life into Akron neighborhoods through high impact public art.
---
Media contacts: Lisa Craig, UA media relations specialist, 330-972-7429 or lmc91@uakron.edu, or Elisa Gargarella, Art Bomb Brigade director, 330-972-8325 or gelisa@uakron.edu, or Marissa McClellan, Art Bomb Brigade assistant director, artbombbrigade@gmail.com.