Fedearia Nicholson-Sweval named vice provost for student pathways and dean of University of Akron Honors College
03/28/2022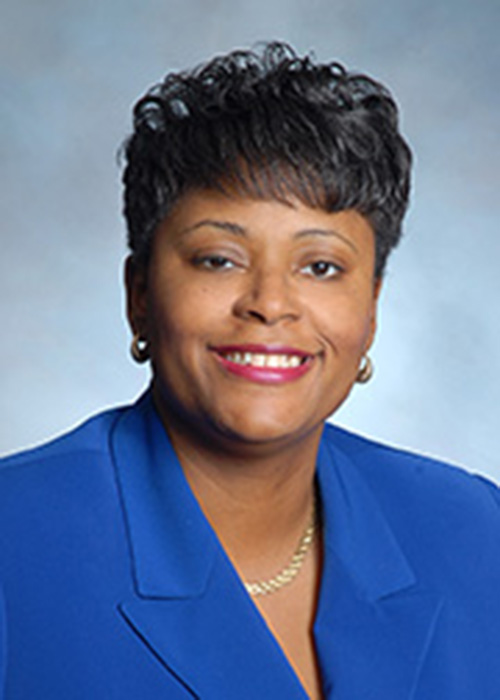 Fedearia Nicholson-Sweval, Ph.D.
An alumna with more than 23 years of experience in higher education and as an administrator is returning to The University of Akron (UA) to support academic student success and lead its Dr. Gary B. and Pamela S. Williams Honors College.
UA has chosen Fedearia Nicholson-Sweval, Ph.D. as vice provost for student pathways and dean of the Williams Honors College. She will begin the post April 29, 2022, pending approval by the University's Board of Trustees. Nicholson-Sweval will replace Joe Urgo, Ph.D., who is serving the same positions in an interim role.
As vice provost for student pathways, Nicholson-Sweval will lead the Student Success Team and several student-focused offices, such as Academic Retention and Support, focusing on pathways into higher education for high school students and returning adults while increasing the diversity of the student body. Nicholson-Sweval will provide leadership to the Williams Honors College as its dean to continue a rigorous, transformative learning experience for UA's high-achieving students while maintaining its engagement with the community.
"We are thrilled to have Fedearia back at The University of Akron working with our students and community to advance Akron and the region," said John Wiencek, executive vice president and provost. "Fedearia has a wealth of experience in student success and effective honors programs, and we are very fortunate to have her on the team."
Nicholson-Sweval comes to UA by way of Stark State College, where she presently serves as dean of student success and equity. Among her accomplishments in that position, Nicholson-Sweval established an agreement between UA's and Stark State's honors colleges for a seamless transfer experience and developed a program designed to transition new first-time students into the college experience.
She provides leadership and oversight for many programs and offices, including the Office of Student Life's equity and leadership programs, Disability Support Services, Military Services, Counseling and Student Support, Student Judicial Affairs, Interfaith Campus Ministries and the Testing Center.
Nicholson-Sweval previously worked at UA for 10 years in multiple roles, including assistant vice president for student success and director of multicultural development, having led the Student Success Center, and developed and led what was then the Black Male Summit (later renamed to the Black, Brown and Beyond Male Summit) for its first five years.
"The opportunity to return to UA and serve as vice provost for student pathways and dean of the Williams Honors College is both an honor and a privilege," said Nicholson-Sweval. "UA offers a world-class education and I look forward to creating opportunities for all students to receive the support and tools needed for a successful completion."
Nicholson-Sweval's experience and leadership in promoting diversity and equity in higher education was also gained through Northeast Ohio Medical University and Ursuline College, where she served in various multicultural affairs positions. Prior, Nicholson-Sweval worked in the office of the dean of student affairs at Cuyahoga Community College.
"We are thrilled to welcome Fedearia Nicholson-Sweval as dean of the Dr. Gary B. and Pamela S. Williams Honors College," said Gary and Pam Williams, whom the College was named after in 2016 in recognition of the distinguished alumni and longtime donors. "Fedearia's interest in, and concern for, our students is evident, and we are confident that she will lead the Honors College to new plateaus, from which they can see farther and dream bigger. We heartily welcome her as she returns to her alma mater and her new post."
Nicholson-Sweval is active on several community boards, serving as vice president of the board for Project Grad Akron, chair of the board for Heart-to-Heart Leadership, a member of the Akron Urban League and a member of the inclusion committee for the Greater Akron Chamber of Commerce. She's also the recipient of many awards and recognitions, such as the Harold K. Stubbs Humanitarian Award for Education, the American Council of Education Ohio Women's Network Professional Development Scholarship Award and the Akron Chamber of Commerce's 30 for the Future Award.
An Akron resident, Nicholson-Sweval earned a Doctor of Philosophy in Urban Studies and Public Affairs, a Master of Public Administration and a Bachelor of Arts in Psychology, all from UA.
---
Media contact: Cristine Boyd, 330-972-6476 or cboyd@uakron.edu
Share