From Ethiopia to Akron: preparing for a career in coffee
05/23/2023
There are thousands of miles, millions of people and many other differences that separate the cities of Akron and Addis Ababa, the capital city of Ethiopia and one of the largest cities in Africa.
The two cities do have one major connection, however. Three siblings from Addis Ababa have all studied at The University of Akron (UA), with the youngest set to graduate in May 2023.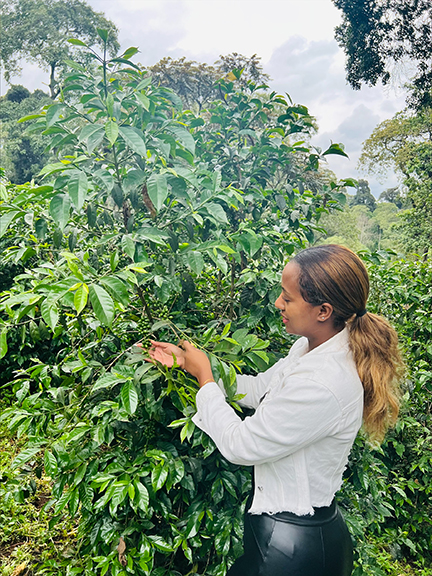 Eden Dukamo is a senior who is double majoring in marketing and sales management. Her older brother, Kenean Dukamo '19, studied computer science, and her older sister, Bethlehem Dukamo '21, was a nursing student.
UA has been a special experience for all three siblings, who found community in a place more than 7,300 miles from where they grew up and where nearly all of their family still lives.
"Coming here really opened my mind to a lot of things that I wouldn't have known if I was back home,"said Eden.
Coming to the U.S., Finding UA
The Dukamo siblings attended an international high school in Kentucky, which was their introduction to the U.S. and life far from home. Kenean was getting ready to graduate and looked for higher education opportunities close to Kentucky. One of those options was UA. After he was accepted, Eden visited Kenean during her school breaks, since regular trips to Addis Ababa weren't feasible.
She recalls visiting many places such as Bierce Library and growing very comfortable on campus.
"He loved it and graduated, so we all followed the same path," she said.
The Dukamo sisters now live together in Akron. Bethlehem recently began working at Cleveland Clinic Akron General Hospital.
International Students at UA
International students make up around three percent of the current UA student body. China, India and Saudi Arabia, respectively, are the top three countries out of 70 different countries with students enrolled. Eden is one of eight Ethiopian students this year.
International student interest in UA is growing, especially now that COVID restrictions have been relaxed. UA's global reputation has also reached new levels, especially following a 2022 rating as the top university in the world for polymer and plastics engineering.
The University's International Center provides support at every step along the way, including help with the application process, ensuring students have the correct immigration paperwork, working with parents who are overseas, and even making sure incoming students know how to preorder bedding and towels for their residences.
Dr. Deborah Owens, associate professor and chair of the Department of Marketing, appreciates the richness that international students add to the UA experience.
"I absolutely love our international students. They have helped me to broaden my perspectives and I know that they have done that for other faculty and students," she said. "I try to get to know them personally, and often invite them to share a meal so they get a look into the life of an American family."
Owens and other UA faculty and staff have been a big part of Eden's support system in Akron. That was especially meaningful during the pandemic, when she was unable to return home for two years.
"Professors like Dr. Owens make the time to email me and check up on me," Eden said. "They don't have to do that for individuals, so that has really touched me. It can be hard for [international students] and they consider that, which I really appreciate."
Eden has also found community in other areas, including her job as a student assistant in the Student Recreation and Wellness Center and by gathering with others to go bowling in the Roo Lounge at the Jean Hower Taber Student Union.
Brewing a Career in the Coffee Industry
Although she has chosen a very different academic program path from her siblings, Eden's long-term goal is to support her family's business in Ethiopia. In a country renowned for producing some of the best coffee in the world, her father and uncle own a coffee exporting business called Daye Bensa Coffee. She is eager to jump into that industry, too.
As a double major, Eden was required to do two internships for credit. For her marketing major, she interned with Bereka Coffee, an Akron-based company that was started by Nardos Street, who is also from Addis Ababa. She not only learned about marketing coffee by managing social media accounts and designing marketing materials, but she also had the opportunity to network and assist with events.
For her sales internship, she spent summer 2022 in Addis Ababa with her father's company. She made cold calls to potential new accounts, shadowed sales team members, managed email marketing campaigns and learned how to establish long-term client relationships.
After graduation, Eden wants to stay in the U.S. to learn more about the coffee industry and eventually help her father establish his business here. She knows UA has shaped her and given her the experience she will need to continue to bridge the distance between her home country and adopted nation.
"I've had the opportunity to do internships, career fairs and to make connections with companies," she said. "I would definitely recommend UA to other international students. I've really met a lot of friends who have become family."
Story by Jessica Whitehill
Share