Grant will fund 'Deindustrialization and the Politics of Our Time' project
05/19/2020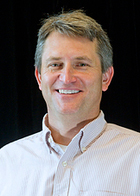 Dr. Gregory Wilson
Dr. Gregory Wilson, professor of history, is one of the lead scholars on a new, transnational research project titled "Deindustrialization and the Politics of Our Time." This makes The University of Akron one of 33 partners from Europe, Canada and the United States who are part of the seven-year, $2.5 million grant funded by the Canadian Social Science and Humanities Research Council.
The goal of the project is to understand the deep roots, experiences and long-term consequences of deindustrialization across six countries. The grant capitalizes on renewed attention to deindustrialized regions and communities at the center of many economic, political and environmental tensions of our time.
"I am excited to be part of this ambitious project, working with incredibly talented individuals and leading organizations from across several countries," says Wilson. "It extends my research and teaching on Akron and Ohio in an exciting and powerful way."
The project will involve workshops, creative outputs from an Artists-in-Residence program, newspaper op-eds, a book series and a multi-site exhibition developed with museum partners. This partner project promises to be a landmark in the transatlantic study of the politics of deindustrialization.
Share