In memoriam: Dr. Jean Elouise Hower Taber
07/27/2017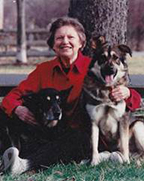 Jean Hower Taber
---
Dr. Jean Hower Taber — a community volunteer and philanthropist who served on the Hower House Board of Trustees — passed away recently at the age of 94.
She was the great granddaughter of John H. Hower, one of the founders of the Quaker Oats Company and the builder of the 1871 Victorian mansion, Hower House, which was gifted to The University of Akron in 1973 by Taber's father, John B. Hower.
Taber graduated from Colby Sawyer Junior College in 1943. She is the widow of Benjamin Taber, a Cleveland lawyer.
A member of The University of Akron Foundation Board of Directors from 1986 to 1992, Taber was involved in a variety volunteer work and philanthropy throughout Northeast Ohio. Among the organizations that benefited from her time and support are the Cleveland Museum of Natural History, the Cleveland Historical Society, the Cleveland Zoo Society, the Geauga Park District and the Therapeutic Riding Center Foundation.
She served on the steering committee for the University's Heritage and Vision Capital Campaign, and was a member of the Classical Studies/Archaeology/Anthropology Advisory Board.
Taber was honored for her tireless efforts on behalf of the community and higher education by the University in 2004 when she was awarded an honorary doctorate.
Over her lifetime, Taber's gifts to The University of Akron exceeded $7.5 million. They were given in support of Hower House and its grounds, student scholarships, and academic and athletic programs.
"Dr. Taber made lasting differences in the lives of our students, assisting them in their quests for higher education," said University President Matthew J. Wilson. "She remains a part of our continuing story of student success."
Memorial services will be held at Wade Memorial Chapel at Lake View Cemetery at 3 p.m. Tuesday, Aug. 8. The chapel is located at 12316 Euclid Ave., in Cleveland.
Share