International outreach will welcome more students from around the globe
09/27/2017

For Ashish Akula, today's grand opening of our International Center makes him feel even more welcome on The University of Akron campus.

"This is the result of a very big initiative on behalf of the international students — those here now and those who will come here in the future," said Akula, who will be awarded an M.S. in Mechanical Engineering in December. In January, he begins work on a Ph.D.

Indeed, the new International Center, located in Buchtel Hall 202, is the one-stop-shop for international students and those interested in education abroad, with these four functions:
International recruitment
Immigration services
Center for International Students and Scholars
Education abroad advising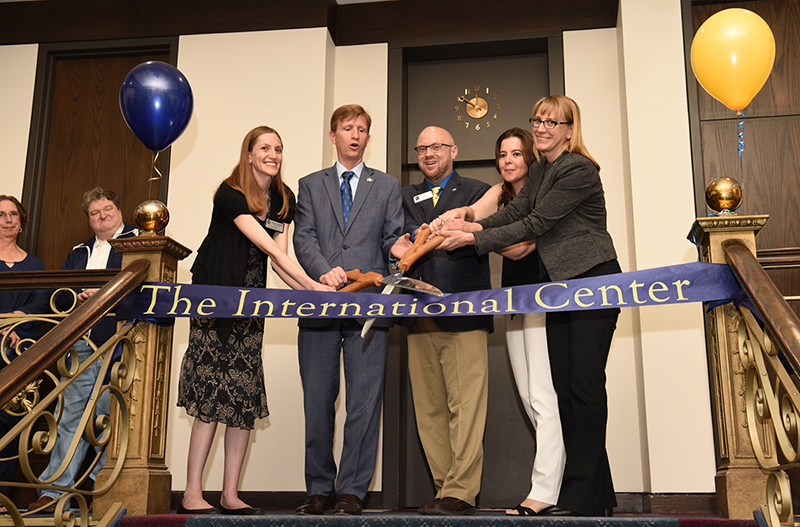 Cutting the ceremonial ribbon, are from left, Robyn Brown, President Matthew Wilson, J.P. Yates, Nicola Kille and Sarah Cravens.
We have 1,145 international students enrolled here, with the largest numbers from Saudi Arabia, China and India. But UA students hail from a total of 78 countries, including Togo, Myanmar and Eritrea.
Akula, who is from India, says he has embraced the opportunities he's found for research and campus involvement. This year, he is president of the Indian Student Association, a group that plans many diverse and cross-cultural events. His research for the Federal Aviation Administration is being supervised by Dr. Shengyong Wang, an associate professor of mechanical engineering.
"What I love, doing research and talking to people, I found that here at The University of Akron," said Akula with a warm, broad smile.
Benefits include enriched classrooms
At today's celebration, President Matthew Wilson told the gathering of faculty, staff and students that our focus on reaching out to potential international students, and giving even more UA students opportunities to study abroad, offers many benefits.
"What folks around the world will find is that here we welcome students from all countries, from all walks of life, all backgrounds, from all religions, from all creeds, all orientations," said Wilson. "Truly, you can get a great education here at The University of Akron.
"I believe by going even more global, by having that emphasis on internationalization, our classrooms can be even more enriched," added Wilson. "Our eyes can be opened, we can be more adaptable, we can help folks learn how to build bridges. We're so excited to help do that."
UA also is part of the growing national campaign #YouAreWelcomeHere. More than 250 universities and colleges, to date, are taking part. Learn more by visiting our new International Center online.
---
IN THE MEDIA:
Akron Beacon Journal/Ohio.com: UA welcoming international students in a big way; four new recruiters working to boost enrollment
---