Japanese delegation inspired by biomimicry in Northeast Ohio
05/02/2017
At the end of April, partners Great Lakes Biomimicry and The University of Akron (UA) hosted a group of Japanese delegates who were visiting Cleveland and Akron through the U.S. Department of State's International Visitor Leadership Program. The program advances citizen diplomacy through cross-cultural dialogue and exchange, and the visitors included governmental and bureaucratic officials exploring technological innovations that are a part of the Cleveland-area economy.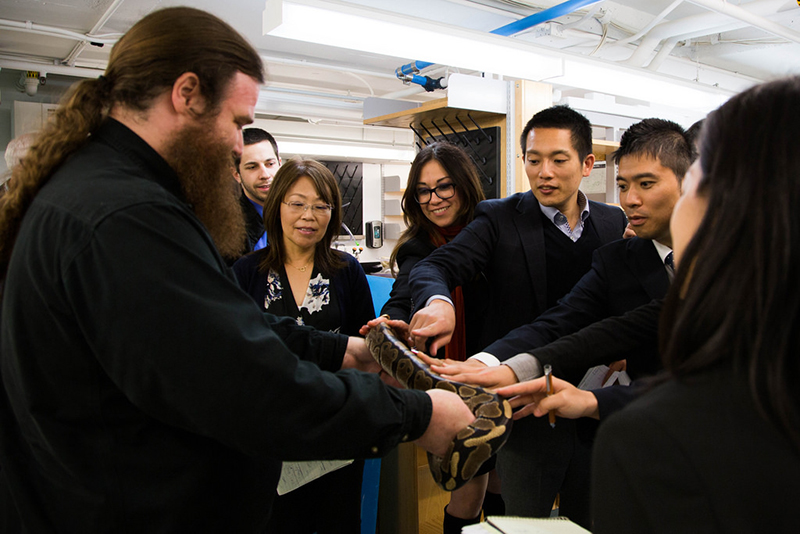 Dr. Henry Astley, an assistant professor in Departments of Biology and Polymer Science introduces the visitors to one of his snakes.
---
On their visit to the University, the delegates learned about the innovative work happening in Northeast Ohio due to collaboration between Great Lakes Biomimicry and UA's Biomimicry Research and Innovation Center (BRIC). They also discovered that through a partnership with Great Lakes Biomimicry, UA is the only place in the world where students can receive Ph.D.-level training in biomimicry. During a five-year program, Biomimicry Fellows study at the University and work for 16-20 hours a week with a corporate, industry, or education sponsor.
After receiving a presentation about the field of biomimicry from Great Lakes Biomimicry, the delegates went on UA lab tours to see firsthand how nature is impacting research, technology advancements and possible applications for commercial products.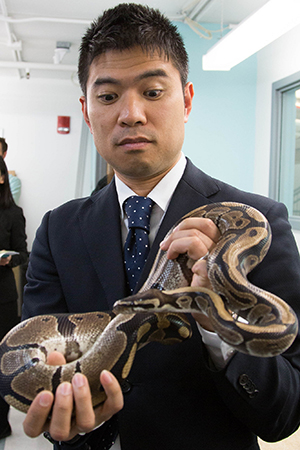 This visitor gets an up close view of a snake in a UA lab.
During the lab tours, delegates were excited to touch a live snake and crested gecko, and had close encounters with a robotic snake, black widow spider, spider webs and bird nests. UA professors explained how studying biological forms and processes can inspire innovation and novel solutions to problems. For example, looking at bird nest construction can teach us new engineering principles, and studying the black widow's venom could lead to advancements in pain relief within the medical field.
"This was definitely one of the main highlights from the Japanese delegation's program, and we want to keep biomimicry in mind for future delegations," said Andrew Kovach, international visitor program assistant for the Cleveland Council on World Affairs, who organized the group's visit to Akron.
For the delegates, one of the most interesting aspects of the biomimicry visit was learning about Dr. Henry Astley's robotic snake, which hopefully will be deployed in disaster situations, searching for survivors under rubble. Since the delegates live in a country with many earthquakes, they felt that applying the robotic snake to search-and-rescues was a great use of technology.
---
Media contact: Lisa Craig, 330-972-7429 or lmc91@uakron.edu.
Share