In a quiet, underground lab in The University of Akron's Auburn Science and Engineering Center, rows of 3-D printers make a low, humming sound. A student sits on a stool, checking the progress of a job, casually flipping through a textbook. He is part of a small team of mechanical engineering faculty and students who have come together to print face shields and mask extenders for students this fall.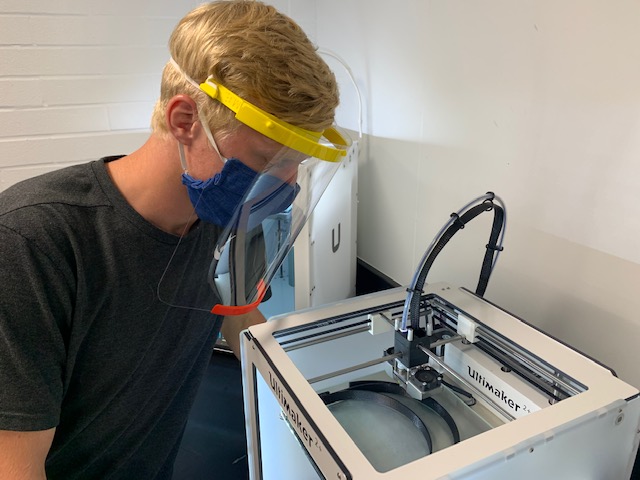 Andrew Wenzel, mechanical engineering major, monitors the Ultimaker printer.
Dr. Manigandan Kannan, Associate Professor of Engineering Practice, walks over to Aaron Trexler, Sr. Engineering Technician, to check out the total tally scratched out on a piece of scrap paper. They are at 1,860, almost to their goal of 2,500.
"When the university shut down in March, we wanted to help local hospitals, so we printed 2,500 extenders for nurses at Summa Health, The Cleveland Clinic, and Aultman Hospital," says Dr. Kannan. "When we heard about the need on campus for the shields once school resumes, we knew we had to get back to work and make more."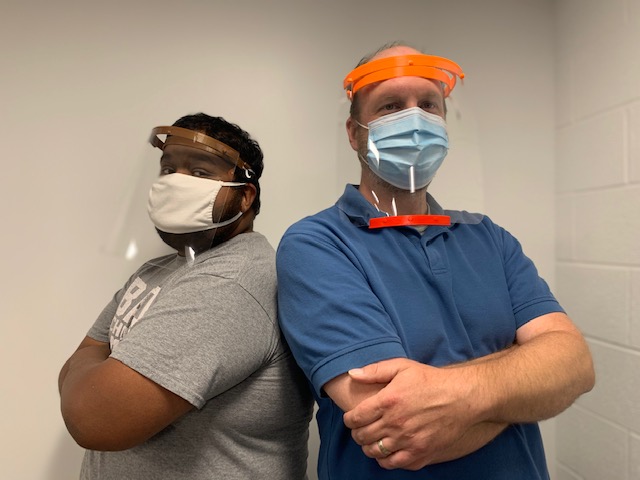 Dr. Manigandan (Mani) Kannan and Aaron Trexler lead the efforts to produce face shields for UA engineering and nursing students.
The PPE will be distributed to mechanical engineering seniors, civil engineering juniors and seniors, freshmen taking chemistry lab, as well as nursing students. The rest of the shields and extenders will be distributed by UA"s Department of Environmental and Occupational Health and Safety to other departments on campus. The shields, which were made from a prototype approved by the National Institute of Health, will serve as additional protection over the traditional face masks that all students are required to wear on campus.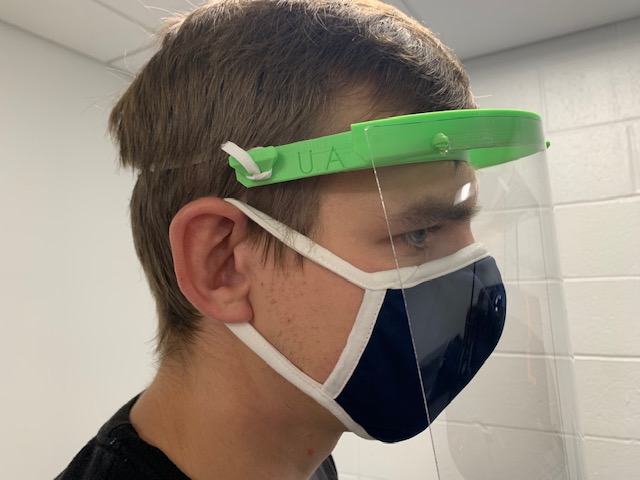 Jacob Wenzel, also majoring in mechanical engineering, models the face shield.
The team uses MakerBot and Ultimaker 3-D printers. They run 24 hours a day and produce 150 total extenders, 60 "headbands" (the top support), and 150 bottom support pieces each day. The plastic shield piece comes in sheets and is cut to fit in UA's engineering machine shop. The support pieces come in a rainbow of colors ranging from pink to white to black. The team even produced a Cleveland Browns themed version.
"The colors just happened because it became harder to purchase certain colors due to the increased demand in making face shields," says Kannan. "We had to buy whatever we could find."
In addition to Dr. Kannan and Aaron Trexler, the team includes Engineering Senior Technician William Wenzel and two student assistants, Jacob Wenzel and his brother Andrew Wenzel (Note: William is their dad).
---
Related content: