'Lifeboat' tells harrowing true tale at UA Daum Theatre
03/16/2015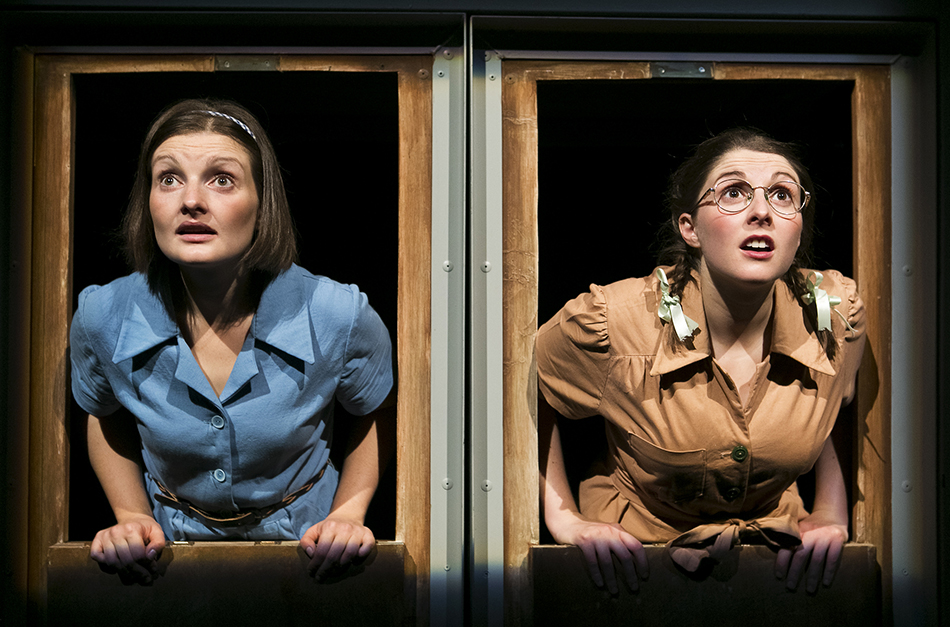 ---
The University of Akron's Theatre Program is collaborating with the Akron-based Center for Applied Theatre and Active Culture (CATAC) to present three April performances of "Lifeboat" by the Catherine Wheels Company of Scotland.
Two public performances of "Lifeboat" are April 13-14 at 7:30 p.m. in Daum Theatre in Kolbe Hall on the UA campus. Tickets are $12 for general admission; $10 for seniors and UA faculty, staff, and alumni; and $6 for students. Call 330-972-7895 to reserve tickets. A third performance, for middle and high school students, is April 14 at 10 a.m.
Written by Nicola McCartney and directed by Gill Robertson, "Lifeboat" tells the true story of two 15-year-old girls, Bess Walder and Beth Cummings, and their harrowing voyage from Liverpool to Canada as evacuees from Britain during World War II. Beth and Bess were part of a group of 90 evacuees aboard The City of Benares when it was torpedoed and sunk. The young girls spent 19 hours holding on to an upturned lifeboat in the middle of the ocean. Their gripping story of friendship and survival has received numerous international awards.
Catherine Wheels Theatre Company is an award-winning, international touring company that produces works geared toward children and young people. "Lifeboat" is one of the company's most successful shows and is now on a North American tour. Part of CATAC's mission is to nurture emerging local artists and those of international reputation as they create new work and experiment with new forms of expression.
This presentation is supported by the Arts Midwest Touring Fund, a program of Arts Midwest that is funded by the National Endowment for the Arts, with additional contributions from The Ohio Arts Council and General Mills Foundation.
For more information, visit the School of Dance, Theatre and Arts Administration online, or www.facebook.com/TheArtsStartHere.
---
Media contact: Cyndee Snider 330-972-5196 or cyndee@uakron.edu.
Share