Lifetime achievement awards given to polymer alumni at 3M
09/29/2022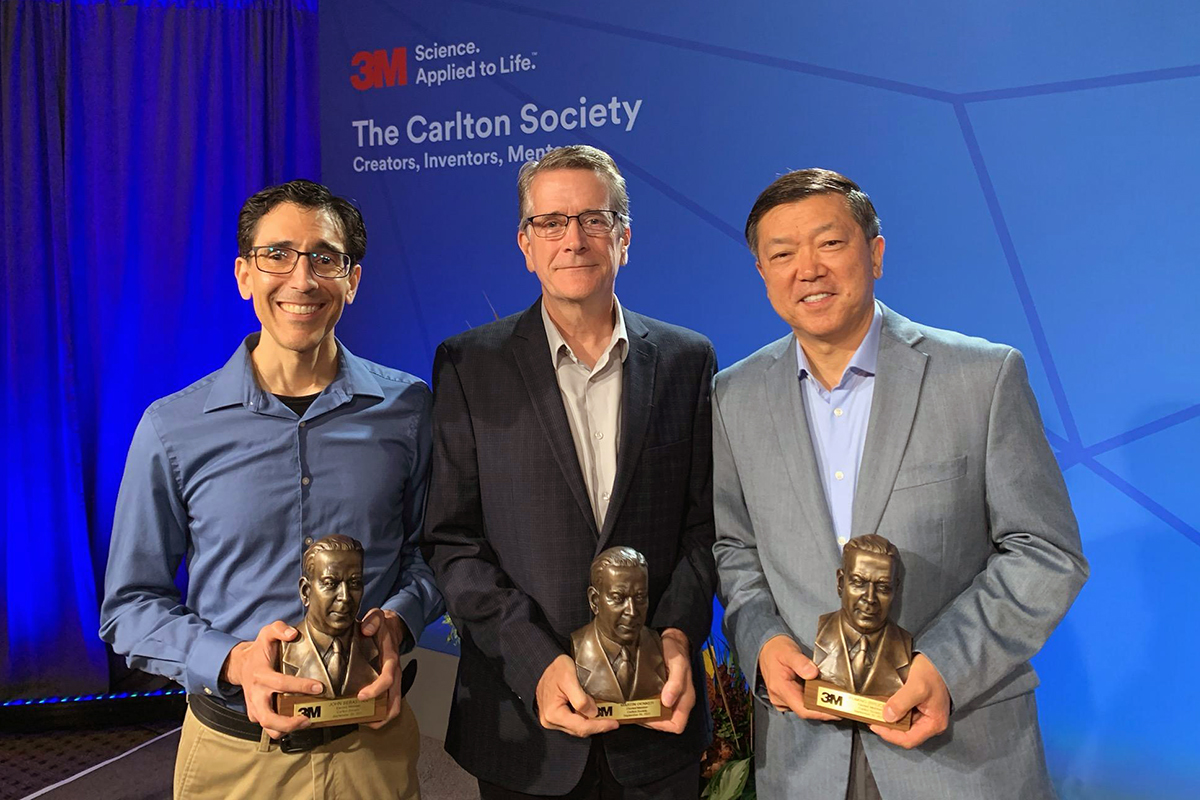 Recipients of admission into the prestigious 3M Carlton Society include John Sebastian, along with UA alumni Martin Denker, '85, '92, and Fuming (Bruce) Li, '98.
Two graduates of The University of Akron's School of Polymer Science and Polymer Engineering Program recently received top honors at 3M, a multinational consumer goods company headquartered in Minnesota.
Martin Denker, Ph.D. and Fuming (Bruce) Li, Ph.D., were admitted to The Carlton Society, 3M's highest recognition of lifetime achievement for 3M scientists and engineers. The newest inductees were announced during the 59th Annual Carlton Society Ceremony on September 20, 2022.
Dr. Denker is a retired corporate scientist in the Display Materials and Systems Division. During his 32-year career at 3M, he led the commercialization of a new-to-the world method for oriented stretching in multilayer optical films (MOF). This expanded the MOF value proposition into the smartphone and consumer electronic market. Having scaled the process technology from the lab to manufacturing, his overall leadership across multiple generations of reflective polarizers has provided a competitive advantage and delivered significant new sales given the broad adoption of this technology across the industry.
As a corporate scientist in the Safety and Industrial Business Group Laboratory at 3M, Dr. Li is credited for numerous groundbreaking discoveries in the fundamental science of a filter media technology platform. His efforts directly contributed to the discovery and development of additives and processes to improve performance of filter media. He is also known for his broad collaboration across roles, and for mentorship and support of colleagues worldwide.
Congratulations to these accomplished Akron Zips!
---
RELATED CONTENT:
---
Media contact: Cristine Boyd, 330-972-6476 or cboyd@uakron.edu.
Share