Engineering grads design wedding arcade game for their big day
08/01/2019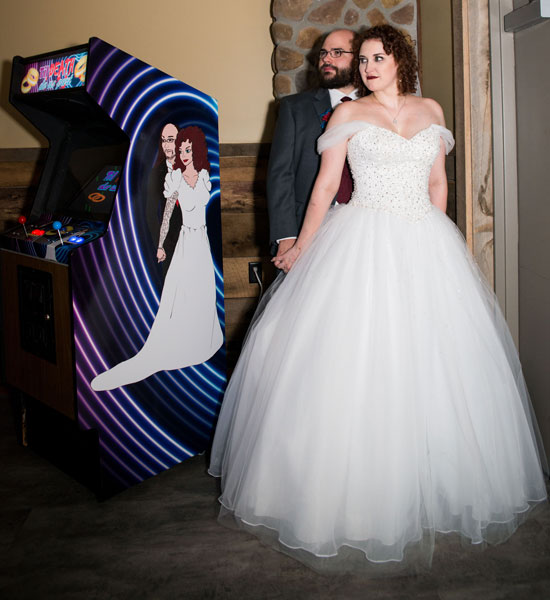 Dylan and Maggie Fashbaugh recreating the pose on 'Til Death Do Us Part, the arcade game they designed.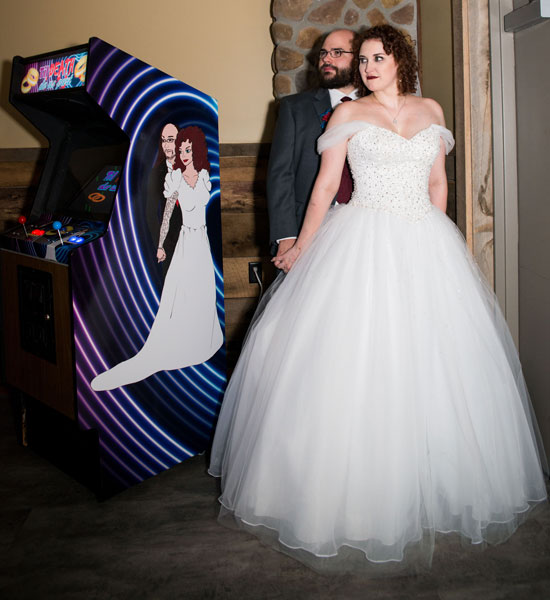 Dylan and Maggie Fashbaugh recreating the pose on 'Til Death Do Us Part, the arcade game they designed.
Some engaged couples obsess over Pinterest boards or spend extra hours at the gym in the months leading up to their wedding.
Never ones to go the traditional route, Dylan and Maggie Fashbaugh instead chose to spend precious hours in the months before their wedding designing and building a wedding themed arcade game.
Called 'Til Death Do Us Part, the two-player, 8-bit arcade game has one goal – stay alive. The bride and groom have to defend themselves against wedding related monsters including Cold Feet, Ring Bears, and Wedding Doves. They can call on their special powers, like the groom's lethal LED whip, or the bride's paralyzing scream that freezes monsters. If a player dies, a pixel art animation of the couple's cat appears on screen, staring at the player with disappointment. If the player wins, the screen displays a happy cat, free of judgement.
"We wanted our reception to stand out while still being us," said Maggie. "On a drive from New York City to Ohio, we joked about how cool it would be to have a wedding video game. With a longer engagement and some friends willing to help us, it seemed very doable to get it done."
The game was debuted at their wedding in Canton, Ohio on June 15, 2019. According to Dylan, the response was outstanding. There was a long line of guests waiting to play and everyone wanted to get the highest score.
The couple heavily leaned on their engineering education during the design process, using their knowledge on data and structures to create ways for the system to hold enemy information, scores, and player positions. They were able to apply their knowledge of algorithms to make the main characters move with the joystick and ways for the monsters to have their own unique personality in their motion with an element of pseudo-randomness.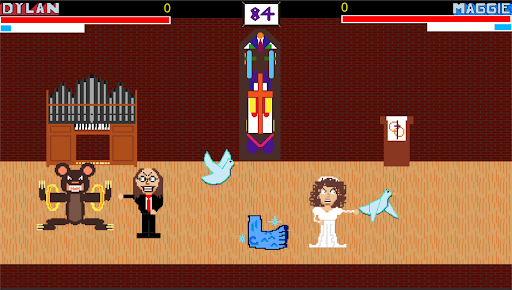 Fighting off Cold Feet, Ring Bears, and Wedding Doves.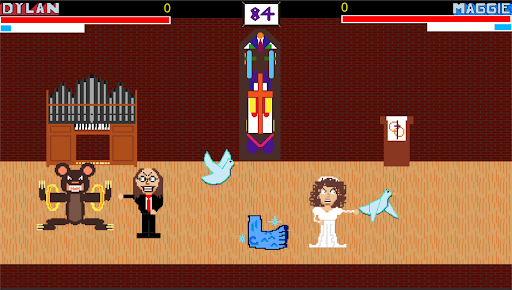 Fighting off Cold Feet, Ring Bears, and Wedding Doves.
Since video game programming requires extensive use of vector math, kinematics, discrete math, and differential equations, they used their knowledge Calculus II throughout the project.
Since the couple both works full-time, they logged hours at night and on weekends, working up until the day before their wedding. In total, 'Til Death Do Us Part took eight months and over 250 hours to develop. Dylan created the custom coding, and Maggie was responsible for the in-game art and animation. They repurposed an old Astro Blaster arcade machine sitting unused in a friend's basement.
"Dylan also added rumble motors to the joysticks so that they shake every time you punch or get punched," says Maggie.
The arcade game was a team effort. A friend drew the couple's likeness on the side of the game using an anime style design, and the illustration and graphic designs on the machine were done by Dylan's mom, a graphic designer.
This match made in arcade game heaven started when the two were undergraduate students in The University of Akron's engineering program. Dylan was pursuing a BS in Computer Engineering and Maggie, a BS in Electrical Engineering.
"We took our friendship to the next level when I got him a Heart concert shirt and he got me a sourdough bread lobster from San Francisco. Shortly after those perfect gifts, we started dating our senior year," said Maggie.
After they both graduated in 2014, Dylan went on to found Smooth Technology, a company that creates custom electronics displays for live music and entertainment, such as the wireless LED costumes for Taylor Swift's 1989 World Tour. Maggie works as a Support Engineer for Centrica Business Solutions and works remotely.
Future plans include adding sound to the game and adding more levels as they reach milestones, like travel, children, etc. They are looking into turning this project into a service and renting out to couples looking for something a little different on their wedding day (with customized characters, of course).
"We would love to learn how to make a pinball machine from scratch and add our own electrical and computer engineering spin on it," says Dylan. "We already have a pile of ideas, a pack of servos, and a bag of pinballs!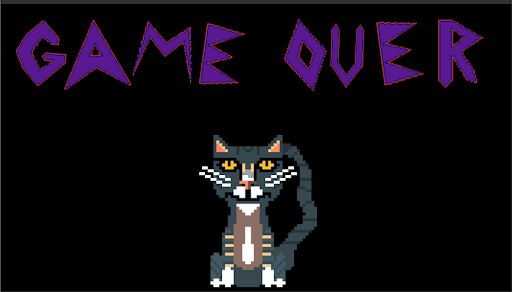 The Fashbaugh's cat, Clark, was added as a personal touch.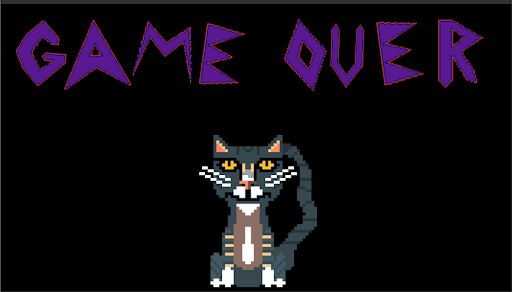 The Fausbaugh's cat, Clark, was added as a personal touch.