Longtime mock trial coach honored twice over
08/29/2017

Much of the most important advocacy happens in courtrooms throughout the country. For many law students, simulating a trial to develop courtroom skills is a vital learning experience. In mock trial competitions, students are presented a case, then prepare and present the trial from the perspectives of both sides. The guidance and mentorship students receive from experienced trial lawyers can make the difference for a team hoping to excel on the national level of competition.

The most successful mock trial team coach in Akron Law's history was alumnus Lawrence (Larry) A. Sutter III '89. He was a founding partner of the law firm Sutter O'Connell, where he served as managing partner until his death on March 6, 2017.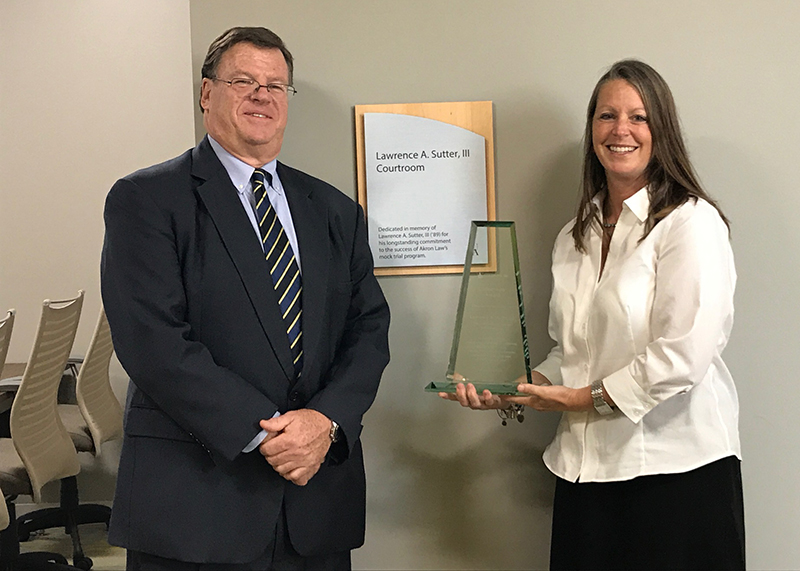 The Cornerstone Award was accepted posthumously by Matt O'Connell (Larry's law partner) and Judge Paula Giulitto ('92) (Larry's widow) at the new Lawrence A. Sutter, III Courtroom in the renovated C. Blake McDowell Law Center.
His 27-year commitment led our School of Law's team to four national championships and 18 regional titles. As a coach, Sutter generously gave his time, talent, resources and expertise to the team. He used his law office for student practice space, directed many associates in his law firm to coach trial teams, and spent hundreds of hours each year (mostly in the evenings and on weekends) personally conducting tryouts, coaching teams and traveling the country with law students for competitions. Sutter also hired our graduates, helped other graduates find jobs, and promoted the law school nationally, helping it become a powerhouse in trial advocacy.
Dedication honored
To honor his tireless dedication to our law students, a named fund to provide for Akron Law's mock trial team has been established. In addition, Sutter was recently honored with the inaugural Cornerstone Award from Stetson University College of Law for his leadership in the field of trial advocacy education. Like Akron Law, Stetson is consistently rated highly for its trial advocacy program by U.S. News & World Report and other outlets.
Here at his alma mater, the Lawrence A. Sutter, III Mock Trial Fund was established in June to continue his legacy while supporting the mock trial team he was so instrumental in developing. The fund is already accepting gifts, with a goal of becoming endowed. The fund will support the team by providing resources for travel to regional and national competitions, offsetting registration fees for various competitions, and defraying other costs associated with supporting Akron Law's nationally recognized mock trial program.
"Preparing law students to make a difference in society is an area of strength at The University of Akron School of Law," says Dean Christopher Peters. "We are ranked as one of the top 10 law schools in the country for those seeking a career as a prosecutor or public defender. The success of our mock trial team is a key component of this national reputation. This fund will enable Akron Law to continue its longstanding tradition of training top-notch trial attorneys, while remembering Larry Sutter as a great friend and advocate for Akron Law."
The Cornerstone Award from Stetson University College of Law was posthumously accepted in August by Judge Paula Giulitto, Sutter's wife. The award recognizes exceptional members of the advocacy teaching community who work to create learning opportunities across the profession. The recipients of the Cornerstone Award are recognized for their unwavering commitment to protecting the right to trial by jury, developing training opportunities for trial lawyers, and supporting the profession in both word and deed.
For additional information about the Lawrence A. Sutter, III Mock Trial Fund, please contact Lia Evans, Director of Alumni and Development for The University of Akron School of Law, at 330- 972-5298 or LiaEvans@uakron.edu.