Meet Robert (Bob) Kenyon '81
07/07/2022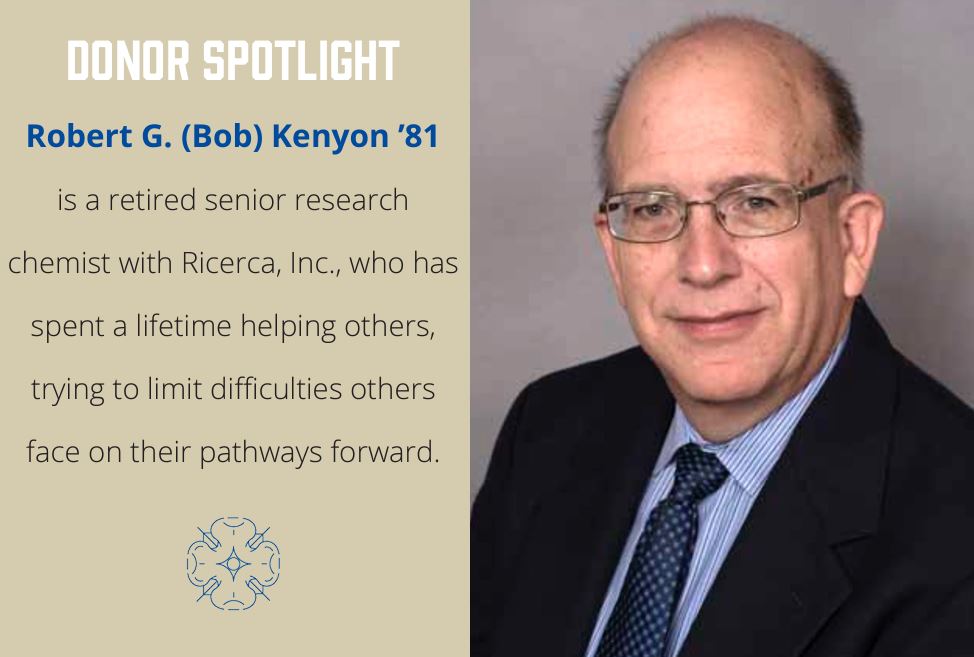 "Leadership is not telling others what to do," Bob says. "It is a way of helping people. In my professional life, I wanted my coworkers to be able to develop and grow into management positions. At every point, I've wanted to demonstrate leadership through some sort of service."
His efforts began as a young boy whose interest in scouting began around age 11 and continues to this day.
A native of Ashtabula County, Bob is a lifelong member and volunteer of the Boy Scouts of America (BSA), who earned the rank of Eagle Scout at age 13, years earlier than most who earn it closer to age 18.
Bob credits scouting as an early teaching vehicle, giving him the chance to camp and hike, bringing him closer to the outdoor activities he loves. He says scouting's biggest lesson however—leadership—has reverberated throughout his life.
After retiring from a distinguished career as a chemist, Bob spent eight years as Program Secretary of the Greater Western Reserve Council, (BSA), based in Warren, Ohio, retiring from that post in 2012.
Bob enrolled as a University of Akron student after two years at Lakeland Community College. "Akron was known as the rubber capital. I visited, toured the chemistry department, and found it to be a great fit. Faculty were extremely helpful, which I always appreciated because it wasn't easy coming in as a transfer-student. But (faculty) took the time to sit and talk with me and helped me make my way through."
Bob graduated with a Bachelor of Science in Chemistry in 1981. Those memories helped cement Bob's connection to UA throughout his career.
He has made numerous contributions, including support for the chemistry department or the College of Arts and Sciences.
In 2018, he established The Robert G. Kenyon Endowed Scholarship, designed to assist full-time students who have reached the rank of Eagle Scout with the Boy Scouts. "My heart felt good to do something to help people."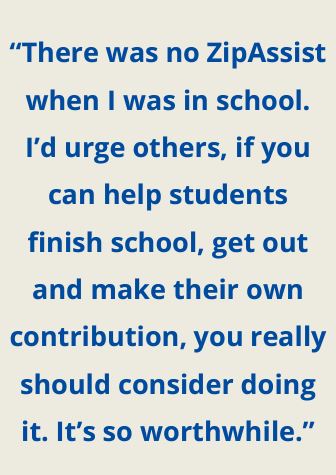 Additionally, since 2019 Bob has given significant support gifts for ZipAssist, an on-campus program helping students deal with a range of short-term needs including food insecurity and emergency financial assistance."I was so impressed by what Ali (Alison Doehring, director, ZipAssist) was doing in her area, helping both undergraduate and graduate students. That's so vitally needed.
"It (ZipAssist) fit for me because I was helping students. I'm a background person, not one for recognition, but efforts like this help our students make it through, they can use all the help they can get," Bob says.
Bob's generosity is emblematic of the can-do spirit of many Zips alumni.
Still active in his community, Bob volunteers at several local hospitals as well as provides donated services to Volunteer Income Tax Assistance (VITA), offered by Lifeline, a community service agency in Lake County.
He previously offered similar volunteer services on behalf of the American Association for Retired Persons through a program known as Tax Aide.
"People just have to commit themselves to f inding ways to help. It doesn't take a lot and it makes a difference for so many."
The University of Akron thanks Robert Kenyon for his generous support on behalf of UA students.
Share