Meet the Kovachs
04/28/2022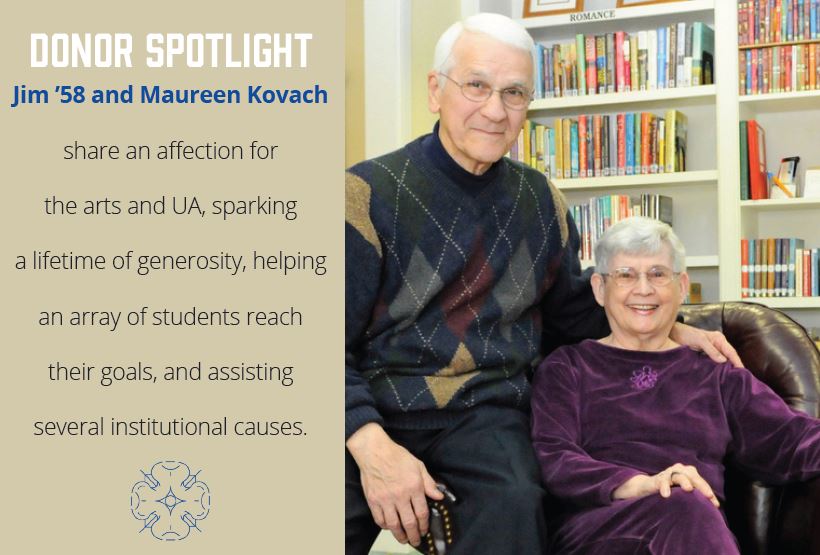 "We are thrilled with the trajectory of what is taking place. President and Mrs. Miller have really rescued the town & gown arrangement and reestablished the prominence of the University's role in delivering the arts to Akron." ~ Jim '58 and Maureen Kovach
Jim, a former Key Bank executive, developed his love for the arts in high school and later at UA, where he performed in theatre and radio workshop (pre-WZIP), was a news reporter and disc-jockey on WHKK (now WHLO), guesthosted a program on WAKR-TV, and performed in Summer Stock.
Maureen, a Cleveland native, hosted chamber music programs for East Cleveland Public Library, and she met Jim at a dinner party arranged by mutual friends. They have been married for 58 years and reside in Copley, Ohio.
The Kovachs are excited about UA's reemergence as an arts leader in the region, calling the AkronArts initiative highly commendable.
Jim lists among his favorite musicals Le Misérables and A Chorus Line, while Maureen's favorites are also A Chorus Line and Funny Girl.
The Kovachs, in January, established The James and Maureen Kovach Endowed Scholarship for the Performing Arts to assist students earning degrees in theatre, music, or dance at UA. It builds upon the James P. and Maureen C. Kovach Scholarship for Performing Arts that was established in 2011 and funded annually.
Lovers of innovation who have many interests, the Kovachs have philanthropically supported key UA endeavors, including the Steinway Piano Campaign, a character in the 2021 Akron Nutcracker performance at UA, the Steel Drum Band, the Marching Band, and Dance Institute.
In recognition of their giving and estate gift commitment, they are members of the John R. Buchtel Society and the 1870 Society.
The Kovachs, who love opera and ballet, also support a variety of other Akron-area arts and community organizations, including Akron Symphony Orchestra, Weathervane Theater, Tuesday Musical Association, Ohio Shakespeare Festival, Art Sparks, Akron Art Museum, Stan Hywet, Akron-Canton Food Bank, and Salvation Army.
The Kovachs have provided UA scholarship support for 71 students over the years and maintain warm relationships with several alumni recipients, including Erica Piper of Akron Art Sparks, a local dance program for children.
The Kovachs attended the wedding of two alumni, recipient Cameron Weichman and his bride, Angelica Fulop.
Jim, a member of Phi Delta Theta Fraternity, supports the Verlin P. Jenkins Scholarship, honoring Jenkins, also a UA alumnus and Phi Delta Theta member.
The University of Akron offers its profound appreciation to the Kovachs for their commitment to student success and their steadfast assistance to the goals of higher education.
Share