Mercury Plastics funds diversity and inclusion efforts in the College of Engineering
09/09/2019
The College of Engineering was the recent recipient of a generous donation from Mercury Plastics, a Middlefield, Ohio based company that provides custom thermoplastic products to the appliance, automotive, construction, electrical, liquid dispensing, marine, medical, off-shore oil exploration and plumbing markets.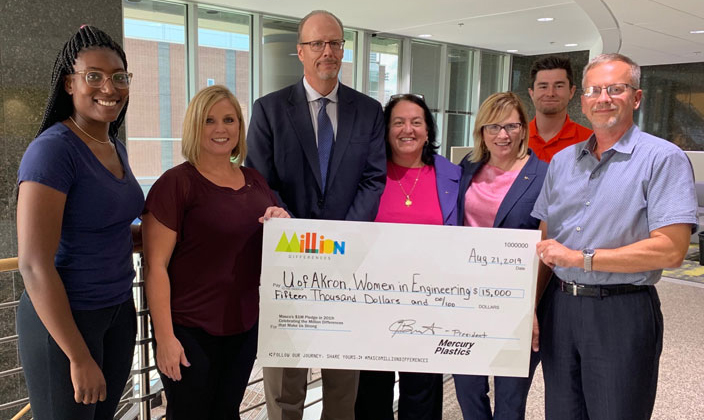 Shawnn Foster, engineering student; Suzanne LaRocca, Director of Human Resources at Mercury Plastics; Dr. Craig Menzemer, Interim Dean of the College of Engineering; Heidi Cressman, Director of the Diversity and Inclusion Program at the College of Engineering; Kim Cole, VP Development at The University of Akron; Ben Sabat, mechanical engineering technology student; Jay Burnett, President of Mercury Plastics
Their $15,000 donation will support the College's diversity and inclusion programs and fund the Mercury Plastics Scholarship, an award given to a student member of the Increasing Diversity in Engineering Academics (IDEAs) Program or Women in Engineering Program. This is the first gift of support to The University of Akron and The College of Engineering
"We value a diverse and inclusive workforce and believe it is critical to see more representation in the engineering profession," says Jay Burnett, President of Mercury Plastics. "We look forward to playing a role in the success of the exceptional engineering talent at The University of Akron."
Thank you, Mercury Plastics!
Share