NASA visitors learn about research efforts at UA
01/27/2017

On Jan. 26, the director of NASA Glenn Research Center Dr. Janet Kavandi visited The University of Akron campus. Hosted by the College of Engineering, Kavandi toured UA labs conducting research related to NASA interests, met with students on the SAE Aero Design Team, the Akronauts rocket design team, and NASA Robotics Mining team. Current research initiatives in biomimicry, engineering and polymers were also presented.

"NASA is a great national laboratory that carries basic research into amazing applications," says University of Akron Vice Provost for Research Dr. Eric Amis. " Over the years, the College of Engineering and the College of Polymer Science and Polymer Engineering have benefited by working with NASA, exchanging faculty, and engaging students in world class research."

Kavandi also provided a presentation to a group of Aerospace Systems Engineering students with the title "NASA's Future Missions & Current Research Efforts."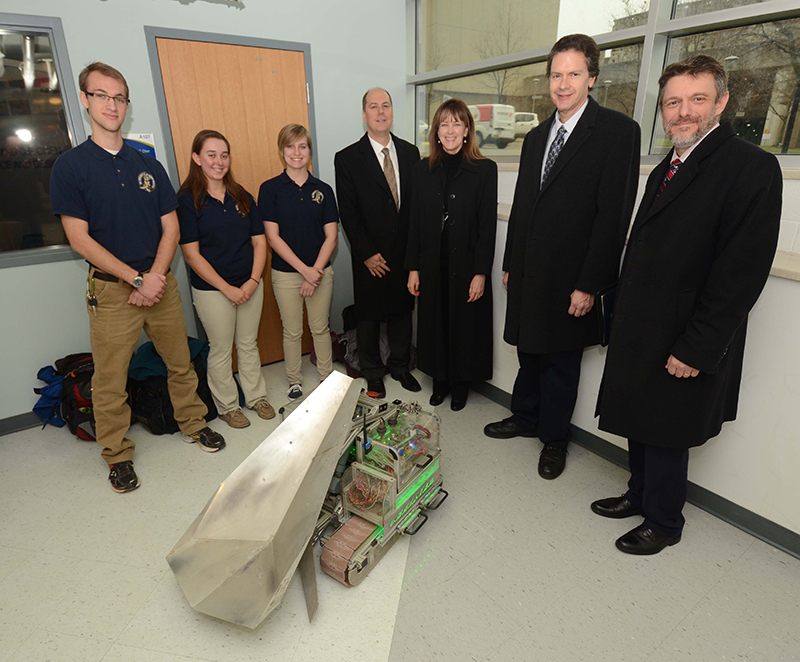 Here, visitors from NASA Glenn Research Center meet with University of Akron students on the NASA Robotics Mining team. From left are students Seth Carpenter, Dana Cressman and Claire Langenderfer with John Sankovic, Dr. Janet Kavandi and Dennis Huff of NASA, and Dr. Donald Visco, interim dean of the College of Engineering.
She began her career at NASA in 1995 when she was selected into the 15th class of US astronauts. She is a veteran of three Space Shuttle flights with more than 33 days logged in space. Before coming to NASA Glenn Research Center, she served as the Director of Flight Crew Operations and Deputy Director of the Health and Human Performance Directorate at the NASA Johnson Space Center.
Also along for the visit from NASA Glenn were University of Akron alumni John Sankovic, director of Office of Technology Incubation & Innovation; Mary Jo Long-Davis, aerospace technologist and Dennis Huff, research aerospace engineer.
"We were honored and pleased Dr. Kavandi accepted our invitation and spent the day with us," says Dr. Donald Visco, interim dean of the College of Engineering. "It was a great opportunity for her and the staff she brought to learn more about our outstanding engineering students at The University of Akron, as well as the cuttingedge, NASA-related research being performed within engineering, both in the College of Engineering and the College of Polymer Science and Polymer Engineering."