Nettling endowed scholarship in accounting
05/27/2021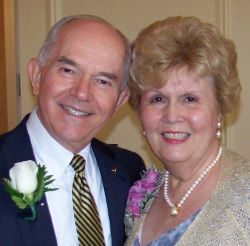 Arlene Nettling recently provided a memorial gift to The Henry "Hank" Nettling Endowed Scholarship in Accounting. The scholarship was established in 2002 through contributions from friends and relatives in honor of the late Henry "Hank" Nettling, who served UA for 38 years in several capacities including vice president emeritus for Business and Finance.
The scholarship is awarded to full-time students in The George W. Daverio School of Accountancy in the College of Business Administration, maintaining a 3.0 to 3.5 GPA.
Hank earned a Bachelor of Science in Business Administration from UA in 1959 and was awarded the honorary degree of Doctor of Humane Letters upon his retirement. He enjoyed his work life immensely and felt strong loyalty to the University, its athletic teams, and especially its campus community. He participated in retirees' organizations connected with UA for many years after his retirement.
Share