Networking her way to the Super Bowl
02/23/2021

If there was one question Ja'Mya Kyle got from her fellow students and friends about her work for the Tampa Bay Super Bowl LV Host Committee in its Community Ambassador Program, it was this: "Did you meet Tom Brady?"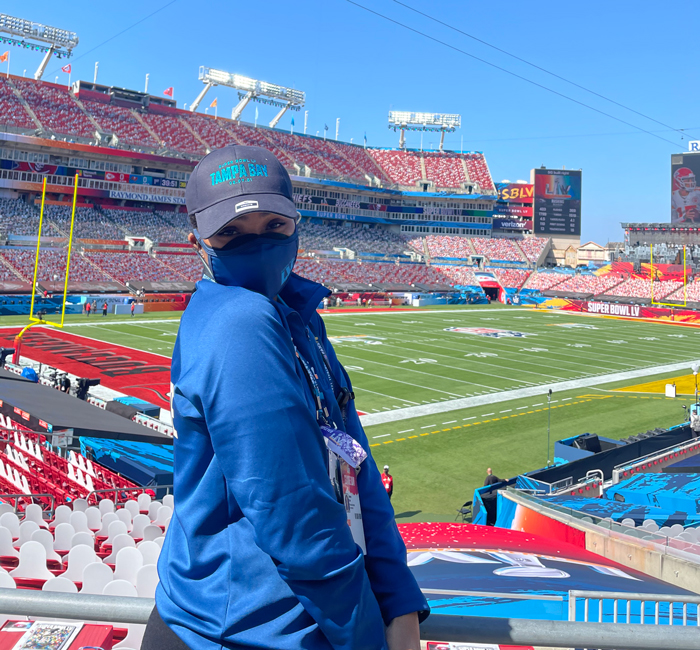 Ja'Mya Kyle, a junior majoring in media studies, poses inside Raymond James Stadium before the game.
No, she did not.
But that didn't diminish the experience for her, working at one of the largest professional sporting events in the world.
With the support of the internship coordinator in the School of Communication at The University of Akron (UA), her own savvy networking skills using LinkedIn, and an engaged Zips alumna happy to mentor UA students, Kyle landed in Florida on Feb. 3 to begin her work as a team captain of volunteer ambassadors leading up to and including Super Bowl LV on Feb. 6.
It was a real opportunity for Kyle to develop leadership skills. As a team captain, she modeled for her volunteers the highest level of customer service and efficient communication. A captain is "the positive voice" and a problem-solver, making sure the team she was charged with supervising were welcoming fans and contributing to the positive game atmosphere around the Super Bowl experience.
It was a dream come true for Kyle, a junior from Cleveland majoring in media studies. She was an athlete in high school and now wants to make a professional career not as an athlete, but covering the stories of athletes and the sports they love.
"I aspire to one day become a sports journalist within the media/entertainment industry, such as ESPN, Fox Sports, and the NFL or NBA networks," Kyle says. She currently works in the WZIP sports department.
Networking like a pro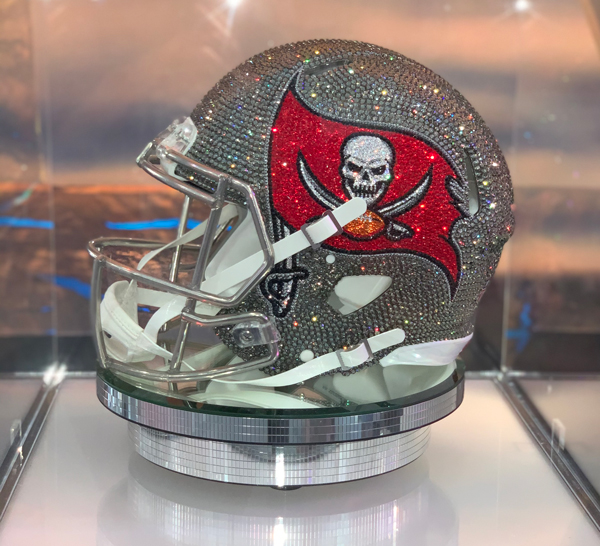 A jeweled Tamba Bay Buccaneers helmet is just one of many special items on display in the NFL Fan Experience where Ja'Mya worked.
It was when the COVID-19 pandemic resulted in closures and stay-at-home orders mandated by Gov. Mike DeWine and the Ohio Department of Health in March of 2020 that Kyle had just begun doing research on internships at large sporting events such as the Super Bowl, NFL Pro Bowl and even MLB or NBA All Star games. She was not deterred.
Her goal? She tasked herself with getting answers. What can she do? How can she get involved? What kind of experience can she get working or volunteering at any of these events, later this year or in 2021?
Connecting with alumni
"It just so happened that, when diving deep on LinkedIn, I came across Lisa Urban, whose profile identified her as a UA alumna and who worked for the Tampa Bay Super Bowl LV Host Committee," Kyle reveals.
While Kyle tried to connect to Urban through LinkedIn, it wasn't until she looked up Urban on the Super Bowl Host Committee website that a connection was made. Urban, who is director of the Community Ambassador Program, responded to Kyle's email, and later offered her a position to work in person at Super Bowl LV at Raymond James Stadium in Tampa, Fla. as a team captain for a group of volunteer ambassadors.
"Taking into consideration Lisa [Urban] studied at The University of Akron, I knew this was the lady I needed to get in contact with," Kyle confirms.
The recruiting process was a learning curve for Urban, as well. Finding ambassadors who were quick learnings and could be flexible and adapt was key.
"The number of people we needed [as ambassadors] definitely changed," Urban said. "But it was not less work because there were so many things we'd never done before. There was no playbook, so we were building the plane as it was flying. We were able to virtually train all of our ambassadors, but building that program and putting that in motion, working on all those different types of modules and videos and scripts and all that kind of stuff...was a big learning process."
Working the game
Ambassadors are charged with greeting, wayfinding and general guest support at various events throughout the Tampa Bay area, including downtown and at the airport. Kyle and her team stuck close to Raymond James Stadium, including working the NFL Fan Experience events, engaging with the fans, and making sure they had fun participating in the games.
There was also a VIP experience.
"One of the jobs we got assigned to was escorting the friends and family of the winning team players under the stadium to take the field once the game was over," recalls Kyle. "My group was on the first floor of the stadium, so the only way for them to access the field would be going through us (hence the 'Did you meet Tom Brady?' question)."
The ability to make quick decisions was important. "When I didn't have the answer to a fan's question, I would check in via radio with the volunteers," Kyle explains. "If they didn't have an answer, I had to go to Lisa or her staff. If they were all occupied on their radios, I would send the fans to the best location possible where they could quickly get the best service."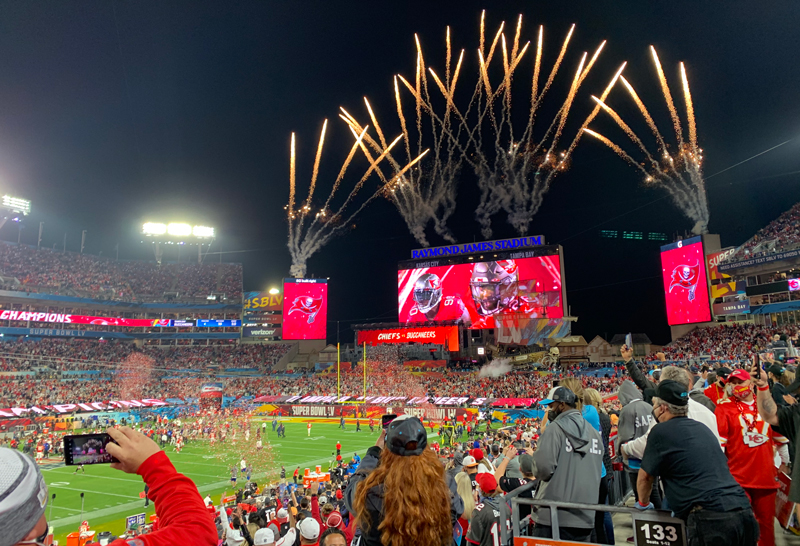 Ja'Mya's view of the field when the Tampa Bay Buccaneers celebrated their Super Bowl LV win.
Connections for the future
When asked what she learned from the experience in Florida, Kyle spoke about leadership and maintaining connections.
"Taking on this role was one thing, but being a captain and being the main person to provide the feedback was definitely different," Kyle states. "This role kept me focused and on my toes at all times."
It has also demonstrated the power in making connections.
"Yes, I am there to do a job and complete a task. But while I was there, I widely expanded my connections on LinkedIn," Kyle says. "The students from all over [the country] I have connected with … just knowing that we are all in the sports industry and could use something from one another, is amazing. We have all been on LinkedIn since we arrived back home, just looking to constantly grow in this industry and help one another."
The advice Kyle has for future Zips is simple: "Stay focused on your one goal. Get involved within your program deeply and always be open to different opportunities. Even though it may not be what you want to do in your future career, that one opportunity can open that one door you need to begin your dreams. Lastly, just stay humble and never take anything for granted and the world is yours."
---
Media contact: Lisa Craig, 330-972-7429 or lmc91@uakron.edu.