New higher education collaboration to benefit region
06/27/2018

UA joined today with eight other public colleges and universities in Northeast Ohio to create a consortium to improve efficiency and effectiveness, strengthen educational offerings, provide collaborative pathways to degrees and support the region's workforce.

Presidents from the institutions gathered earlier today at Cuyahoga Community College to sign the agreement. Provost Rex Ramsier stood in for Interim President John Green, who was unavailable.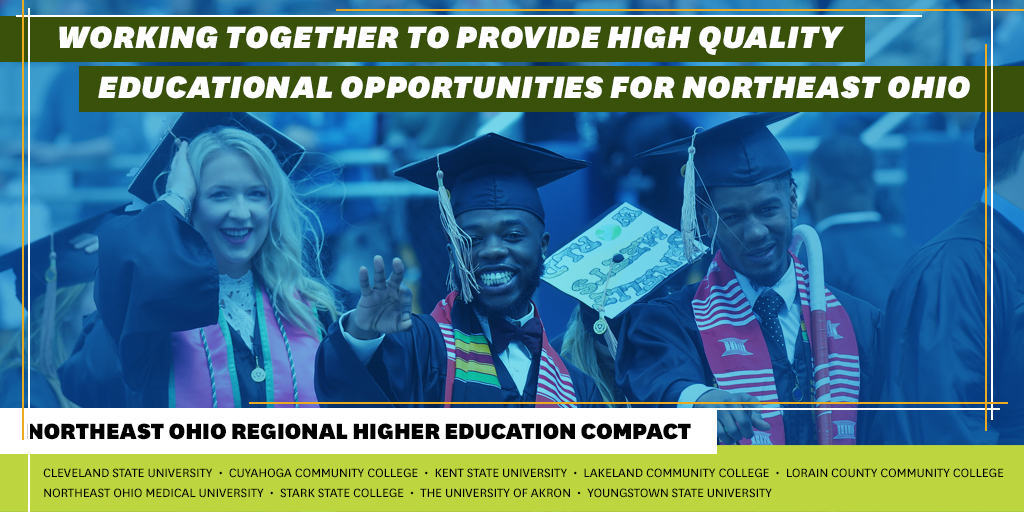 "A sense of urgency drives this collaborative effort to help the residents of Northeast Ohio gain the education and skills needed for well-paying, meaningful jobs," Cuyahoga Community College President Alex Johnson said. "As these stalwart institutions find new ways to work together, we become better positioned to improve student outcomes and expand opportunity for our region."
Besides Akron, compact members are:
Cleveland State University,
Cuyahoga Community College (Tri-C),
Kent State University,
Lakeland Community College,
Lorain County Community College,
Northeast Ohio Medical University,
Stark State College, and
Youngstown State University.
The Northeast Ohio Regional Higher Education Compact aims to create strong pathways from K-12 to higher education while lowering the overall cost of pursuing a degree in the Northeast Ohio region through high-quality educational offerings.
---
Media contacts: Wayne Hill, (O) 330-972-2148 or (C) 216-408-1211 or whill@uakron.edu, or Alex Knisely, 330-972-6477 or aknisely@uakron.edu.