Northeast Ohio business community supports student development
06/10/2019

The University of Akron is set to open its newest building on campus today – the 11,850 square foot Anthony J. Alexander Professional Development Center that will serve as a one-stop training spot for students in the College of Business Administration (CBA). The building has a singular focus that is highly supported by the Northeast Ohio business community – developing business students into confident young professionals and future star employees.

The business community believes so strongly in the delivery of student professional development that 280 donors provided funding for the $5.45 million building. The Center and its initiatives are in response to advice from the College of Business Advancement Council and departmental advisory boards consisting of more than 270 business executives from throughout the region.

"The support from our donors for this construction is a real statement of confidence in what we are doing," said Susan Hanlon, Ph.D., interim dean of the CBA. "These relationships with the business community and the support we receive from them are what helps to make our business programs so successful."
'Career Ready and Connected'
The success Hanlon speaks of is demonstrated through its students. Approximately 80% of students in the College of Business Administration participate in internships and more than 96% receive jobs within six months of graduation. The Center will become the hub of activity that contributes to CBA graduates becoming "Career Ready and Connected," helping foster future success by housing CBA professional development resources in one location and encouraging collaboration and robust connections between students, faculty and professionals. Ultimately this gives UA students an even stronger competitive edge.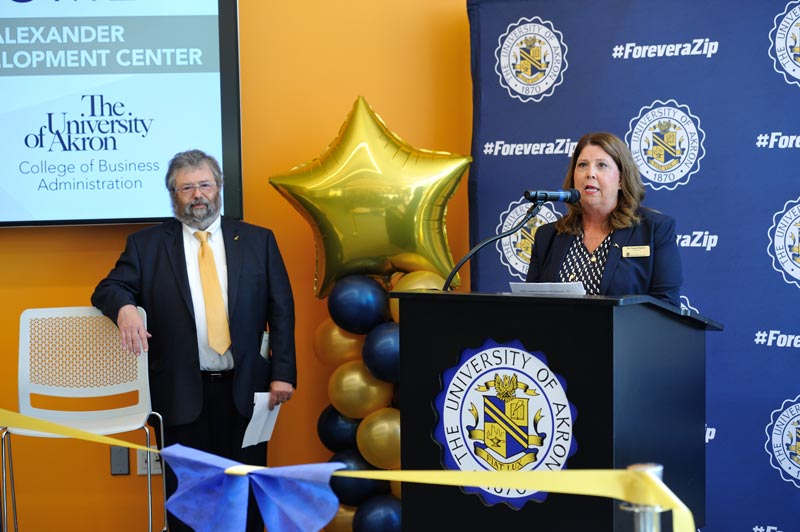 "The support from our donors for this construction is a real statement of confidence in what we are doing," said Dr. Susan Hanlon, interim dean of the CBA, with Interim President John Green. "These relationships with the business community and the support we receive from them are what helps to make our business programs so successful."
That competitive edge is developed through "the EDGE" program (Exploring Degree Goals and Experiences), a professional development series designed to help CBA students focus on events and experiences that lead to career readiness.
"Participating in the EDGE program is not required of students, yet it has become a valued part of our culture," said Hanlon. "Students participate in our programs on their own time because they understand how important it is to their future. Local businesses participate in and endorse our professional development events because they see the results in our students."
Focus on career development
The Professional Development Center, named after Anthony J. Alexander (UA graduate and former executive at FirstEnergy Corp.) will allow students and area professionals to interact in professional settings that are often found in business environments such as a formal Board Room, corporate classrooms, professional meeting rooms (that can be used for internship and job interviews) and a communications lab. The Center also contains a business analytics lab and a practice presentation room where students can record themselves and receive presentation skills coaching. Also included are offices for professional development staff, student learning and technology commons and offices for the Institute for Leadership Advancement. The new facilities will be a perfect fit for the EDGE program, helping students to receive academic preparation, personal leadership training, business communication training, networking opportunities, internships, and global experiences.

Anthony J. Alexander and his wife, Becky, in front of the newly completed center that bears his name.
"We are truly thankful to the many donors who have shown confidence in our programs and in the University," said Kim Cole, vice president advancement and executive director of the UA Foundation.
"Akron is a wonderfully supportive community and we value the relationships we have with the businesses and the professionals who call it home."
Joseph M. Gingo, Chair of the University's Board of Trustees, left, with Anthony J. Alexander.
---
Related
---
Media contact: Cristine Boyd, 330-972-6476 or cboyd@uakron.edu
ABOUT THE CENTER
Cost - $5.45 million
Size - 11,850 square feet with an additional 4,170 square foot renovation of the existing building for a total of 16,020 square feet.
Architect – CBLH Design, Inc.
Architects Subcontractors
MEP Engineers – Sheeser Buckley Mayfield, LLC
Structural Engineers – Barbe & Hoffman, Inc.
Geotechnical Engineering – Professional Services Industries, Inc.
Landscape Architect – Knight & Stolar, Inc.
Construction Manager at Risk – Regency Construction Services, Inc.
CMR Subcontractors, Partial List
Site Work – Petty Group, LLC
Electrical – Hilscher-Clarke Electric Co.
Mechanical – SA Communale Company, Inc.
Interiors – Western Reserve Interiors, Inc.
Lead donors:
Anthony J. Alexander
Mark R. and Beverly E. Belgya
Mark T. and Catherine L. Clark
The Mary S. and David C. Corbin Foundation
John H. and Janet E. Costello
Wilma J. Dickerhoff
Brad J. and Yelena Dickerson
Thomas E. and Anita W. Gedelian
Mark A. and Pamela Goldfarb
The Goodyear Tire & Rubber Company
David M. and Dena Grubb
Joseph C. and Carrie J. Hete
Raymond K. and Sylvia L. Lee
The Lehner Family Foundation
Ken Taylor/Ohio CAT
Andrew G. and Linda N. Platt
Roger T. Read
John P. and Joanne M. Rohrer
Everett E. and Rebecca A. Slayman-Gallagher
Frank C. and Karen S. Steininger
George E. and Alice L. Strickler
CBA Advancement Council