O'Neil Scholarship benefits students and honors local heroes
05/30/2023
Behind every scholarship is a deeper story; a spark leading to benevolence that changes the course of another person's life. But occasionally, there are stories that stand out, narratives that stand on the shoulders of heroes.
Hugh Michael O'Neil was 19 years old in the summer of 1964. He had graduated from Akron's Archbishop Hoban High School, was a student at Georgetown University, and his entire life was before him. However, on a fateful Tuesday in July, as he drove through a rainstorm that deluged the City, he saw an anxious group of bystanders at a parkway catastrophe and stopped his car to see if he could help.
The Hugh Michael O'Neil Scholarship at The University of Akron (UA) honors his selflessness and compassion. It honors the memory of a man who, along with others that tragic day, risked their safety and lives. It is a scholarship that has for more than 50 years honored the solemn resolve of Akron, though shattered by calamity, to embrace the families of the victims.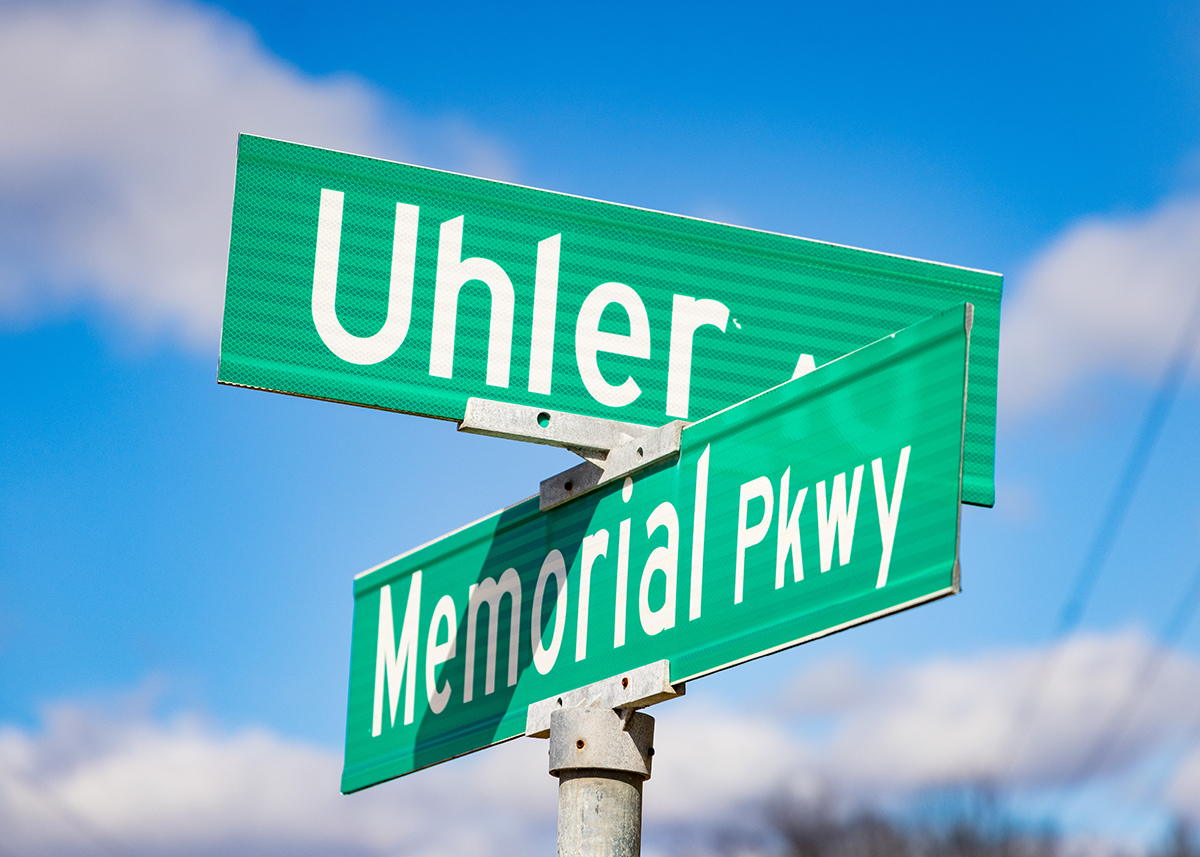 An Act of Bravery
Velma Shidler was driving her car headed east down Tallmadge Parkway on July 21, 1964, in a torrential downpour. In the backseat were two children, her daughter, Claudia Shidler, 10, and her friend, Janet Lewis, 13. They were returning from a Firestone High School swim class. According to media accounts, as Shidler drove on the parkway, the road collapsed. Reports say Shidler swerved, but the car plunged into a 40-foot sinkhole near the Akron, Canton and Youngstown Railroad trestle.
As chaos ensued, people stopped, some, frozen by the horror of what had unfolded, unsure of what to do. Hugh O'Neil also stopped and was later joined by Akron Police Officer Ronald Rotruck. The sedan had landed on its back end, almost vertical, with the roof against the sloping wall of a crater 30 feet deep and 20 feet in diameter. O'Neil volunteered to go into the crater, using an 18-foot ladder, attached to a rope that had been tied to a truck. With a rope tied around his waist and held by several men, O'Neil descended the ladder, dropped 13 feet to the crater's floor and made his way to the sedan.
Rotruck arrived, asked for a rope and descended into the crater. O'Neil forced open one of the car doors removing Lewis, as Officer Rotruck was able to get to Mrs. Shidler. As they were lifted out of the crater, the men returned to the scene to look for Claudia. Water began bubbling up on the floor of the crater, causing sliding, with the disintegrating foundation eventually giving way, trapping both men and the child.
Over the next 48 hours, Akron was veiled in grief. O'Neil was a grandson of General Tire & Rubber Co. founder William O'Neil. Rotruck, a five-year police veteran, had a wife and three young children.
Eventually the bodies of O'Neil, Rotruck and Claudia were recovered. The road, which was closed for 100 days following the tragedy, was renamed Memorial Parkway in honor of the victims. Both men posthumously received the Carnegie Medal for Heroism from the Carnegie Hero Fund Commission.
Tragedy Turns to Scholarships
Six years before the accident, UA alumnus Ferdinand Brubaker presented the institution with a stock transfer in the Brubaker Gear & Manufacturing. Co., establishing the Ferdinand A. and Lorry Brubaker Scholarship Fund. He closely followed the parkway tragedy and was moved by the efforts of O'Neil and Rotruck. Subsequently, he paid tribute to the young man by changing the name of his fund to the "Hugh Michael O'Neil Scholarship Fund."
In the nearly 60 years since the catastrophe and the scholarship award's establishment, more than $300,000 has been distributed through approximately 500 scholarships. It has helped students not only prepare for professional careers but, for some, it has touched their own deeper sense of purpose.
Emma McIntyre, an O'Neil scholarship recipient from Conneaut, Ohio, majoring in criminology and criminal justice, said the bravery of the men and volunteers was moving, and touched her profoundly.
"After reading the story behind the scholarship, I have to say I am shocked and inspired. I had no idea there was such a heroic story behind it," McIntyre said. "It was incredible that he ultimately gave his life to save individuals in need. If I could, I would (thank) Hugh O'Neil for his bravery. It takes a special kind of person to be courageous enough to act."
Naomi Moore, an Akron native and an O'Neil scholarship recipient majoring in speech-language pathology and audiology, was struck by O'Neil's poise and bravery in a horrifying moment.
"At only 19 years old, he boldly helped others. Although many other people stopped to look at the accident, it was Hugh who took action and went into the crater," Moore said. "His story has made me evaluate my life and see areas in which I can help others."
Kim Cole, vice president for advancement and executive director of the UA Foundation, agrees. "There are many layers of impact and influence in this touching Akron story. Both O'Neil and the Brubakers gave selflessly to help others. Today, Naomi, Emma and hundreds of students like them now carry the energy of these good deeds into their lives of influence."
"We are grateful for the generous human spirit that propels UA friends and alumni to lend a hand and make the promise of tomorrow a reality for so many," Cole added.
Just as UA honors heroism, plans are underway for the City to do so as well. According to recent media reports, a monument will soon honor the memory of those who died that day in 1964. Plans call for the monument to feature the date of the disaster and pictures of the three victims, and for the stone to include inscriptions in white letters: "In Honor of All Who Helped That Day" and "In Memory of the Lives Lost That Day." It will also carry the Biblical inscription from John 15:13, "Greater love hath no man than this, that a man lay down his life for his friends."
---
To make a gift to the Hugh Michael O'Neil Scholarship or to establish a fund of your own, please contact Andrea Collins, assistant director of development special projects, at acollins@uakron.edu or 330-972-2603.
Story by Anthony Barnes
Share