Our observance of Veterans Day begins Nov. 7 with varied activities
11/01/2017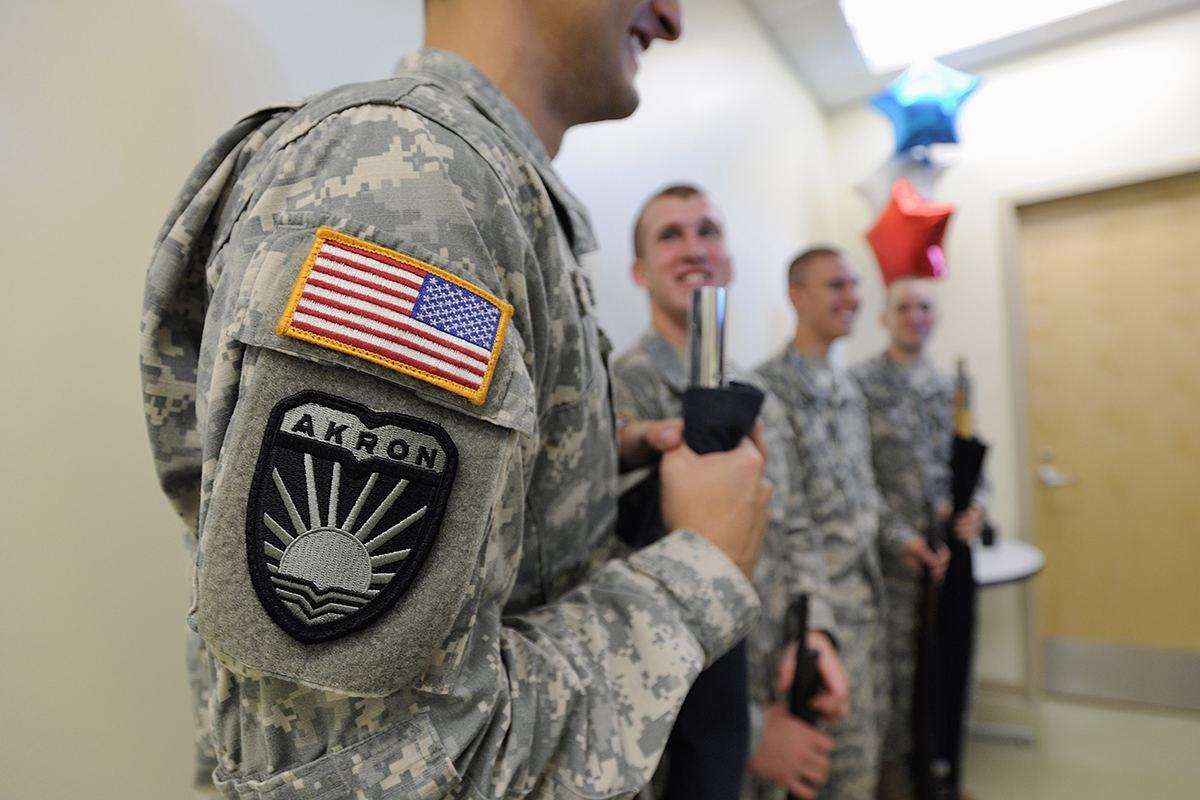 Service members past and present will be honored during a series of events planned on campus between Nov. 7 and Nov. 16 as part of The University of Akron's annual Veterans Day observance. This year, Veterans Day is on Saturday, Nov. 11, and will be observed on main campus and Wayne College on Friday, Nov. 10.
The University will be open on Veterans Day and classes will be held.
The Veterans Steering Committee, Military Services Center, UA Adult Focus, Student Life, UA Army ROTC and Zips Programming Network are among the groups that helped plan these events.
Tuesday, Nov. 7
The Ritchie/Sisler McFawn Residence Hall Government will host a Veterans Day celebration from 3 to 5 p.m., complete with a flag display. At 3 p.m. Daryll Mauder president of our Student Veterans of America

chapter on campus, and

Mary Rossett, director of our Military Services Center, will speak in the Sisler-McFawn Residence Hall Common Room about what students on campus can do to address the problems veterans face on a day-to-day basis.
"The Vietnam War," a documentary, will be shown at 5:30 pm. in the Student Union Theatre, followed by a panel discussion that will include Vietnam War veteran Jay Musson and Walter Hixson, distinguished professor of history. Food and beverages will be served.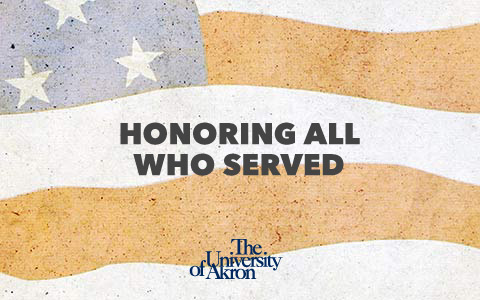 Friday, Nov. 10 (observance of Veterans Day)
Our annual continental breakfast honoring veterans – open to all veterans on campus and in the community – begins at 8 a.m. in the Student Union Ballroom. At 9 a.m., Jay Musson, adjutant for American Legion University of Akron Post 808, will speak to those in attendance.
U.S. Army ROTC on campus will sponsor the annual wreath-laying ceremony, beginning at 10 a.m. on Coleman Common, near Buchtel Hall. A wreath will be laid in honor of each branch of the service by student veterans. ROTC cadets will perform a 21-gun salute to honor all veterans. Nathan J. Mortimer,

U.S. Army veteran and

vice president for finance and administration/CFO, will be the guest speaker.
The ninth annual Honoring Those Who Serve Celebration will be held from 11:30 a.m. to 3 p.m. in the Musson Veterans Lounge in InfoCision Stadium on the third floor. Veterans will be honored for their patriotism, love of country, and willingness to serve and sacrifice for the common good. Refreshments and door prizes will be provided. The event is free and open to the public.
A Veterans Resource Fair open to all students, alumni and community members who are veterans or military service members will also be held on the third floor of InfoCision Stadium from 11:30 a.m. to 3 p.m. Campus and community representatives will be available to provide specific information on military benefits and resources for military service members.
At The University of Akron Wayne College, the fourth annual Veterans Day luncheon and recognition ceremony will begin at 11 a.m. with social time. A ceremony and lunch will follow at 11:30 a.m. All activities will be held in the Student Life Building on the Orrville campus at 1901 Smucker Road. Retired Col. Charles G. Ikins of the U.S. Marine Corps Reserve will deliver the keynote address. The military-style ceremony will include "lunch, music and a time to remember those who paid the ultimate sacrifice." Representatives will also be on hand to share where local resources are available to veterans as well as educational benefits for those who have served. Stair Steps to Wellness providing complimentary chair massages to veterans who arrive early. Registration is required online or by calling 330-684-8973.
Wednesday, Nov. 15
American Legion University of Akron Post 808 will hold a fundraiser at Chipotle Restaurant, 272 East Exchange St., between 4 and 8 p.m. Those dining can tell the cashier they are supporting the fundraiser and 50 percent of the proceeds will be donated to the post for its student activities.
Thursday, Nov. 16
A Community and Veterans Career Expo will be held in the Student Union Ballroom. The first hour, between 10 and 11 a.m., is open to veterans only. Between 11 a.m. and 2 p.m., the expo will be open to students and the public. More than 70 area employers to conduct on-site interviews. Professional interview attire should be worn. Parking and admission are free.