Pandemic doesn't stop UA student from earning valuable work experience
02/15/2021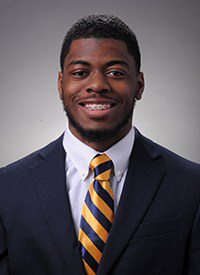 Jeffrey Lubin
The COVID-19 pandemic drastically changed the way many college students were able to gain hands-on learning, but Jeffrey Lubin, a UA student in the College of Business Administration, made the best of the situation and emerged with new marketable skills.
Lubin, a senior marketing and sales double major at UA from Dania Beach, Fla., completed an internship at RVshare, a peer-to-peer RV rental marketplace partly based in Akron. The internship gave him new insight into the marketing field, as well as experience in today's remote working environment. Unlike traditional internships before the pandemic, where the student would physically work at the company office, Lubin's internship was completely remote with weekly meetings via Zoom. Although not traditionally an aspect of internships, experience working effectively remotely prepares students for the current organizational environment.

RVshare was founded in 2012 and specializes in allowing RV owners to rent their vehicles when they are not in use. This concept is especially popular now during the coronavirus pandemic since people are turning to camping and road trips instead of flying and hotel stays.
Heading into the internship, Lubin, an aspiring 2021 graduate, already had a goal to own his own business. While working in the internship, he obtained knowledge from RVshare on creating content and how a business should be structured.
"My responsibilities were very diverse," says Lubin. "I worked on affiliate marketing, search-engine optimization and content creation. I did a little bit of everything and they wanted me to figure out what I liked best."
He discovered he liked affiliate marketing (when a business promotes another organization's products in exchange for a commission), and he was able to spend more time working in that area at the end of the internship.
Opportunities for students and companies
Students have many opportunities for growth during internships and are a key component to a UA education. Internships open the door for students to learn new skills and find areas of their field they like before they enter the industry after graduation.
"It was impactful how Jeffrey Lubin was integrated into the marketing department and had a broad experience at RVshare," says Dr. Deborah Owens, associate professor and chair of the Marketing Department at UA. "Jeffrey worked in many different facets of marketing and he was able to see the whole picture of marketing. Our department believes students learn marketing by doing marketing. Students gain wonderful experience from internships and many times those internships turn into careers with the organizations."
Internships are also beneficial to organizations. By having students work in the organization, companies have the opportunity to train future professionals and, at the same time, receive assistance in the organization.
"As an RV travel business, things really pick up in the summer when many families are taking road trips," said RVshare Vice President of Marketing Martijn Scheijbeler. "Interns from UA are a huge asset in helping us to stay afloat during those times. They pick up tasks such as editing content, helping manage our social media channels, sending outreach emails, and more."
Lubin's advice for students who will be starting an internship is to not be afraid to try new things. He stressed the importance of asking questions and networking during an internship to benefit their future careers.
"Definitely try everything you can," said Lubin. "You don't know what you're going to like until you do it. It may sound good in the classroom, but you will truly know what you like once you are in the field. Try everything and find out what works best for you."
---
Media contact: Cristine Boyd, 330-972-6476 or cboyd@uakron.edu
Share