Part of this social worker's path to recovery is helping others find their own
06/28/2019

When Nicole M. Minor crossed the commencement stage at E.J. Thomas Performing Arts Hall in May to receive her Master of Social Work degree, it was a moment of celebration for her, the faculty who have come to know her so well, and, of course, her three sons.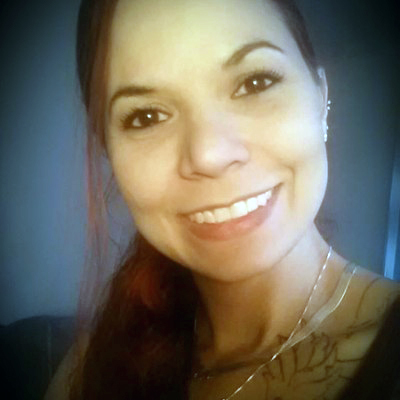 This year of triumph began with Nicole learning that she had been chosen as the 2018 National Association of Social Workers (NASW) Ohio Chapter, Region 2 MSW Student of the Year. She was selected for the award by local social workers who recognized her "outstanding contributions to the Region 2 community." In addition, the NASW awarded Nicole the State of Ohio MSW student of the year winner. She was honored at the 2019 Social Work Month Celebration Gala in Columbus in March.
Early start in the field
Even before graduation, Nicole had a promotion waiting for her at the agency where she has worked for almost five years. After serving as a counselor with the Quick Response Team at Oriana House, Inc. for the past two years, Nicole will now be the clinical coordinator at its Fredrick Avenue Apartments, a recovery housing program in Akron.
Her academic career, and life, have not always been on such a positive trajectory.
Both her social work degrees were earned here on mostly a part-time basis, with a few small breaks, beginning in 2008. In 2010, Nicole became blindsided, leading to choices that resulted in two felony convictions. Overcoming fear and uncertainty, Nicole says she made a commitment to continue the path set into motion. Juggling single motherhood, coursework, internship hours and recovery, she persevered through it all.
"The field of addiction and recovery is a passion of mine," says Nicole. "I have endured my own struggles with addiction and loved another person greatly whose addiction was far deeper than mine. This person was the father of my three children — Xander, 11, Xyler, 9, and Xuriah, 7. The world around me shattered when he left to serve a 10-year prison sentence in July 2010. I know deep in my heart that a divine intervention took place that year and for that, I am extremely grateful. He was saved and so was I."
Dr. Timothy McCarragher, director of the School of Social Work, is one of the faculty members who has watched Nicole on her journey.
Always moving forward
"What set Nicole apart from other students is her tenacity," he notes. "She overcame obstacles that would stop most people in their tracks. In spite of incredibly difficult circumstances, Nicole kept moving forward, always mindful of her goal to earn a graduate degree to help those struggling with addiction. She has been a member of Roos in Recovery on campus, and worked as a peer mentor as well as a chemical dependency treatment counselor. Nicole is an inspiration to so many, yet by interacting with her, you would have no idea how she has struggled to come so far."
Helping other addicts, and their families, is challenging, Nicole admits.
As a Quick Response Team member, she visited overdose survivors to get them scheduled in treatment, and met with families who had lost loved ones to drug overdoses to provide support and offer community resources.
"Through the graces of God, I found recovery and my life purpose," affirms Nicole, who says she draws inspiration from her sons and her work. "Now my days are spent helping to free others from that dark place, showing them that life can be fulfilling and beautiful in recovery."