Partnership between UA and R.G. Drage Career Technical Center facilitates Early College Program
02/28/2018

The University of Akron and R.G. Drage Career Technical Center signed an agreement that will give students the opportunity for college-level academics while still in high school and earn a college degree free of charge along with their diploma.

This new Early College Program, "Zip to an Associate Degree," will use the successful award- winning model seen in the collaboration between our College of Applied Science and Technology and Akron Public Schools.

R.G. Drage has been working with UA for nearly a year and a half to allow students to earn an associate degree in technological studies. Unlike some other high school college programs, students do not need to travel to the University.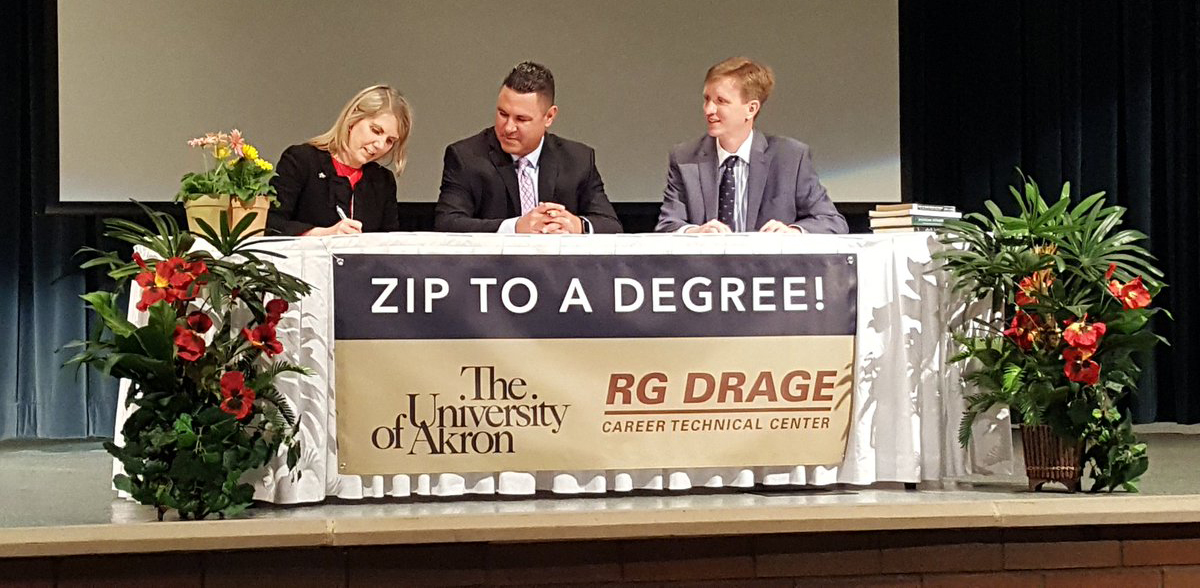 Dr. Elizabeth Kennedy, left, Dan Murphy and President Matthew Wilson at the signing ceremony.
"Professors and instructors from the University will come to the school campus as a part of the program," explained Dan Murphy, director of R.G. Drage. "It's an unbelievable opportunity for the kids."
The goal is to create reliable pathways that produce more college and career-ready citizens.
"It's important to me that we're able to make it affordable, that we're able to make it accessible, that we're able to empower students," said Matthew Wilson, president of UA. "Often high school students don't feel like they're college material. It's programs like this where the students can see during high school that they are college material."
"These programs have been successful and have resulted in more than 80 percent of students enrolled in the program graduating with the degree," said Dr. Elizabeth Kennedy, dean of the College of Applied Science and Technology. "We're all about careers, not jobs."
The R.G. Drage Early College Program starts for the class of 2020. Students can apply online through March 22, 2018. For more information, contact Kim Bartholomew at R.G. Drage at Kim.Bartholomew@rgdrage.org or 330-832-9856, or Chelsey Elsey at The University of Akron at cbg7@uakron.edu or 330-972-7112.
---