Polymer Faculty Spotlight: Dr. Weinan Xu
07/08/2021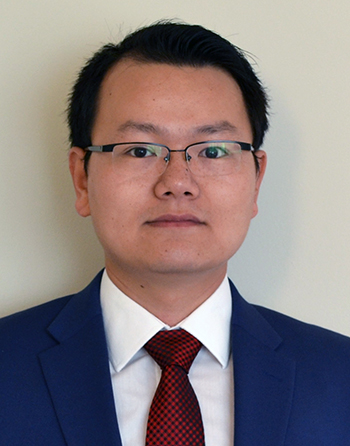 Dr. Weinan Xu is an Assistant Professor of Polymer Engineering. We recently had the pleasure of speaking with Dr. Xu about his career at The University of Akron's School of Polymer Science and Polymer Engineering (SPSPE). Read more about his life and career below.
Tell us something about yourself:
I was born and raised in China and came to the United States for graduate study in 2011. I got my Ph.D. degree from Georgia Tech in 2015 and did postdoctoral research at Johns Hopkins before joining the SPSPE faculty at The University of Akron. My current research is focused on advanced hybrid materials based on 2D layered materials and functional polymers, as well as polymer-based 3D fabrication.
What were the driving factors in your decision to join the SPSPE faculty?
Everyone in the polymer field knows about the reputation of the polymer program at The University of Akron. I majored in polymer materials during my undergraduate study, and I have kept a close eye on UA since then. Therefore, when I was searching for a faculty job, SPSPE was on top of my list. The quality and breadth of polymer research at SPSPE has been excellent, and there are plenty of opportunities for collaboration with colleagues here.
What's your teaching philosophy or your outlook on higher education?
I really enjoy my teaching experience at The University of Akron. Most of the students are motivated and eager to learn. My role is mainly to ignite their passions through elucidating the fundamentals and introducing cutting-edge research both in and out of classroom. The recent pandemic leads to the unprecedented rise of online learning and teaching. It also brings valuable experience to the instructors to adopt more accessible and active learning-based approaches in the post-pandemic era.
What are some of your favorite things to do when you're not teaching?
I really enjoyed riding bicycles with my family on the beautiful trails around this area, especially the Towpath Trail in the Cuyahoga Valley National Park. I am also a big fan of basketball. Now I don't have time to watch the entire NBA games, but I will still watch the highlights of most games.
What do you love most about your job at The University of Akron, and your work on polymers?
My favorite part of my job is solving problems encountered in research together with my students. It is not easy, sometimes it takes months or longer, but the satisfaction it brings is incomparable. Another aspect of my job that I really enjoy is to see the progress and success of my students. It is a great sense of accomplishment to watch them gradually become independent and qualified researchers.
What are your goals for SPSPE? How do you plan to achieve those goals?
There have been lots of changes in SPSPE in recent years, and the changes also bring new opportunities. The goals of me and my colleagues are to keep doing high-quality research at the forefront of polymer science and engineering, and educating the next-generation polymer scientists and engineers through our unique and evolving academic programs.
What is one thing that you hope each of your students learns from you?
Self-motivation is extremely important to be a good student and researcher. In your study and research, you need to always try to accomplish more than the basic requirements or what you are told to do. You will be able to accomplish a lot and become an expert in your research field by the time you graduate if you maintain a high level of self-motivation.
Share