Polymer professor awarded $2 million for leading research in fighting opioid epidemic
12/11/2017

Dr. Matthew Becker's pioneering research here into America's deadly opioid epidemic has been awarded $2 million from the state of Ohio's Third Frontier Commission. The University of Akron is working with 21MedTech and pharmaceutical company Merck & Co., Inc. to commercialize a non-opiate degradable polymer mesh designed to control post-surgical pain while helping patients avoid potential addiction to pain pills.

The grant is the largest given to a higher education institution as part of the Third Frontier Commission effort combatting the opioid crisis.
Targeted pain relief
In his research, Becker, the W. Gerald Austen Endowed Chair in Polymer Science and Polymer Engineering, has developed an implantable polymer mesh containing a local non-opiate pain reliever that can be inserted at a surgery site. The mesh releases the pain reliever over time and finally dissolves into the body while remaining non-toxic. He thinks the drug eluting mesh will allow patients to receive the benefit of speedy pain relief while reducing the number of opioid prescriptions and the amount of unused painkillers available on the streets.
Becker and 21MedTech, which has licensed the degradable polymer technology, are hopeful the Food and Drug Administration will evaluate the product for use next year. Merck & Co. is partnering with UA and 21MedTech on the mesh project.
'Proactive approach'
"This polymer product isn't a one-size-fits-all solution to the nation's ongoing opiate epidemic," Becker said. "A relatively small percentage of patients using painkillers long-term have serious addiction problems. This mesh would give physicians a method to control pain while serving as a proactive approach to preventing people who have surgeries from potentially having issues with painkillers in the first place."
Grants totaling $10 million have been awarded by the Third Frontier Commission to support scientific breakthroughs to solve the national opioid crisis. This is the first round of allocations. The state of Ohio announced earlier this year it would appropriate $20 million to innovators developing products to fight the state's opioid crisis.
The Ohio Third Frontier is a state initiative that identifies and advances promising technology.
Related:
► Akron Beacon Journal: Developing an alternative to opioids: UA professor's research gains $2 million state grant and interest of large drug company
► WEWS-TV: Polymer film developed by University of Akron research team could help fight opioid epidemic
► Scientific American: Engulfed in Opioid Deaths, Ohio Turns to Science
---
Media contact: Alex Knisely, 330-972-7429 or aknisely@uakron.edu.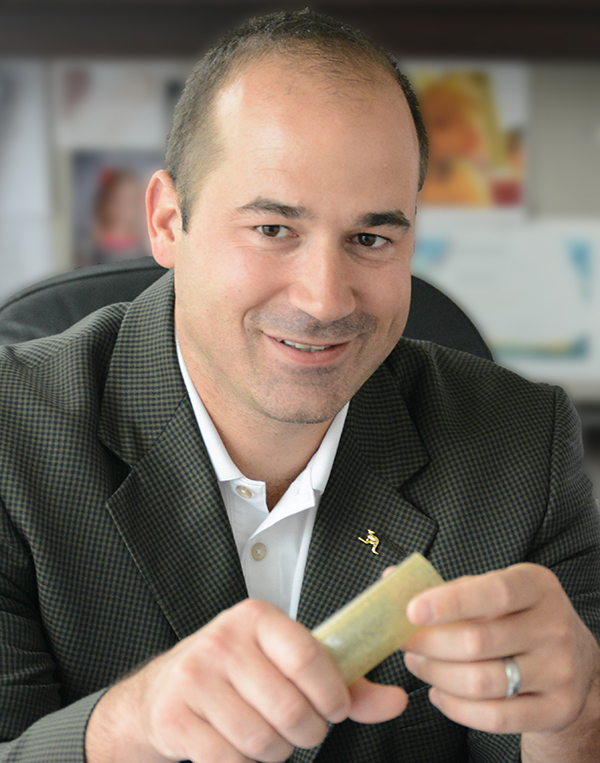 Dr. Matthew Becker