Professor takes the hard way with writing his latest book
05/05/2014

The title of the book, "The Hard Way on Purpose: Essays and Dispatches from the Rust Belt," describes the ethos not only of the hard-bitten postindustrial region but also that of its foremost prophet, the book's author, David Giffels.

The former, much-acclaimed columnist for the Akron Beacon Journal, and current assistant professor of English at UA, knew that writing a book of essays—about the Rust Belt and Akron, no less—would hardly be the easiest way to interest publishers.

Yet Giffels has never been one to do things the easy way. If he has learned anything from growing up in Akron—a place defined by work, he says—it is the virtue of doing things the hard way: "The struggle," he writes in the book, "becomes its own aesthetic."

"Anybody can write about Disneyland," he adds. "I think the challenge of art is to write about Akron, Ohio."

He meets that challenge in his book, which (to quote the back cover) is "about coming of age in the Midwest and about the stubborn, optimistic, and resourceful people who prevail there"—people like his students, who are "embracing a resurgence of Akron pride," he notes.

"They embrace Akron as a unique place, which is important, because, you know, there aren't as many unique places in America as there were even when I was a college student, because our culture is so homogenized," he says. "That's why it's really important for writers and artists to identify what's unique about their places, and to reinforce it and continue it."
In the classroom
Indeed, Giffels, a UA alumnus who says it has been his dream to teach in a creative writing program, sees that same local pride in the student writers in the NEOMFA (Northeast Ohio Master of Fine Arts) program in which he teaches.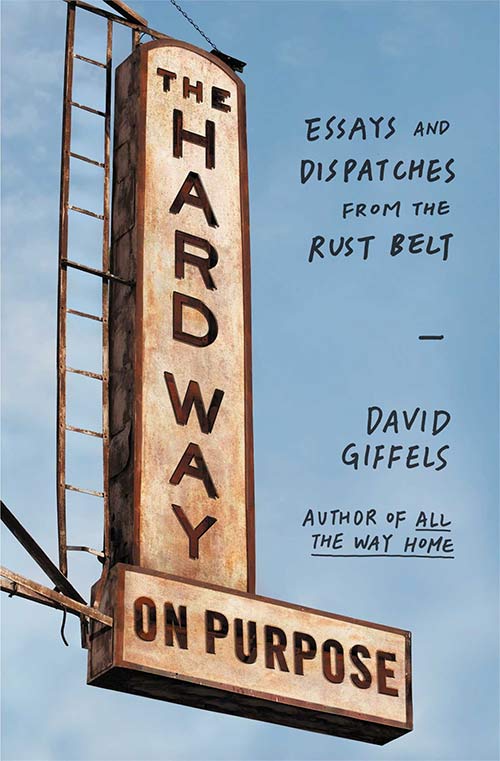 "There's a lot of action coming out of the NEOMFA program. We have this vibrant, critical mass of creative writing students. They're doing all kinds of readings on and off campus. We bring visiting writers in and they get to engage with them, and then they go out afterwards. So there's this whole great, organic culture of writing that's coming directly out of this program. I'm seeing a lot of pride in being Akron writers, Ohio writers," he says.
Giffels saw a similar vibrancy and potential in Akron's decay in the 1980s: "It's weird to call it vibrant in its decadence, but it really was, and it was exciting and full of possibility," he says, fondly recalling his excursions into ruined factories.
The "decay was honest and full of life," he writes.
As honest, one might say, as his own no-nonsense approach to writing.
"When I'm writing a book, I get up and go to work, five days a week, for the whole day, whether I feel like it or not," he says, describing a rubber-tough regimen at odds with popular notions of romantic inspiration.
"I tell my students, 'It's work,'" he says. "There are so many myths, romantic myths about writing that are completely untrue. The part of it that's inspired only comes if you're there working when the inspiration comes. It's not like you wait for it."
Hard work, indeed—but, then again, Giffels wouldn't have it any other way.
Like the city itself, which continues to reinvent and rebuild—from the collapse of rubber to the rise of polymers, from rust to corrosion engineering—Giffels (who fittingly reclaimed and rebuilt his Akron home) has erected, from the cherished pieces of his past, a monument to the industrial Midwest.
He could have written about Disneyland, or sunny Phoenix, or about incorruptible castles in smokeless skies, but he didn't. He took the hard way. He wrote about Akron.
Now that's art.
---

Story by Nick Nussen, nbn3@zips.uakron.edu.
David Giffels