Q&A with Heidi Cressman, director of diversity and inclusion in the College of Engineering and Polymer Science
08/12/2020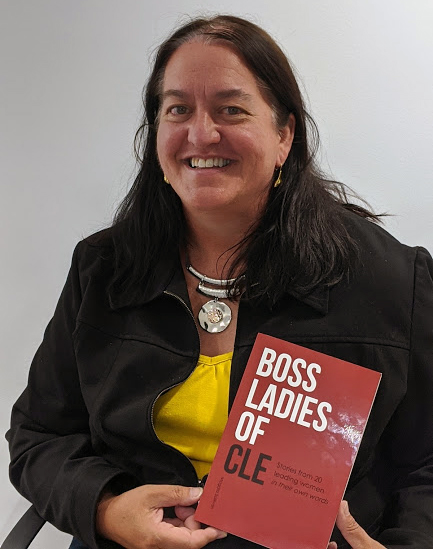 Heidi-Cressman
Name: Heidi Cressman
Title: Director of Diversity and Inclusion in the College of Engineering and Polymer Science
What does being featured in "Boss Ladies of CLE" mean to you? Do you think it will impact your work going forward?
Being featured in a book with other very accomplished women is a true honor and I really don't think that I would have ever been featured if it hadn't been for what the University has allowed me to focus on and accomplish in my role as the director of diversity and inclusion in the College of Engineering and Polymer Science. This is something that I never imagined would ever happen to me and I am so grateful for the opportunity that I was given by the author. I can say that this has already impacted my work positively and I hope that everyone, but particularly women and girls, will pick up this amazing work by Maggie Sullivan and will say to themselves, "I CAN DO THIS, TOO!" In a perfect world, I want "Boss Ladies of CLE" to be such an influential book that it helps me work myself out of a job!
What brought you to The University of Akron?
Not many people know this, but I applied for this job three times! Talk about tenacity. The first time I applied, I was pregnant and walked into the interview on a 90 degree day and eight months pregnant with my first child. I was sweating so profusely but the dean worried I would pass out because I was so nervous, but the truth was that I could not find a parking space and had to waddle nearly a mile from my roadside space to get to the building. I guess the dripping sweat was not a good way to make a good impression. The second time I applied, I had been working with Dr. Paul Lam through the years on weekend programs that he would hold for underrepresented students who were interested in engineering. Whenever Paul called, I would try to help him out with whatever outreach or mentoring project he was doing at the time. I had been working for quite a few years as an engineer and after having my second child, decided to take a break in my career to raise them. I noticed as I was getting ready to leave my job that a part-time job was available to become a women in engineering director at The University of Akron again. So, I applied…but, soon after I applied, I found out that I was pregnant with my third child. I grappled with the idea of still working part-time but decided to rescind my resume, much to Dr. Paul Lam's chagrin — he even called me to try to convince me to keep my hat in the ring. I spent eight amazing years home with my children before I returned to work. When I decided it was time to look for work again, a friend told me about a job at Akron that she thought would be perfect for me…it was the exact same job that I had applied to twice before but now it was full-time. I couldn't believe the timing! So I applied again and this time, I was lucky enough to be offered the role. So, what brought me to the University included a little bit of luck, a realization that we needed more women and minorities in engineering departments to spur innovation, a big passion for helping women and minority students see what a great career they can have as engineers, two men named Dr. Paul Lam and Dr. George Haritos, pride as an alumna and a job opening!
How did you come to choose your career?
I was a great student in high school and loved science and did pretty well in math, so I decided to try to go into medical school. My cross country coach had a friend who was in medical school and his friend talked to me about what medical school was like and when he started to tell me how they cut open a cadavers, I decided that medical school was not for me! I had so many options open to me, but I noticed that my father always enjoyed his role as an engineer and that it was a field devoid of women, so I figured that the pay would be good and the job would be a challenge. My mom always encouraged me to choose a career that could support a family, and so that is how I picked engineering.
Do you do research? What problem do you most hope to solve?
I do work to get grants that are associated with supporting projects that involve education of students about the field of engineering, especially those that work with removing the barriers to engineering or STEM education for all age groups.
What does the next 10 years hold for your field?
I think that this year has brought about a major shift in how people think about humanity and what it will take to move humanity forward. The next 10 years will be very exciting because I predict that we are going to see a fundamental shift in efforts that institutions will make to create a more inclusive work environment, to broaden the acceptance of diverse thought and to eliminate barriers for underserved/underempowered groups because it is the right thing to do. These efforts will bring remarkable benefits to the companies that embrace them, including the ability to pivot more quickly, to reap greater financial rewards and to make huge strides in innovation. It is the innovation part that will be a direct result of a more inclusive and diverse culture and while improving the lives of many, will also change the fortunes for many companies in the U.S. and globally.
What books are on your nightstand?
I read so much that I will have to mention a book that I have just finished, one that I am reading and one for the future. I just finished "Where the Crawdads Sing" by Delia Owens, and I am currently reading "The Box" by Marc Levinson. I am going to read "White Fragility" by Robin DiAngelo and of course "Boss Women of the CLE" by Maggie Sullivan so that I can remind my husband every night before I go to bed, who is the boss (smiles).
Is there one book you recommend to everyone?
Oh boy…I don't have just one…so I am giving you just a partial list of my favorites… "The Design of Everyday Things," "Watership Down," "Truman," "Thinking Fast and Slow," "The Count of Monte Cristo," "Jane Eyre" and "Pride and Prejudice."
Outside the classroom, what do you enjoy doing for fun?
I love to hike long distances and to try different parks out around Ohio. I love getting together with family and travelling. I enjoy camping and leisure biking, to read, watch HGTV, to cross-stitch or craft and, if I am in the mood, I like to write.
Looking back on your own time in college, what advice do you have for UA students?
I would say that you should build your life around experiences and learning new things. Students should never end their learning and reading at graduation. Instead, they should always keep learning so that they become interesting people, can become self-reliant and less ignorant.