Q&A with Hotdog Challenge winner Elexis Hamby
02/17/2020
Our School of Nutrition and Dietetics has again teamed up with local Akron RubberDucks baseball team (a double-A affiliate of the Cleveland Indians) to hold the fourth annual RubberDucks Hot Dog Recipe Challenge. Four student finalists competed in the Feb. 12 contest for the chance to have their recipe featured at the first RubberDucks home game on Friday, April 17.
Student finalists:
Megan Hollendonner – "Bases are Loaded"
Emily Ellis – "The Hawaiian Dog"
Elexis (Lexi) Hamby – "The Duckin' Good Fiesta Dog"
Jacob Green – "The Akron Boy"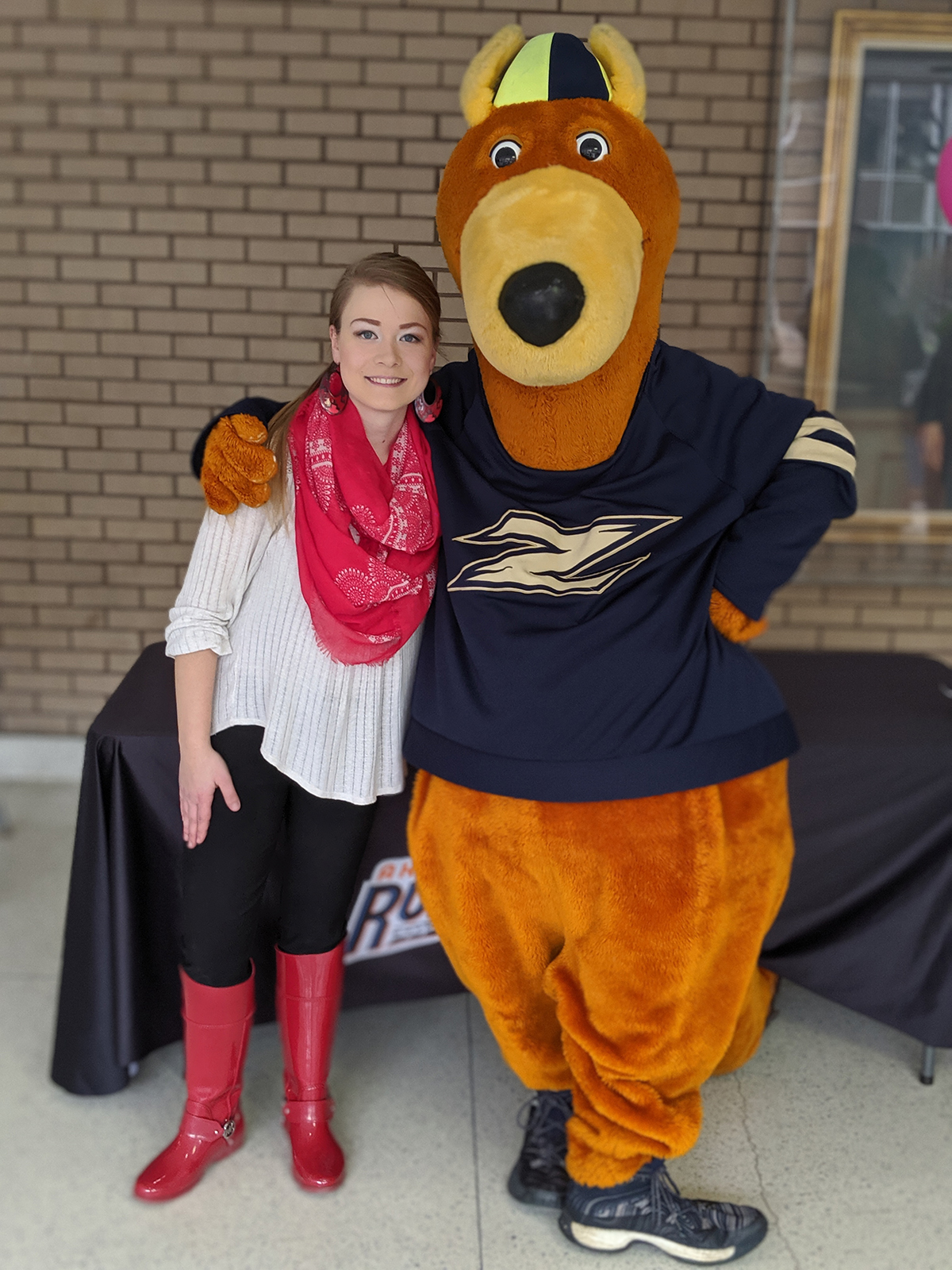 RubberDucks Hot Dog Recipe Challenge winner Elexis Hamby with our favorite mascot, Zippy.
The winner was the "Duckin' Good Fiesta Dog" from Lexi Hamby. Her hotdog recipe appeals to a broad range of individuals, from kids to adults. The dog is topped with Rotel dip, avocado, fajita chips, red hot, hot sauce and shredded cheese. It is an explosion of flavor, a party dog!
About Lexi Hamby
What is your hometown?
I am originally from Sheffield, Ohio.
► Why did you enter the challenge?
I entered the challenge because I loved the idea of it; I really enjoy showing my creativity through food and thought that this was the perfect outlet. Also, in adding to that, for the past couple of years I've seen and heard about the challenge, but my schedule prohibited me from applying. However, as a nutrition and dietetics student, we do a rotation in our school's Nutrition Center, where we help to facilitate nutrition-related events both on and off campus. This just so happened to be one of the events that I was tasked with helping to facilitate. During the beginning stages, while we were receiving recipes, my peer Megan Lyden (a dietetics student who helped to run the event as well), really encouraged me as well as my other peers to apply. So, ultimately, I credit her with my decision to enter the challenge.
► Is this a hot dog you normally would eat or was this a special recipe for the competition?
I would say a little bit of both. I typically only eat hot dogs during special occasions (e.g. Fourth of July, sporting events, family picnics, etc.). However, this recipe makes me want to make hot dogs more often! In creating the recipe, I really attempted to channel my youth and still appeal to a wide variety of people. So, I chose to do a Rotel chip dip-based topping because I know kids love cheese and Rotel dip is a great party chip dip. As far as the other elements are concerned, I added them to give the hot dog topping a bit more texture, flavor and color. Overall, it's basically a combination of all my favorite flavors. I would definitely eat it again!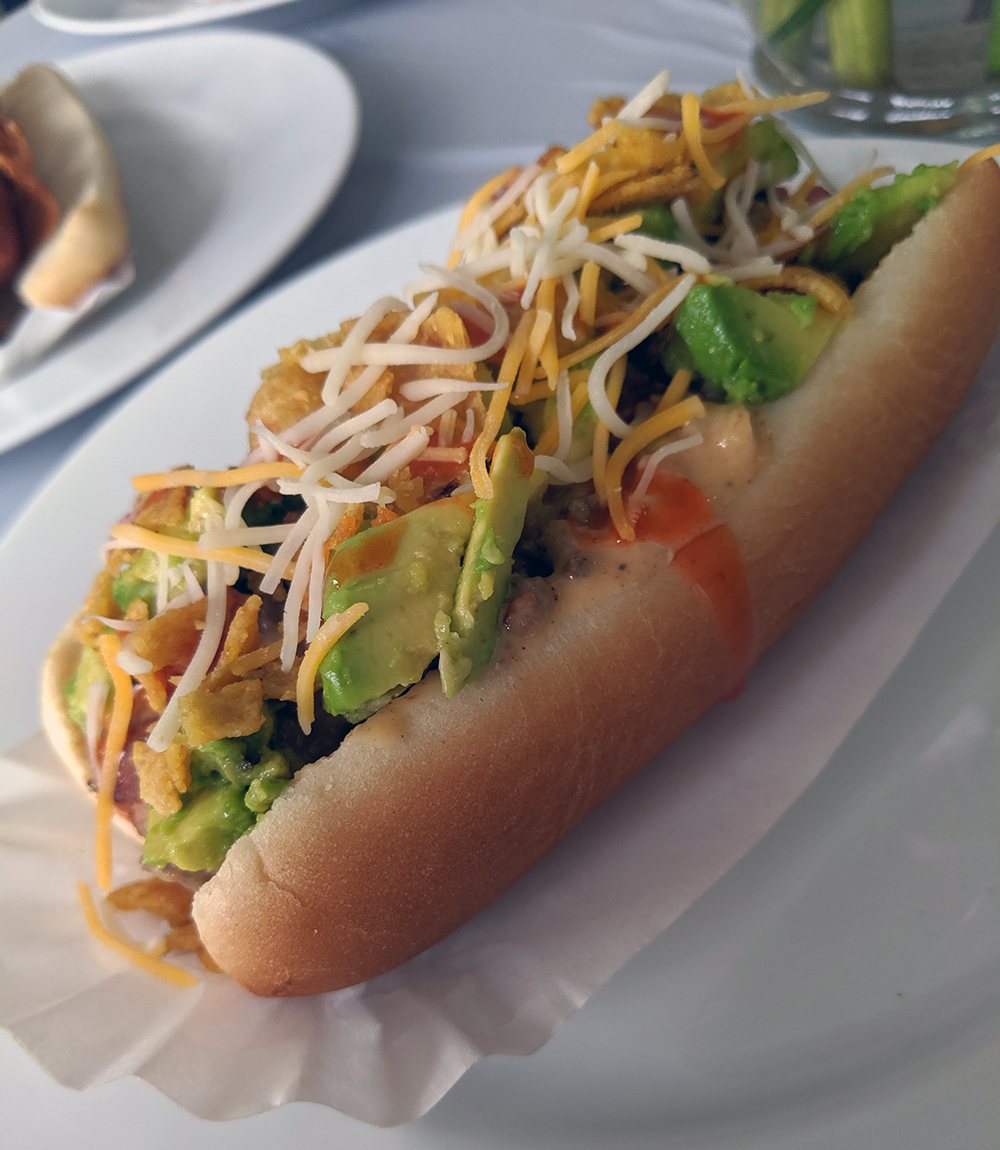 The 2020 winning hotdog — The Duckin' Good Fiesta Dog.
► What is your major?
My major is nutrition and dietetics and I am in the Coordinated Program.
► What year are you?
Senior!
► What are your career goals?
I would love to get a job as a clinical dietitian working in a hospital setting once I graduate. Long term however, I can see myself moving into dialysis or teaching.
► Do you like to cook?
I absolutely love to cook! It is something that I inherited from both my father (Jerrell Hamby) and my grandmother (Luellyn Brown). Just like them, I've always enjoyed experimenting with different flavors and recipes. It is therapeutic for me and how I show my creativity and share my love. Ask anyone in my family or my friends, I am always in the kitchen and I am ALWAYS asking them to try what I make. This is next on my list! I think they'll be excited for this one. But yes, it is a passion of mine.
► How do you feel about your hotdog being featured at a minor league ballpark?
I am absolutely blown away by the thought of it. This is a big honor! I've always dreamt of being on the Food Network or participating in something where I get to show my creativity through food in a fun way. I have never done anything on this large of a scale, however. I feel like I've just "hit a homerun!" It's super cool; I feel very blessed and appreciative.
The winning recipe: "The Duckin' Good Fiesta Dog"
What is special about it?
This hotdog appeals to a broad range, from kids to adults. It is an explosion of flavor, a party dog! Topping a hotdog with Rotel dip, avocado, fajita chips, red hot, hot sauce and shredded cheese.
Ingredients:
Rotel Dip

Velveeta Cheese
Browned, ground beef
Yellow onion, sautéed
Garlic, sautéed
Rotel (1 can)
Goya Adobo All Purpose Seasoning
Garlic Powder
Onion Powder
Cayenne
Shredded cheese

Fresh, diced avocado
Fajita chips
Hot sauce (Buffalo Mild)
Hot Dog
Hot Dog bun
Instructions:
Combine ingredients for Rotel dip
Dice avocado
Crush fajita chips
Top hotdog with Rotel dip, followed by avocado, followed by fajita chips, followed by hot sauce and add a pinch of shredded cheese
Enjoy at Canal Park!
---
Media contact: Cristine Boyd, 330-972-6476 or cboyd @uakron.edu.
Share