Ready for Rio: Three Zips to compete in the games
08/04/2016
---
NEW TV SPOT SALUTES OUR OLYMPIANS
---
Three Zips are competing for Olympic glory in Rio. Here are their stories:
SHAWN BARBER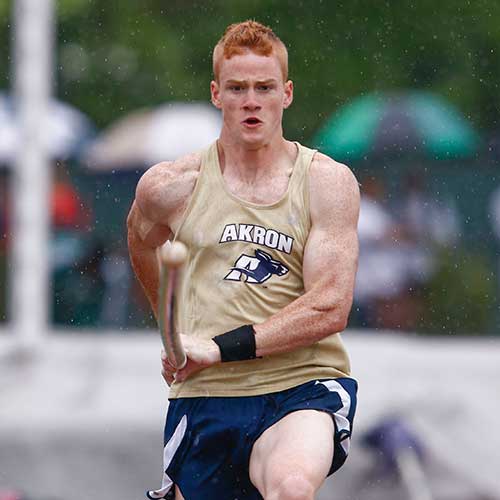 Event: Pole vault
Dates: Saturday, Aug. 13, and Monday, Aug. 15
Country: Canada
While at Akron: Earned three NCAA titles, two indoor (2014, 2015) and one outdoor (2015), gold medalist at the 2015 Pan American Games, and six-time MAC champion (2015 outdoor, 2015 indoor, 2014 indoor, 2014 outdoor, 2013 indoor, 2013 outdoor). More.
Quote: "(It's) every pole vaulter's dream as well to participate in the Olympics. It will be the cornerstone of my athletic career," Barber said in an Ohio.com profile.
Fact: Sports Illustrated picks Barber to win the gold.
Time machine: "The Physics of Pole Vaulting": In a 2013 video, the technique of Shawn Barber is discussed by then-UA physics student Eric Copenhaver and UA track and field head coach Dennis Mitchell.
---
CLAYTON MURPHY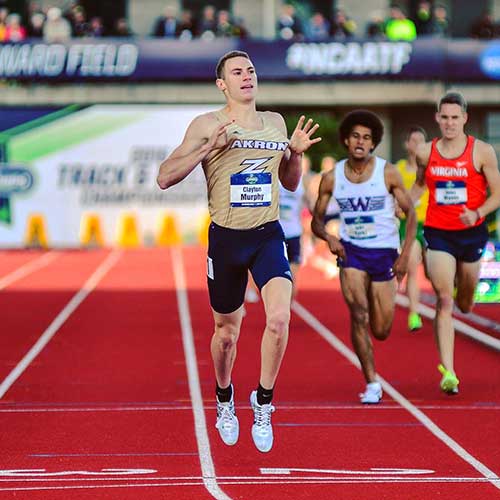 Event: Men's 800 meters
Dates: Friday, Aug. 12, Saturday, Aug. 13, and Monday, Aug. 15
Country: United States
Quote: "It is an honor to be on the Olympic team," said Murphy after the U.S. Olympic Trials. "What an experience! What I was able to accomplish today just has not soaked in yet."
While at Akron: 2016 NCAA outdoor 1,500-meter champion and NCAA indoor 800-meter champion, 2015 800-meter gold medalist at Pan American Games, 13-time MAC champion in the 800 meters, the mile, 1500 meters, the 4x400 relay and the DMR relay. More.
Fact: No American has medaled in the 800 meters in 24 years, though USA Today likes the chances of the U.S. team comprised of Murphy, Boris Berian and Charles Jock.
Don't miss: How an Ohio Pig Farm Raised an Olympian
Video: See Clayton come from behind to win the 800 meters final at the U.S. Olympic Trials
---
ANNIKA ROLOFF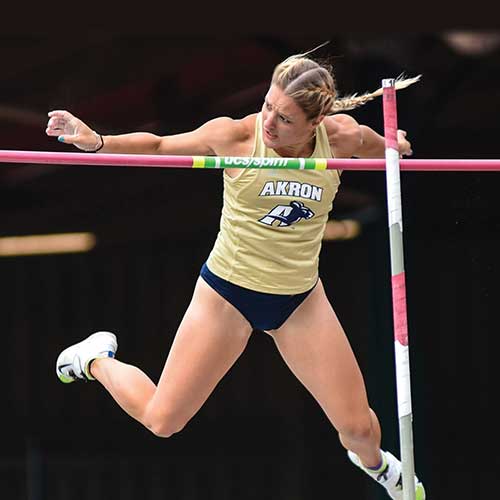 Event: Pole vault
Dates: Tuesday, Aug. 16, and Friday, Aug. 19
Country: Germany
While at Akron: Roloff captured the 2014 NCAA Outdoor Track and Field title in the women's pole vault with a jump of 14-5.25 (4.40m). She placed third at the 2014 NCAA Indoor Championships with a school-record mark of 14-7.25 (4.45m). Additionally, she owns the Akron outdoor women's pole vault record eclipsing 14-5.50 (4.40m). More.
Quote from UA head track and field coach Dennis Mitchell: "What a great honor for Annika. It was exciting watching her progress this year. She is a very tough competitor and it will be fun to see what she does in Rio. This is a big deal for our program to have our last three Zips' NCAA Champions become Olympians."
Roloff competes at the 2013-14 NCAA Outdoor Championships. (Photo: Phil Johnson)