School of Law names Gibson associate dean of academic excellence
06/07/2022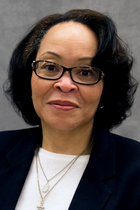 Willa E. Gibson
The University of Akron (UA) School of Law has appointed Willa E. Gibson as associate dean of academic excellence. In this new role she will be in charge of academic success and bar passage. Her responsibilities include the first-year Fundamentals program, preparing students for the February and July bar exams, and overseeing the Academic Success Program (ASP) with its two assistant directors.
"We're delighted to have Willa back in this role," Dean Emily Janoski-Haehlen said. "She ran the ASP and bar passage programs back in 2008-2009 when we had the number one bar passage rates in the state. This is a critical appointment for the law school and part of a broader initiative to address our inconsistent bar passage results."
Gibson joined the School of Law in August 1995. She is a C. Blake McDowell, Jr., Professor of Law and teaches Constitutional Law: National Government Structure, Constitutional Law: Individual Rights, Contracts and Secured Transactions. Her research focuses on secured transactions and constitutional law issues. In addition to her new appointment, she also serves as the School's associate dean for student engagement and leads the Ad Hoc Diversity, Equity, and Inclusion Task Force. She also serves on the three-person staff of the UA Diversity Equity & Inclusion Advisory Council.
She received her Bachelor of Arts in Economics from Tulane University-Newcomb College and her Juris Doctor from Drake University where she graduated with honors and was a member of the Drake Law Review. Prior to joining Akron Law, she was a senior counsel and finance attorney in the Enforcement Division of the U.S. Securities and Exchange Commission (SEC) in Washington D.C. Prior to her employment at the SEC, she was a commercial and consumer lender, and a commercial loan analyst for a major banking and finance institution.
To learn more about The University of Akron School of Law, visit Akron Law website.
Share