Shadowing prepares engineering and STEM students, benefits area companies
02/04/2019

Zip To Industry, a new program at The University of Akron, is letting freshman STEM majors, many of whom are uncertain about their career path, explore the job market by shadowing upperclassmen participating in co-ops and internships at area companies.

"While some first-year students who select STEM majors have had exposure to the field prior to stepping on campus — either through a high school program or having a relative work in the STEM field — most have not, and a majority often don't know what jobs are available to them in their majors," said Dr. Donald P. Visco Jr., chemical and biomolecular engineering professor and principal investigator for the project. "This program is designed to provide first-year STEM majors with a better understanding of what various STEM jobs are out there and what they're like."

This past semester 58 freshmen individually accompanied co-op students and interns in the workplace for up to four hours during each visit on several Fridays. Each freshman shadowed a different upperclassman, either revisiting the same company or, more commonly, visiting others. Freshman students from most of the engineering majors were selected as part of the cohort, as well as students majoring in engineering technology, geology, chemistry and computer science, among a few others.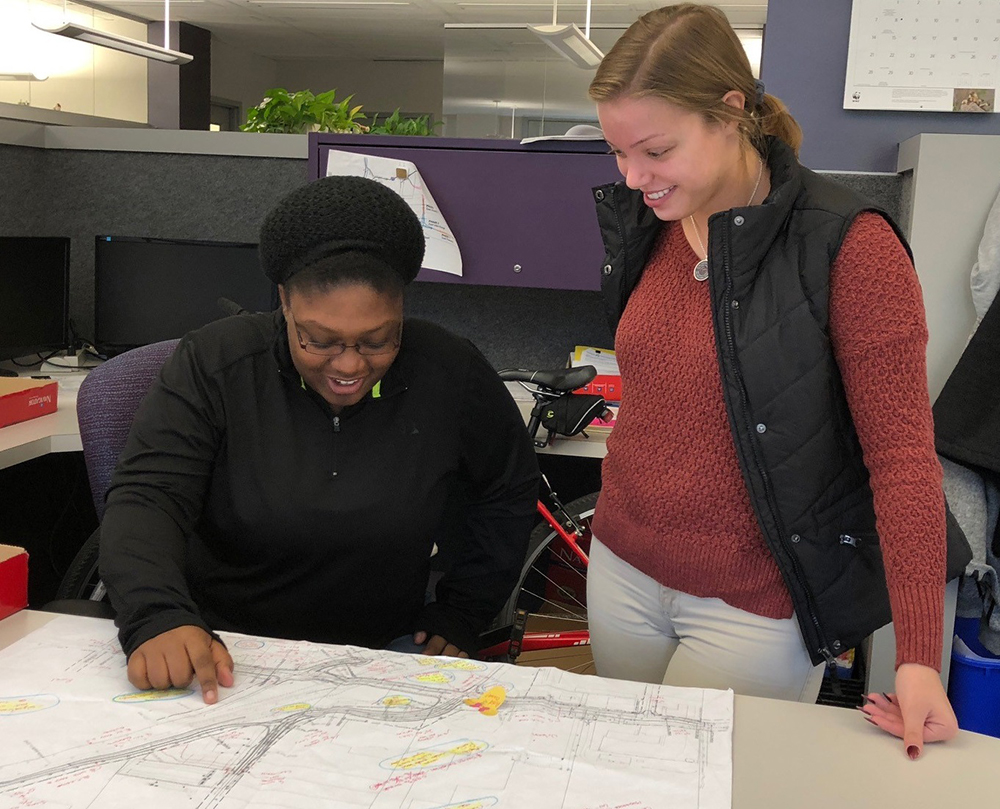 Gabriella Fennell (right), a civil engineering major, shadows Jasmine Brown, also a civil engineering major, on her co-op assignment at GPD Group in Akron. as part of the Zip To Industry program, freshman STEM majors like Fennell explore the job market by shadowing upperclassmen participating in co-ops and internships at area companies.
The program will continue for the spring semester with each student receiving at least five shadowing experiences during the year. The freshmen receive a small stipend for shadowing and are reimbursed for the cost of transportation to and from the participating companies, each within a 60-mile radius of campus. The fall 2018 semester was the first time all students experienced UA's new Five-Star Fridays schedule, which leaves Fridays devoted to career-development activities rather than normal classes.
"This program is fantastic," said first-year mechanical engineering major Jared Vance. "The ability to put this on a resume makes this worthwhile. It is also wonderful to shadow in a wide range of companies, from those that are corporate, worldwide ones, all the way to companies you have never heard of that only have about 20 to 30 people working for them. As a freshman STEM student, I would highly recommend this."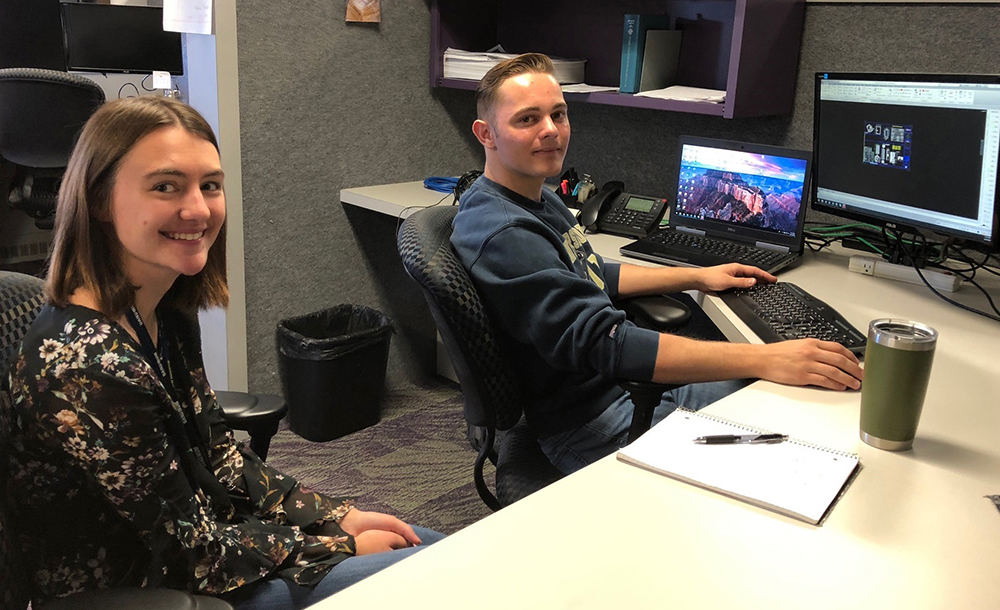 Rhonda Troyer (left), a biomedical engineering major, shadows Andrew Miller, a civil engineering major on a co-op assignment at GPD Group in Akron as part of the Zip To Industry program.
"I participated in the program because I saw it as a great opportunity," added first-year civil engineering major Tifany Garic. "It lets you get out there (in the workforce), meeting potential companies, and gaining firsthand experience. It opened my eyes to what my future holds in the workforce, and it's exciting to be able to get a little bit of the experience while also in school."
Since the program's inception, support from local employers has been strong, with some even serving on the program's advisory board.
"I think anytime we can have young engineers into our facility to see the process, and how a manufacturing facility is run, it's a good thing," said Erich Grenz, a product engineer at PCC Airfoils in Minerva, and a UA engineering alumnus. "It may spark an interest for the student that they didn't know they had because they hadn't been exposed to it before. I know as a student just starting college, this would have helped me make a decision early on as to what I wanted to do when I graduated."
"The Zip To Industry program gives insight to the students on what to expect both as an intern/co-op but also as a potential future member of our team," added Tom Ickes, IT site coordinator for American Axle & Manufacturing's (AAM) facility in Minerva. "As a global leader in design and engineering in the automotive industry, it makes sense to recruit young talent to help propel us forward. The students may not have any knowledge about AAM or even the industry. This program could be critical for inspiring the next great automotive designer or engineer."
Zip To Industry is funded by a three-year National Science Foundation research grant for $450,000. Though this is the second year for the grant (last year was the planning phase), this is the first year the program is being implemented. When the grant expires, Visco hopes to sustain the program through employer support. Additionally, Visco said that companies can participate in the program for a single Friday during the semester or multiple Fridays; the program is flexible to the company's constraints and interests.
According to co-principal investigator, Dr. Linda Subich, interim dean of the Buchtel College of Arts and Sciences and distinguished professor of psychology, "Research literature tells us that a student's persistence in a STEM major is most susceptible to change early on, so the program's aim is to examine whether or not first-year students are more likely to stay in STEM majors if they shadow co-op students and interns."
"I saw being part of the Zip To Industry program as a way to stand out from the rest of my peers and to see if the major I have enrolled in is right for me," said first-year electrical and computer engineering major Jordan Crowe. "This program has given me firsthand knowledge of what will be expected of me when I finally start working in the engineering field. It has also helped me become more confident in the major I have chosen. I believe without this program, I would still be lost and confused on what I want to do in the engineering field."
"Our co-op students really enjoyed sharing their experiences and commented on how they wished they had an experience like this when they were freshmen to help point them in the right direction," said Libby Bulso, human resources supervisor for PCC Airfoils. "We will see the return on investment in years to come with the potential co-op students, but I predict this will prove to be a successful partnership."
The Zip To Industry program is a collaboration of the UA Career Center, College of Engineering, College of Applied Sciences and Technology, Buchtel College of Arts and Sciences, and LeBron James Family Foundation College of Education. Should a company have an interest in participating in the Zip To Industry program, they are encouraged to contact project coordinator Erin Stevic at estevic@uakron.edu.
---
Media contact: Alex Knisely, 330-972-6477 or aknisely@uakron.edu.