Sleepless in Akron: Student snaps, sings and scribes his way to success
11/07/2017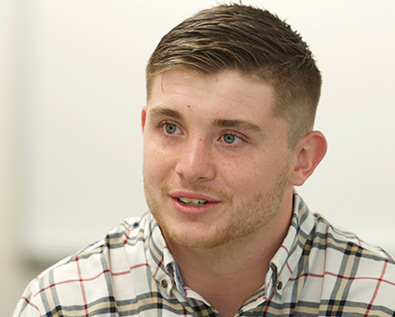 Hayden Grover doesn't sleep much.
"I'm an energizer bunny," says Grover, a senior public relations major at The University of Akron. "I have to be doing something at all times of the day. Some people take naps, but I can't do it."
Whether he is reading Ernest Hemingway, snapping a football, singing in front of more than 1,000 people, or writing press releases for University Communications and Marketing, Grover has not rested since arriving at UA four years ago from his hometown of Spencer, New York.
A three-sport athlete in high school, and the first person from his town to play in Division I football, Grover, a long-snapper for the Zips, calls his first time running out of the tunnel and onto the field at InfoCision Stadium a "dream come true."
But for the sleepless Grover, living just one dream was never enough.
Having participated in every band, choir and musical in his high school, he joined UA's premier all-male a cappella group, Nuance, and has since become its president. After filling UA venues, the group moved to Akron Civic Theater, where in its last performance it attracted more than 1,000 audience members.
"Nuance makes me feel like a rock star," Grover says, adding that the group will release its second full-length album — a Christmas album — in December.
A writer at heart
When he is not on the field or the stage, Grover alternates between class and work, where he writes press releases as a student assistant for University Communications and Marketing — with an aim toward fulfilling another dream: professional writing.
A member of the Public Relations Student Society of America, Grover has long loved books and writing, and hopes to someday land a career in public relations. He has done public relations work with the Zips football team and Nuance, and is currently interviewing with the Cleveland Browns for a position in sales.
"The diversity of PR work I've been able to do at UA is incredible," he says. "With everything I've done here at UA, and with everything that's been offered for me to do, I would be surprised if there's a single person out there like me. I don't think that's because of what I've done; it's because of what's been offered to me at UA."
Grover, who graduates in December and recently mentored an Akron Public Schools middle school student through the LeBron James Family Foundation, advises prospective students to take full advantage of these offers.
"When you are starting off your college career, do it all," he says. "Get involved with everything, load your schedule to the point where you don't think you can load it anymore, do it anyway — it's going to end up making your life so much better down the road. I dove right in, and I've had the time of my life. Every weekend, I'm either performing, I'm putting on a helmet, or I'm checking out a new restaurant."
Indeed, Grover says one of the first things he did upon moving to Akron was to make a list of all the restaurants he wanted to visit before graduation.
"I ate a burger in every college town I visited," he says, "and the best burgers I've had were in Ohio."
Whether it be a concert at Lock 3 or a barbecue festival on Main Street, "there's always something going on in Akron," adds Grover, who is glad to have found a city and university with the energy to match his own.
Students' voices: That's what makes us Zips!
Share