Student Organization Spotlight: Women in Business
02/03/2023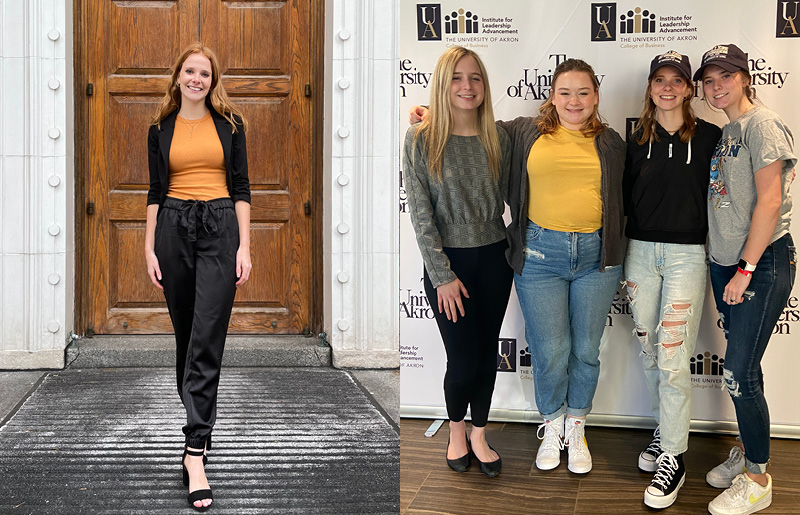 Jackie Scheatzle, President of Women in Business.
The UA College of Business is highlighting Women in Business, a student organization that helps students support, empower, and inspire each other in developing their careers, as well as building relationships within the organization and amongst professionals.
About Women in Business (WIB)
Q: What events, gatherings, and activities does your organization host? Women in Business has meetings every other week with professionals that talk about their experiences in the workforce. On top of meetings, we partner with other Student Organizations for larger panel discussions. Women in Business also does fun activities on-campus.
Q: Why should students join your organization? Students should join Women in Business to meet other like-minded people, empower one another, build your network, add to your resume, and to take advantage of the leaderships and internship opportunities.
Q: How can a student get involved with your organization? If you want to be apart of Women in Business, you can join at any time. To be added to the email list, you can email uawomeninbusiness@gmail.com.
Q: How does your organization connect with the community outside of UA? Outside of UA, WIB brings speakers from around the area and connects with students on potential opportunities. WIB also does Community Service Projects with local organizations. For example, last Spring WIB did a presentation with the Girl Scouts to help them earn their Business Jumpstart Badge.
Q: When does your organization meet? Bi-weekly Monday's 4-5 p.m.
Q: What are your organization's social media handles? Instagram and Twitter @uakronwib
Q: Anything else you'd like to add about your organization? We encourage new members all year long and would love to see you at an upcoming event!
Q & A with Jackie Scheatzle, Women in Business President
Q: As a student leader involved with an organization at UA, can you share why you got involved and what your experience has been like so far? I got involved with WIB because I wanted to experience the things that WIB had to offer. I came into college knowing I wanted to improve professionally as well as getting an education. So far, my experience has been great! I have gotten to know so many great people and professionals.
Q: What experience with your organization has been the most impactful? The most impactful thing has been building connections with the speakers. They are always so excited to help students in any way they can.
Q: Why is getting involved on campus important to you? Getting involved on campus is important for me because it is the way I can grow and learn outside of the classroom.
Q: What is the best advice you have for future UA College of Business students? College is the perfect place to figure out what you love. Make sure you are on the right path to be able to do what you love when you graduate as well as doing things you love in college. And always surround yourself with people that inspire you!
Q: What is the best advice you have received during your time at UA? The best advice I received was to just show up. Attend things you wouldn't normally attend and see if you like them or not.
Q: What career aspirations do you have following your time at UA? The dream career after graduation is to work in the sports industry in Operations Managements.
RAPID FIRE QUESTIONS
Q: Pancakes or Waffles? Pancakes
Q: Instagram or TikTok? TikTok
Q: Action or comedy movie? Comedy
Q: Best place in Akron to grab a bite? Luigi's Restaurant
Q: Favorite show to binge watch? Friends
Q: Fun Fact? My favorite things to do include snow skiing, hiking, camping, and boating
Share